*This shop is part of a social shopper marketing insight campaign with Pollinate Media Group™ and Dr. Pepper Snapple Group but all my opinions are my own. #pmedia #TENways  http://my-disclosur.es/OBsstV.*
Trying to make good choices can be tough. I love to bake, but baked treats are not typically kind to my waistline and I've had to cut back. I like to avoid the word diet and instead focus on making lifestyle changes. Over the years I've learned some tricks that help me to still enjoy a delicious dessert or snack but without the guilt.
Portion Control and Visual Appeal
For me, a big part of making better choices is portion control and visual appeal.  Rather than always deny myself of what I love, I try to limit portion sizes and make smarter choices that don't sacrifice the flavor.  I also like to present food in a visually appealing way. It is amazing how changing up how we serve food can make a dramatic difference in the way we perceive our food. For example, switching out a larger plate for a smaller one and adding a garnish can make any meal with a smaller portion look suddenly larger and more appetizing.
With those two ideas in mind, yesterday I made myself an afternoon snack with some items I already had on hand. Since I have a bit of an obsession with fun dishes, I have many choices at my disposable. These inexpensive mini dessert glasses are only 6oz each which make it very easy to limit the portion size.

I added five mini vanilla wafers to the bottom and added some cut up fresh fruit. It was topped off with some of my favorite french vanilla yogurt and another wafer for garnish. And because I just can't resist a bit of chocolate, I added mini chocolate chips. It only took me a couple of minutes to prepare and was a great snack that satisfied my sweet tooth. 
It is easy to forget about what we drink, but that is way calories can add up quickly.  Obviously drinking a lot of water each day is important. When considering sodas think about products like the four Ten Calorie DPSG products available in 7UP, Sunkist, A&W and Canada Dry varieties. I picked some up earlier this week at Walmart with my little guy and found the 7UP TEN 2 liter on an end cap for only a dollar.
I thought it would be fun to kick it up a notch with some fresh fruit, so I stopped by the produce section and picked up some lemons and limes. It seemed fitting to pair with a lemon lime soda!
Again thinking about presentation, I decided to pour myself some 7UP TEN in a mason jar. It certainly makes me think of summer and with our current cold temperatures in Minnesota, I love the reminder that this winter will eventually end.
I noticed right away that this product has a whole lot of fun  fizz. I was surprised how long it continued to bubble after I poured it. I loved that I could not really tell a difference between the taste of the 7UP TEN and regular 7UP. It was delicious. 
I sliced my lemons and limes and squeezed some of the juice into my soda.  I topped it off with a colorful straw and citrus garnish.  These steps weren't necessary but really added something special.
I've often added fresh fruit into my water, but I can't believe I haven't tried it before with soda. This was so refreshing and the perfect thing to make my afternoon at my laptop brighter. Next time I want to experiment with different fruits such as oranges or even grapefruit. The possibilities are endless.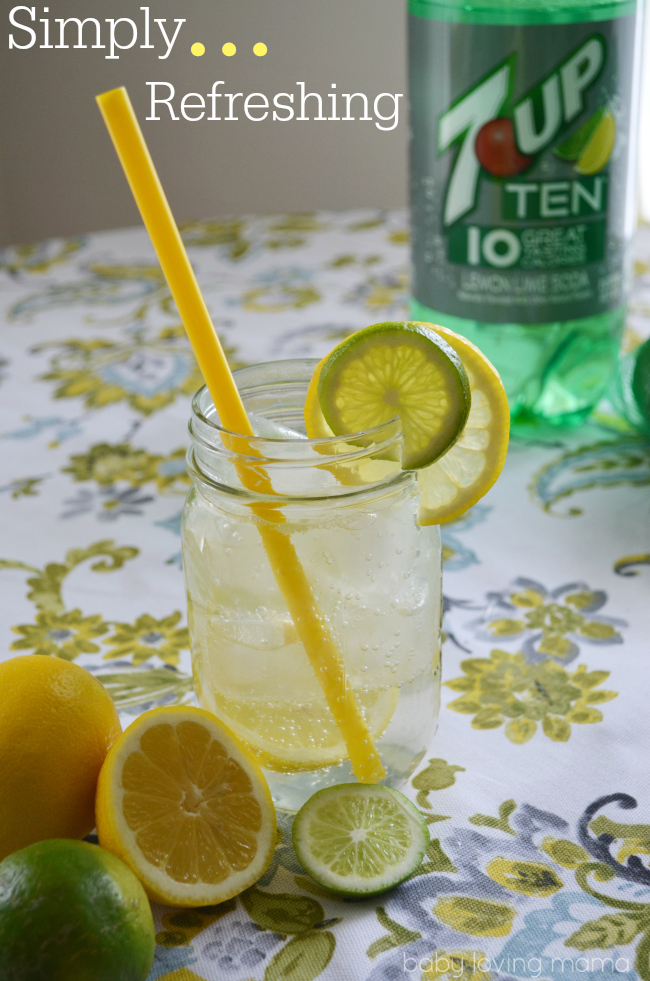 COUPON PROMOTION:
Print this coupon to save $0.50 off of the purchase of TWO 2 Liter bottles or TWO 4-pack cans of 7UP TEN, A&W TEN, Canada Dry TEN, RC TEN or Sunkist TEN soda. However, if you were to share that digital coupon via email, FB, Twitter (there is a click to share function) you will get brought to a coupon that will get $1.50 off that purchase rather than just $0.50! Offer available while supplies last, from 3/27-4/17.
Be sure to follow DPSG on Facebook and Twitter to stay up to date on all the latest product news.
What is your favorite tip for slimming down?