Breakfast is huge in this house. My kids are rather picky but the one food everyone can agree is breakfast foods. All of my kids love sausage so it was a no-brainer to partner with Jimmy Dean and try out their fully cooked sausage crumbles.  Over the weekend I stepped out of the box a bit and created something absolutely delicious. This open-faced breakfast pie is quick and easy, making it a perfect meal solution.
If you go with a ready-made refrigerated pie crust versus homemade, you can make this recipe in just a few minutes.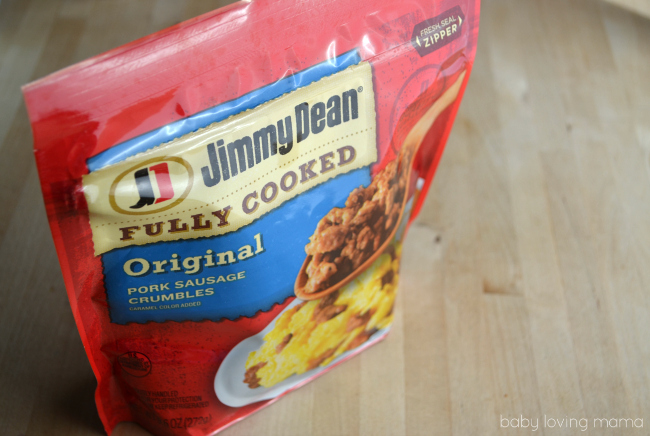 On a silicone or parchment paper line baking sheet, lay out your pie dough. Prick the bottom a few times to avoid air bubbles. Combine some shredded cheese and your favorite variety of Jimmy Dean Sausage Crumbles in a small bowl and add it to the center of your crust.
Fold over the edges to create your own little pocket.
Pour your milk and egg mixture carefully over the sausage mixture, being careful to let the egg soak in a bit before adding more.
I pricked the top of the pie crust with a fork to avoid bubbles there as well and brushed some egg white over the top. Then simply popped it in the oven!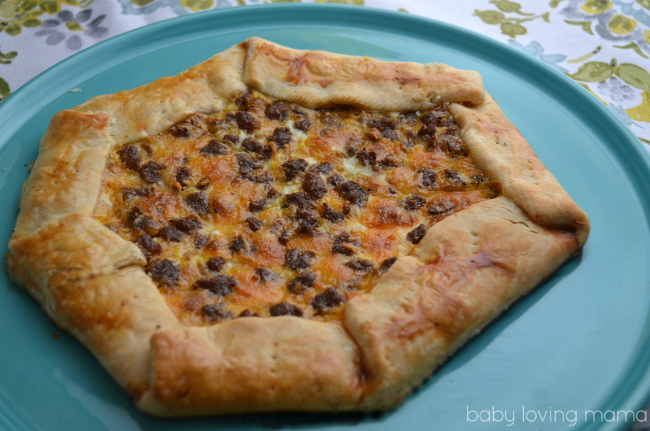 With the sausage already cooked, this recipe is super fast with almost no clean up. That is my kind of breakfast!  You could also change out the pork sausage for hot & spicy or turkey varieties.

Open-Faced Sausage Breakfast Pie
Ingredients
1 pre-made refrigerated pie crust
1 cup Jimmy Dean Sausage Crumbles
⅔ cup shredded cheese
3 eggs, divided
2 tablespoons milk
salt and pepper to taste
Instructions
Preheat oven to 400 degrees.
Mix sausage crumbles and cheese together in small bowl.
On silicone or parchment lined baking sheet, spread out pie crust. Prick bottom a few times with a fork.
Add sausage and cheese to center of crust and fold over edges to create a pocket.
Whisk two eggs, milk and salt and pepper in small bowl.
Slowly pour over sausage and cheese center.
Prick top edges of crust. Brush with egg white.
Bake in oven for 35-40 minutes or until set.
Serve warm.
If you are looking for more great recipes ideas, be sure to check out
Jimmy Dean
!
#spon: I'm required to disclose a relationship between our site and Jimmy Dean. This could include Jimmy Dean providing us w/content, product, access or other forms of payment.