Origami Owl is a relatively new business that is blowing up the jewelry market with their in-home boutiques. It didn't take long to understand why after looking what they have to offer. If you haven't yet been part of the new craze, Origami Owl offers special jewelry designed to celebrate our lives. Their signature Living Lockets allow you to entirely customize your necklace to what matters most to you or the gift recipient.
From charms to dangles to plates, you can choose everything quickly and easily from their selection online or through what they call a "jewelry bar" party in your home with the help of an Independent Consultant. If in-home parties just aren't your thing, no worries. You can purchase directly off the website as well.
Independent Designer Valerie B. offered to send me a sample to see for myself what makes the lockets so special. I picked out several charms which I felt shared something about my life and to my surprise, Valerie sent me all of them! The package arrived in a fun take out inspired box, which fits since their catalog is also referred to as the take out menu.
I have a Large Silver Locket that features a beautiful Ocean Turquoise Crystal Dangle on a 18″ Silver Ball Station Chain. By the picture online you may think the chain looks thin and rather flimsy but it is definitely not!
My living locket is entirely me.  The charms include:
Round birthstones for each of my three boys
July round birthstone -for my husband's birthday
Initial "E" – for my name
Mom- because that is my most important job and accomplishment
Laptop – not only my livelihood but my way to connect with people online
Football – because I absolutely love the NFL
Cupcake – I love to bake and have a serious sweet tooth
Coffee Cup – comfort and simple pleasures of my daily routine
Silver Infinity – to represent my love for my family being limitless and going on forever
I Love You Hand – my parents always has made this gesture to say I love you and it makes me nostalgic
I've worn my locket several times and each time it just makes me feel good to put it on. As if I am representing myself when I wear it. Wesley is of course attracted to it as well. Thankfully he is gentle and the chain is strong, although I don't recommend letting children play with your locket.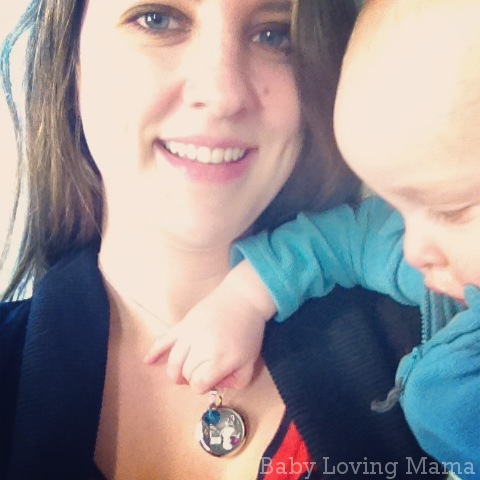 Business Opportunity
If you are interested in Origami Owl as a business venture you can learn more at their website and you can reach out to Valerie  who has been nothing but professional and kind. I'm certain you would hit it off with her! This is a great time to sign up and be one of the first in your market!
BUY IT:
Lockets vary in price based on the size, chain and extras like charms, dangles and plates. But the pieces are very affordable with my large locket for $24, chain for $8, charms for $5 each and dangle for $6.
WIN IT:
Valerie would love to offer one of my readers $25 to shop at her website. This would be enough to purchase a necklace and tag from the tagged collection, a way to purchase more add-ons for your current locket or the chance to shop for a living locket with a fabulous discount!
a Rafflecopter giveaway

Disclosure: I received a sample for the purpose of this post however all thoughts remain my own.