The weather here in Minnesota is very unpredictable in June. Last week we saw high of 55 on Tuesday and yesterday it was 88 degrees. These weather swings can really be an adjustment. Yesterday the last thing I wanted to do was turn on the oven so Wesley and I decided to make some candy for Mini Chef Monday instead. Have you ever tried potato chip candy? It is super easy and a favorite of mine so we used red, white and blue chocolate covered sunflower seeds and mini cupcake liners to make Patriotic Potato Chip Candy.
While this recipe does not require any baking, I like to use a mini cupcake pan to help the liners hold their shape and for easy storing while the chocolate sets. Setting up the cupcake liners is an easy way to get a child of any age involved. (I do separate the liners for him first.)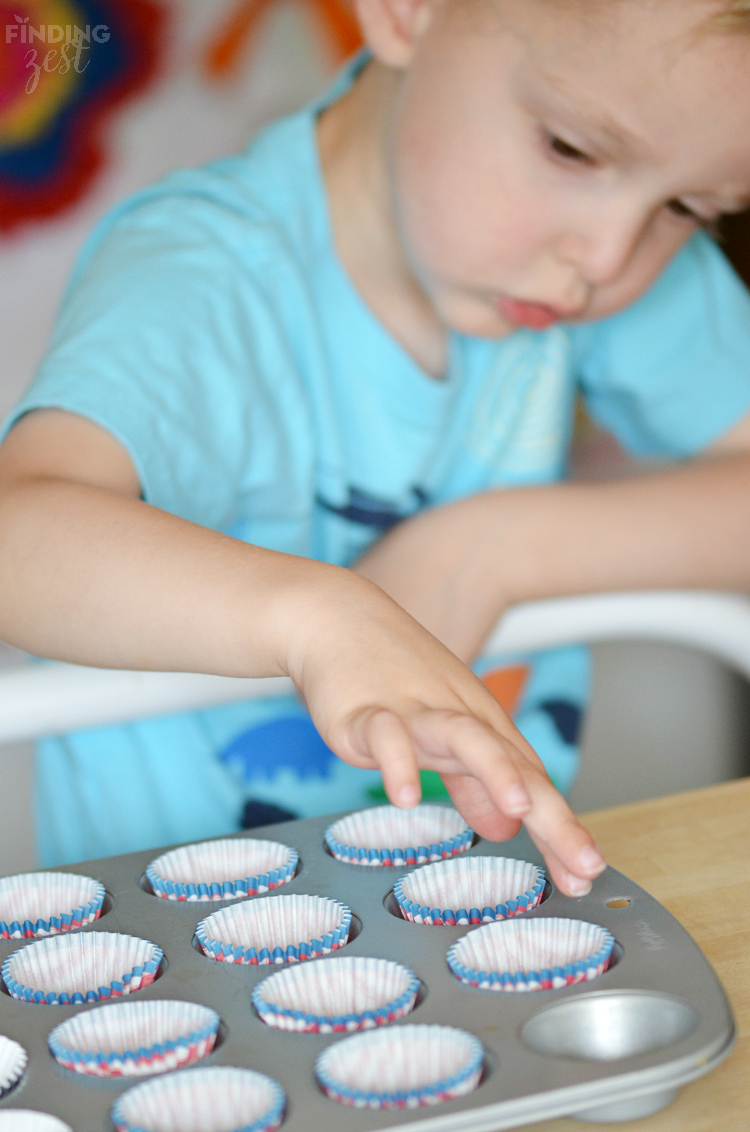 This recipe is a great way to use up those crushed chips at the bottom of the bag. I like to add them to a quart sized sealed ziploc and let Wes go to town crushing them. If they struggle with this, a rolling pin is another way to break them down. You want very small pieces but not dust.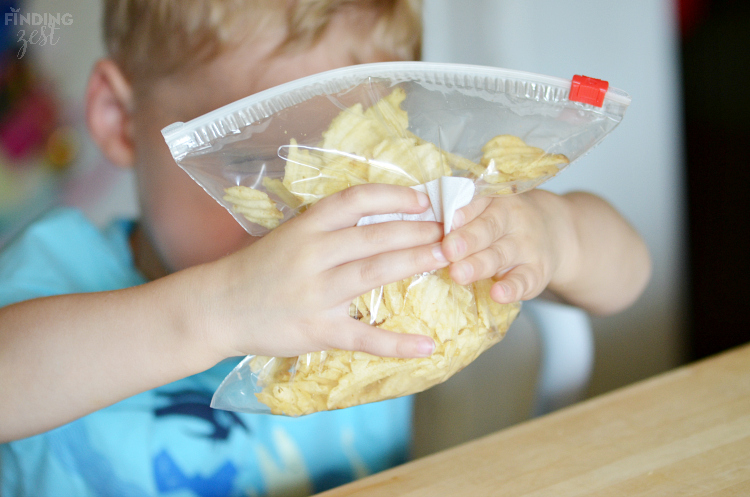 Now that Wesley is four, he can help me  with tasks like filling the liners. We worked together since 24 is a lot to fill by yourself!
Wesley sprinkled patriotic chocolate covered sunflower seeds over the tops. You can just as easily place one or two red and blue M&M candies on the top or just use patriotic sprinkles.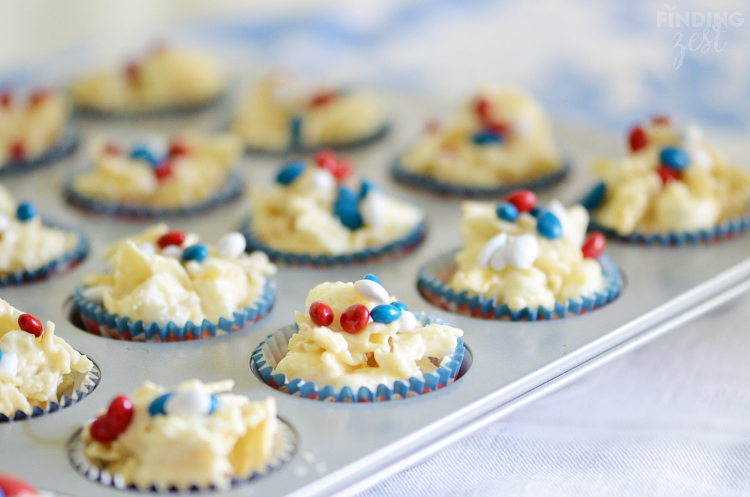 Patriotic Potato Chip Candy
Recipe Type:
Dessert/Candy
Ingredients
1½ cups white chocolate chips
2 cups crushed potato chips
1 cup mini marshmallows (or finely chopped pecans)
red, white and blue chocolate covered sunflower seeds, candies or sprinkles
Instructions
Melt white chocolate chips.
In large bowl combine potato chips, melted chocolate and marshmallows.
Spoon into mini cupcake liners.
Top with red, white and blue chocolate covered sunflower seeds, candies or sprinkles.
Allow chocolate to harden before serving.
Store at room temperature or refrigerate.
If you'd like to skip the marshmallows, I highly recommend very finely chopped pecans instead. I also recommend using a higher quality chocolate for the best results. We like Ghiradelli white chocolate chips.
This is a quick, no bake dessert that is easy to transport. We love the combination of sweet and salty!
What have you been up to with your mini chefs this week?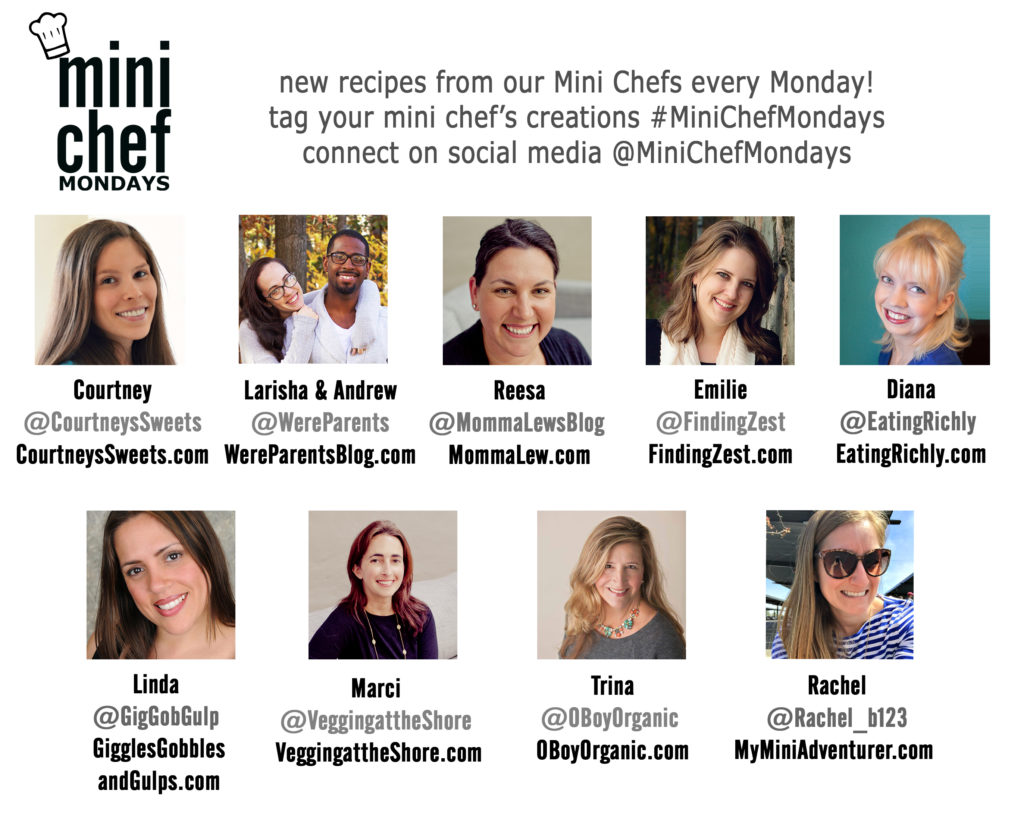 I am hosting Mini Chef Mondays along with 8 fabulous bloggers! Read how Mini Chef Mondaysstarted, plus how to link up!
Join our facebook group to find even more recipes and share recipes too!
Join the Mini Chef Mondays newsletter to get the latest recipes delivered to your email each week! Don't worry, we will only use your email for Mini Chef Mondays recipes, pinky promise!
Get featured and follow us too!
Be sure to check out each of their Mini Chef posts as well!
Share your mini chef's creations, no matter their age! Follow along socially and join in on the fun by using our hashtag #MiniChefMondays