Peanut Butter Chocolate Chip Cookie Pizza
This Peanut Butter Chocolate Chip Cookie Pizza post is sponsored by Disney-Hyperion. All thoughts are my own.
Sometimes I hit a home run with my kids. My 8 year old son Warren is a rather picky selective eater and even when he likes something a lot and I ask him to rate it, he almost always gives me an 8 out of 10, sometimes a 9 if I am lucky. My oldest son Lucian however, is easier to please. If it is a sweet treat it is almost always a 10 for him so I can always feel like a winner. (Thanks Lucian.) But this time, I got a 10 from Warren with this Peanut Butter Chocolate Chip Cookie Pizza. I didn't even think it was possible, but I finally did it!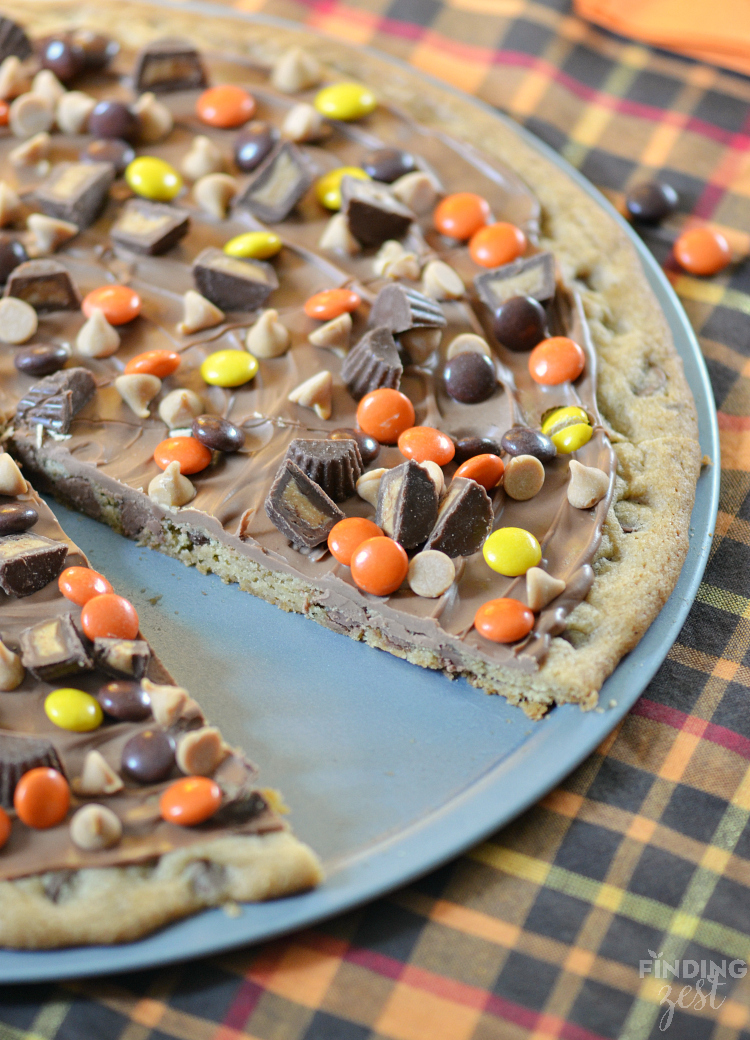 I've actually never made a cookie pizza before. I always wanted to try them but never had a round pizza pan to do it with until recently. (Thanks General Mills for this surprise gift a few months ago.) I made it in honor of the new book, The Cookie Fiasco by Dan Santat. It is one of the two new books in a beginning-reader series created by one of our favorite children's authors, Mo Willems.
Best friends Elephant and Piggie introduce kids to their favorite books – brought to life in original stories created by contemporary children's book authors and illustrators. Each 64-page beginning reader delivers a high quality reading experience that speaks to kids' interests and abilities through stories that are fun and funny. The defining dialogue-driven format, established in the Elephant & Piggie series, unifies the collection with an active, participatory storytelling style that fans love. Plus, each book contains all-new Elephant & Piggie story bumpers!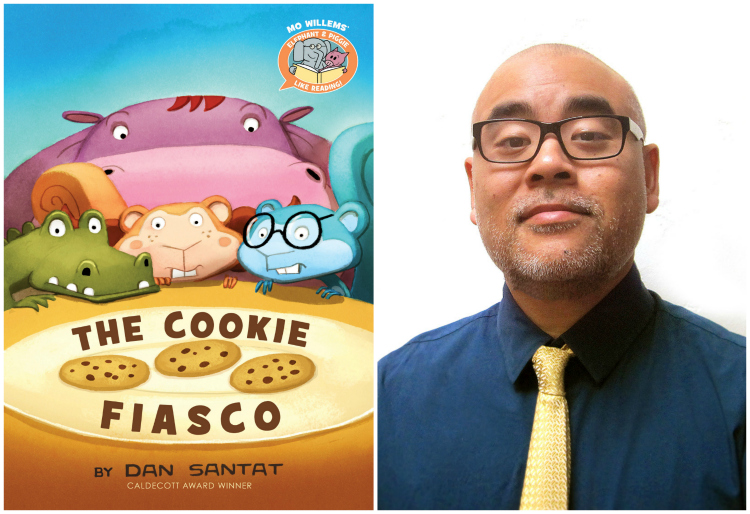 So why did I choose a cookie pizza? The Cookie Fiasco could have been avoided if they were lucky enough to have a cookie pizza. It can be easily cut into pieces and this one happens to be cut into the exact number that we needed for equal distribution in this book. Coincidence? I think not.
COOKIE FIASCO
Synopsis
Four Friends. Three Cookies. One Problem.

Hippo, Croc, and the Squirrels are determined to have equal cookies for all! But how? There are only three cookies . . . And four of them. . . What's more, they need to act fast before nervous Hippo breaks all the cookies into crumbs!
I found this great cookie pizza recipe from Betty Crocker to use as my cookie base and then came up with what I thought would be tasty toppings. Chocolate and peanut butter go together perfectly so it felt like an easy choice. I had fun with this combination using various candy and baking chips.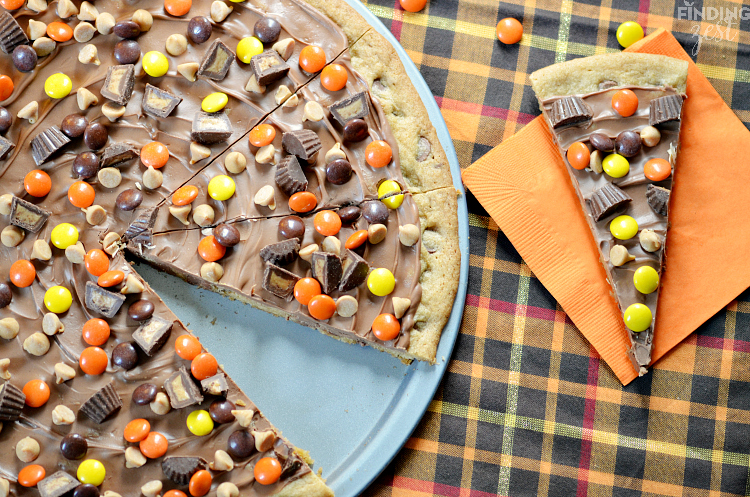 I let my kids watch me cut it and we talked about how many pieces we could get out of the whole pizza. It also opened up a great discussion about fractions, following the theme of The Cookie Fiasco. I was happy to hear my 10 year old immediately tell me correctly that 1/3 of the pizza was now gone and 2/3 was left once we all had a slice. He explained how he came to that answer with 4/12ths and 8/12ths, which was beneficial for his younger brothers. I love finding unique (and tasty) ways to talk math with my kids!
Peanut Butter Chocolate Chip Cookie Pizza
Ingredients
1/2

cup

packed brown sugar

1/4

cup

granulated sugar

1/2

cup

butter

softened

1

teaspoon

vanilla

1

egg

1 1/4

cups

Gold Medal™ all-purpose flour

1/2

teaspoon

baking soda

1 1/2

cups

milk chocolate chips

divided

3/4

cup

peanut butter chips

divided

1/2

cup

miniature peanut butter cups

cut in half

1/2

cup

candy coated peanut butter candies
Instructions
Preheat oven to 350ºF.

Mix sugar and butter in large bowl with electric mixer. Add in egg and vanilla. Beat until well combined.

Stir in flour and baking soda.

Gently mix in 1 cup chocolate chips.

Pat dough out evenly on ungreased 12-inch pizza pan.

Bake 14 to 16 minutes or until a light golden brown.

Cool completely in pan.

In small microwavable bowl, melt 1/2 cup milk chocolate chips and 1/2 cup peanut butter chips in 30 second intervals, stirring each time. (Approximately 1 minute total)

Spread melted chocolate over top of cookie pizza.

Immediately top with candies and left over peanut butter chips.

Cut and serve when toppings are set.
Also now available in this new boook series is,
WE ARE GROWING
Synopsis
Growing up isn't always the EASIEST

Walt and his friends are growing up fast! Everyone is the something-est. But . . . what about Walt? He is not the tallest, or the curliest, or the silliest. He is not the anything-est! As a BIG surprise inches closer, Walt discovers something special of his own!
All of my kids thoroughly enjoyed these two books. I read to my four year old each night and these have both gotten into the rotation, especially We are Growing. That is such a warm tale about how we all have something about us that makes us special, even if we aren't quite sure what it is yet.
Even though my older two boys are advanced readers, they really enjoyed both of these books. I had them sitting on our buffet after taking pictures and when Warren discovered them he immediately begged to read them. I found my boys a couple of minutes later totally engrossed in the books together on the couch.
We adore the characters created by Mo Willems and I'm very excited to see that even though the beloved Elephant & Piggie series is complete, we still get to see these characters within the pages of these new books.
More about the book creators:
Dan Santat (www.dantat.com) is the author and illustrator of the recent Caldecott winner, The Adventures of Beekle: The Unimaginary Friend, and many other books. For Disney-Hyperion he illustrated Oh, No! and Oh, No! Not Again! by Mac Barnett, Always Lots of Heinies at the Zoo by Ayun Halliday, and Because I'm Your Dad by Ahmet Zappa. He is also the creator of Disney's animated hit The Replacements. Dan lives in Southern California with his wife, two kids, and two dogs.
Laurie Keller, an award-winning author and illustrator, has created many children's books including Birdy's Smile Book, The Scrambled States of America Talent Show, and Do Unto Otters, a Bank Street Best Children's Book of the Year. Laurie lives near Lake Michigan. Visit her at www.lauriekeller.com.
ABOUT MO WILLEMS
Mo Willems (www.pigeonpresents.com), a number one New York Times best-selling author and illustrator, has been awarded a Caldecott Honor on three occasions, for Don't Let the Pigeon Drive the Bus!, Knuffle Bunny: A Cautionary Tale, and Knuffle Bunny Too: A Case of Mistaken Identity. The celebrated Elephant & Piggie early-reader series has been awarded the Theodor Seuss Geisel Medal on two occasions (for There Is a Bird on Your Head! and Are You Ready to Play Outside?) as well as garnering five Geisel Honors (for We Are in a Book!, I Broke My Trunk!, Let's Go for a Drive!, A Big Guy Took My Ball! and Waiting Is Not Easy!).