Making no bake treats for the holiday season are perfect for kids. They don't take long to prepare but still have lots of steps to get mini chefs involved. This Peppermint Puppy Chow is a great example. You can prepare this recipe in just 10 minutes and have a lot of fun with your kids in the kitchen!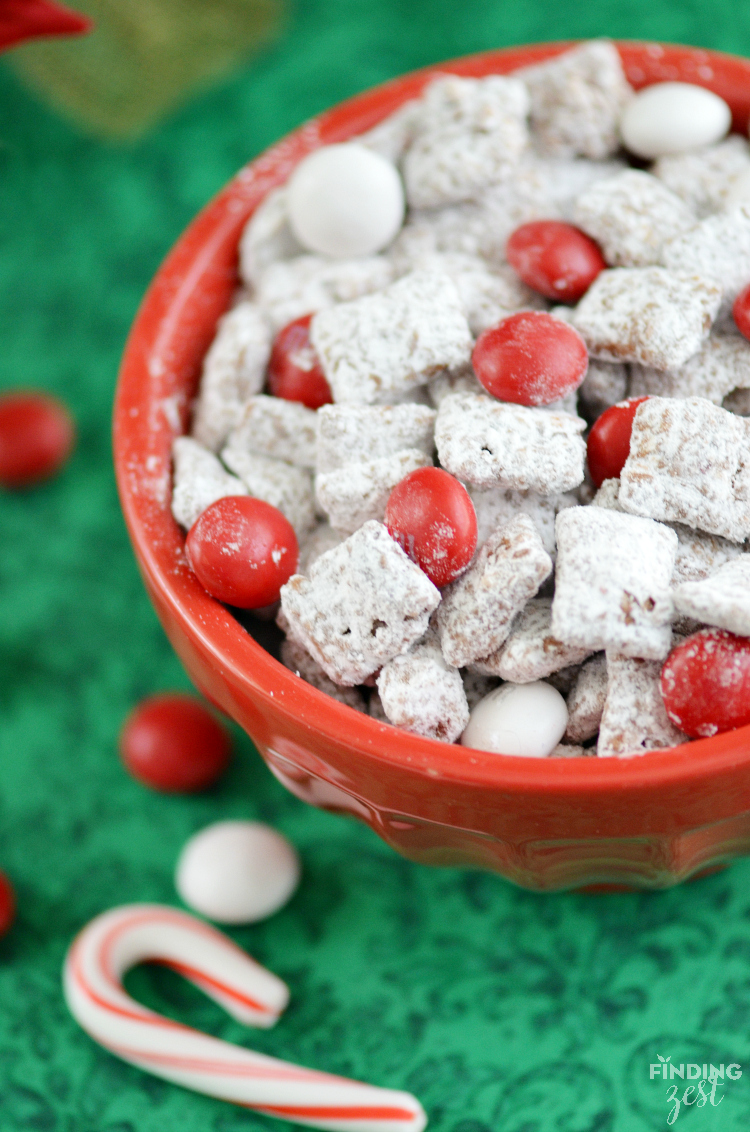 Making Peppermint Puppy Chow with Kids
Puppy chow is a super easy snack that is easy for young kids to help make. For this recipe, I like to let Wes go to town with a rolling pin and ziploc bag to crush the candy canes. He loves this step. Just make sure they roll or push down to crush instead of using the rolling pin like a hammer. Don't want to add marks your counter or cause any injuries!
We used melted milk chocolate chips but you can use any preferred chocolate. We like Ghiradelli best for the flavor and easy melting.
If you have a younger mini chef, you may want to handle the stirring part yourself to avoid crushing the cereal. It is important to be gentle.
Wesley loved gently shaking the bag to mix all the ingredients together.
This is a very portable and easy snack.
To add some color to our puppy chow and continue the flavor, I included some peppermint M&M candies.
Peppermint Puppy Chow
Recipe Type:
Snack/Dessert
Ingredients
6 cups Rice Chex
1 and ½ cups milk chocolate chips
1 tablespoon vegetable oil
⅔ cup crushed candy canes (approximately 28 mini candy canes)
1 and ¼ cups powdered sugar
1 cup peppermint milk chocolate coated candies
Instructions
Melt chocolate chocolate chips and oil in microwave starting with a 30 seconds Then melt in 15 second increments, stirring in between and just until fully melted.
Add cereal to extra large bowl.
Pour melted chocolate over cereal and gently fold chocolate in until cereal is covered.
Gently stir in crushed candy canes.
Add powdered sugar into a gallon sized zipper bag.
Add the chocolate covered cereal.
Seal and gently shake until all the cereal is coated with the powdered mixture.
Discard excess powdered sugar.
Add peppermint candies.
Store at room temperature.
The kids loved it. Use this peppermint puppy chow for a simple snack or dessert. It is also perfect for serving a crowd or homemade holiday gifts!
What have you been up to with your mini chefs this week?
I am hosting Mini Chef Mondays along with 5 fabulous bloggers, find out more about the Mini Chef Mondays Team!
Be sure to check out each of their Mini Chef posts as well!