I live in a beautiful city. Stunning really. When I was looking for a night away with my husband I decided to eliminate the travel completely and partake in all that downtown Duluth, MN has to offer instead. How often do you take the time to play tourist in your hometown? Enjoy a tour through my recent "staycation" thanks to my generous sponsors, The Suites Hotel at Waterfront Plaza and Black Water Lounge .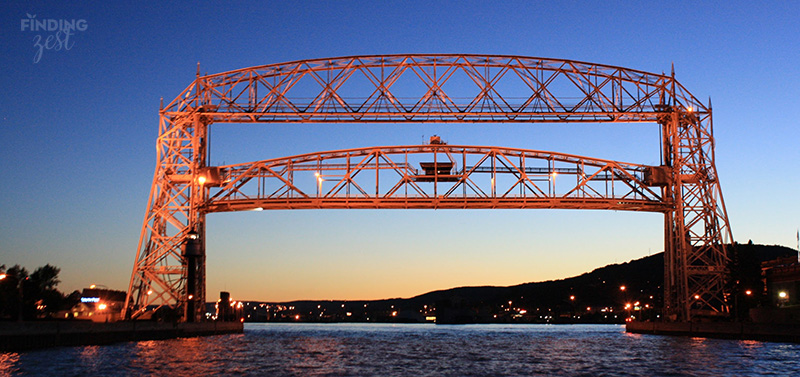 Welcome to Duluth, MN. The stunning Aerial Lift Bridge, gateway from the great Lake Superior into the shipping port and the St Louis River, is the centerpiece of Canal Park. The unique extension of downtown Duluth extends along the waterway connecting the city center to the rustic Park Point with its sandy beaches and crashing waves. I snapped this picture on a crisp summer night while playing local tourist on the Vista Fleet, our local cruise ship (a highly recommended excursion if you want to see Duluth from a unique perspective).
Whether you're sailing under the Aerial Lift Bridge or viewing it from a distance (shown here from Enger Park), enjoying a warm summer day or cold winter night, Duluth, MN is simply unforgettable. Why not stay locally and enjoy it?
As I prepared for major surgery last fall I decided to surprise my husband with a night away midweek. Babysitters were secured. The room was reserved (consider a non-weekend getaway to take advantage of lower room rates!) at The Suites Hotel at Waterfront Plaza in our beautiful Canal Park – within walking distance of the bridge, amazing restaurants and unique shops.
We relaxed in one of the two bedroom whirlpool condo suites which The Suites Hotel is known for. It featured two bedrooms, two bathrooms, a jacuzzi tub for two, a living room, dining room and kitchen.
The master suite has it's own full bathroom which is great if you're using the suite for a larger party. Simply close the doors and allow others to use the main bathroom in the large living area. We sipped wine and enjoyed a movie on one of the three HD televisions before heading to dinner.
What's most spectacular about these rooms apart from the large condo space, is the view from your bedroom window. You'll see a unique perspective of the William A. Irvan, a local ore boat that's available for tours. This is especially stunning at night when the city and boat are lit.
The Suites features full kitchens with dining space making an extended stay or family gathering especially convenient.
This includes quality dinnerware including wine glasses (perfect for sipping while you're in the jacuzzi tub)!

If you have a larger group, consider their huge 3 bedroom condo suite. I've stayed in this room several times for girls weekends with my friends. It features three private bedrooms, two with king beds, the other with two double beds, large living room area with fireplace, four person whirlpool bath, dry sauna, two full bathrooms, four HD televisions, fully equipped kitchen and a dining room table. Bring the snacks, take and bake pizzas, movies, jammies, swimsuits and blankets to cuddle up around the fire. You have no reason to leave the condo all weekend!
Of course they have simple hotel rooms as well with the same great access to pools, breakfast, close access to canal park restaurants and attractions, and even free drink tickets for nearby establishments.
Family time is great at The Suites Hotel as well with their kid-friendly pool which my daughters love splashing in.
They also have a jacuzzi tub, pool, sauna and small arcade room. If you prefer pool time there are a few rooms that have direct pool access.
We enjoyed a walk down Lake Avenue (pack a jacket and scarf as the big lake is known for causing a chill no matter the time of year). The Aerial Lift Bridge is beautifully lit at night. Right at the base of the bridge is wine-lover's favorite restaurant, Bellisios, with over 500 selections (125 served by the glass) to choose from.
Bellisios is known for it's wine and authentic Italian dishes. Yum!
After dinner, walk across the street to Rocky Mountain Chocolate Factory and enjoy a sweet treat. You can bring something back to the room to enjoy with your wine and jacuzzi time at The Suites Hotel. This is also a great spot to get a little gift for the kids.
After our relaxing night away my husband headed back to work, since we decided to enjoy our local "staycation" midweek. I slept in (gasp), took a long soak in the jacuzzi, and enjoyed a free breakfast which I brought back to my room. After checking out, I met the kids just down the road at our favorite arcade, Adventure Zone. This huge, indoor arcade offers mini-golf, arcade games for all ages, a laser tag course and rock climbing wall!
Perhaps you're looking for a "staycation" with your girlfriends. I have the perfect spot for a fun-filled night with a classy atmosphere, live music, and amazing drink/food specials on Ladies' Night! Black Water Lounge in Duluth, MN is the perfect spot for your next night out with friends, bachelorette party or gathering.
As I prepared for major surgery I wanted to spend a fun night out with my closest girlfriends and knew Black Water Lounge would be perfect. I encouraged everyone to dress in something they felt beautiful in (which is fun at this classy nightclub). You can indulge in amazing food and drink specials with their happy hour every night but we went on Thursday Ladies' Night.
We enjoyed half-price sushi (amazing!) and $5 martinis (yum) which feature a wide variety of unique flavors. My favorites are the Pretty as a Peach, Lady Slipper and the traditional Cosmopolitan. Ask which martini is served bubbling with dry ice!
We enjoyed filling our tables with pizzas and sushi plates which we all shared. It's a great way to try sushi rolls that you might not otherwise order.
Black Water Lounge has several great table spaces in their main lounge area for small groups. Sit back in comfortable leather chairs or gather in a group around one of their round booths.
Of course they also have seating around the large bar or near the piano with live jazz music.
I knew I'd have a larger group so I reserved their VIP room which was the perfect place to talk with my girlfriends and enjoy a bit more privacy.
We ended our night with the undeniably delicious chocolate fondue dessert. This is a must!


Although I enjoyed my staycation getaways with my amazingly supportive husband and girlfriends as I prepared for some major life changes, ultimately I love the little moments as a family here in Duluth, MN #AuthenticDuluth. If you live here, or are visiting, be sure to meet the big Lake Superior. Whether it's a frozen winter day at Brighten Beach (perhaps on your way to explore the beautiful North Shore), or a sunny summer day on the Canal Park rocky beach…
be sure to skip a rock in the dark blue water before you leave.