So your kids want to eat dessert in the morning? Why not? Better in the morning when they have a chance to burn it off than at night before they go to sleep. Coffee cakes are by far the best excuse to have cake for breakfast.  Since they traditionally feature a glaze or crumb topping, they are also a tasty way to get deliciously moist cake without the added sweetness of a buttercream frosting. My whole family loves them. This Pumpkin Cream Cheese Coffee Cake is reminiscent of the long time favorite pumpkin bars with cream cheese frosting. (Seriously, who doesn't love those bars???)
We found this recipe in Taste of Home and altered it to suit our tastes. I'm not from the south but I have to say, this coffee cake is amazing, y'all. Just trust me on this.
With three different layers in one, this pumpkin coffee cake was lots of fun for Wes. So many different skills are used.
This was his first time getting to marble cream cheese.  Since it does get covered up later, kids can just play around.
I could really see how much Wes has progressed in the kitchen. At the age of four, he was able to very evenly add all the crumb topping. A year ago I may have had to make a suggestion where he had missed a few spots, but not anymore. It is so much fun to watch him work.
My other two boys were lured into the kitchen by the delicious smell that filled the kitchen as this Pumpkin Cream Cheese Coffee Cake baked. Yum!
The first day we ate it warm out of the oven. It tasted so good my 8 year old Warren declared he wanted this for his birthday cake. I was surprised since he normally isn't a big cream cheese fan.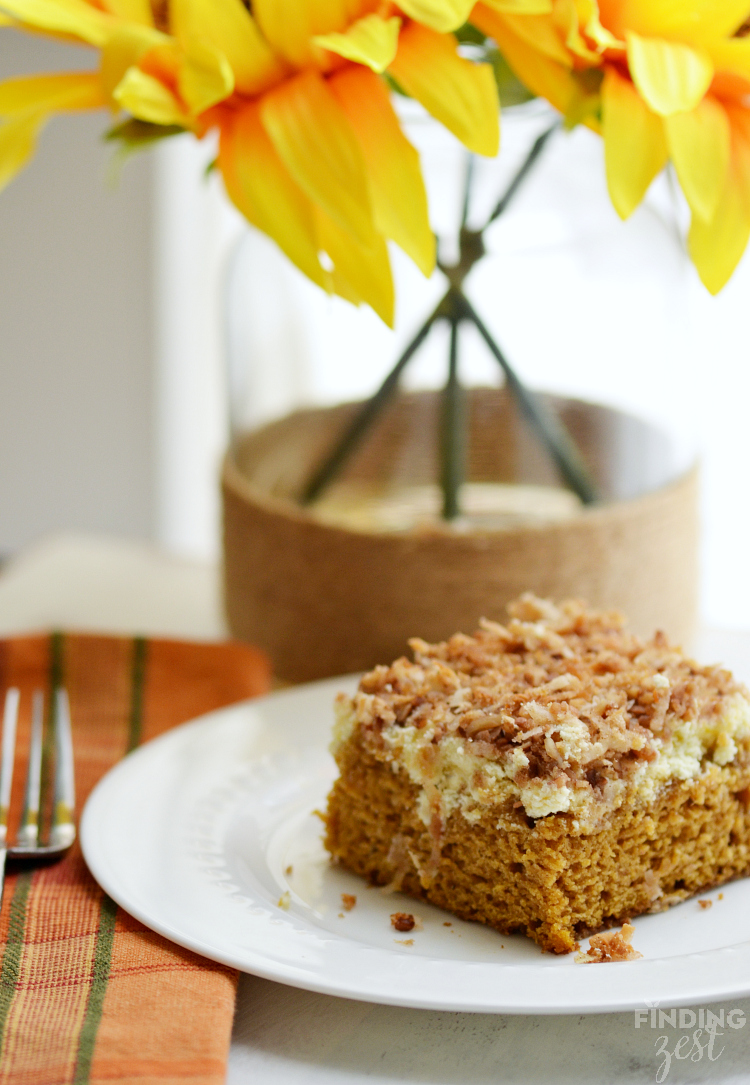 This coconut crumb topping is really something special. It really adds so much flavor and a nice crunch.
I stored this in the fridge and I'm not sure which way I liked it more, hot or cold. I will say that if you love cold pumpkin bars from the fridge, you'll love this coffee cake that way too. The flavors had a chance to really set overnight and the cream cheese becomes more prominent when it is cold.

Pumpkin Cream Cheese Coffee Cake
Author:
Emilie at FindingZest, altered from Taste of Home
Recipe Type:
Breakfast/Dessert
Serves:
12 to 15 servings
Ingredients
2 cups sugar
2 eggs
1-1/2 cups canned pumpkin
¼ cup vegetable oil
1 teaspoon vanilla extract
2-1/4 cups all-purpose flour
1 teaspoon ground cinnamon
1 teaspoon pumpkin pie spice
1 teaspoon baking soda
½ teaspoon salt
FILLING:
1 package (8 ounces) cream cheese, softened
1 egg
2 tablespoons sugar
TOPPING:
⅔ cup flaked coconut
½ cup finely chopped pecans
¼ cup packed brown sugar
½ teaspoon ground cinnamon
Instructions
Preheat oven to 350 degrees.
In a large bowl, beat sugar, eggs, pumpkin, oil and vanilla.
In medium bowl, stir together flour, cinnamon, pumpkin pie spice, baking soda and salt. Add to sugar mixture and beat well.
Add to sugar mixture and beat well well.
Pour into a greased 13-in. x 9-in. baking dish.
In a small bowl, beat cream cheese, egg and sugar until competely smooth. (Be sure cream cheese is at room temperature for easy mixing)
Drop tablespoonfuls over batter.
Use a butter knife to swirl batter.
In small bowl, combine topping ingredients and add to top
Bake at 350° for 35-40 minutes or until a toothpick comes out clean.
Cool on a wire rack for 20 minutes.
Serve warm or cold. Store leftovers in refrigerator.
Hope you love this Pumpkin Cream Cheese Coffee Cake as much as we do!
What have you been up to with your Mini Chefs?
I am hosting Mini Chef Mondays along with 5 fabulous bloggers, find out more about the Mini Chef Mondays Team!
Join our facebook group to find even more recipes and share recipes too!
Get featured and follow us too!
Be sure to check out each of their Mini Chef posts as well!