School days are long days for my boys, especially for my five year old in kindergarten. The bus picks them up at 8:00 am and drops them off at 4:30 pm so waiting for dinner can be rough indeed. It is nice to have a something to tide them over so when I was asked to get creative with some Post Alpha-Bits cereal, my mind immediately went to a snack.
I thought that I would make some trail mix since my boys love the combination of sweet and salty. And given it is the fall season, pumpkin would be a wonder flavor to feature. (It is everywhere, isn't it?) I noticed that by themselves, Alpha-Bits only have 6 grams of sugar per serving. So if I wanted to add a little sweetness to this cereal with the pumpkin spice flavor, it wouldn't be over the top. And bonus, this cereal is also a great source of Vitamin D and Iron.
You can easily play around with the ingredients to suite your families tastes.  Don't you just love those types of recipes?

Pumpkin Spice Trail Mix
Author:
Emilie of Baby Loving Mama
Ingredients
2 cups Post Alpha-Bits cereal
1 cup pretzels
½ cup dried cranberries
1 teaspoon pumpkin pie spice
2 tablespoons honey
1 tablespoon coconut oil in liquid form (or canola oil)
½ teaspoon vanilla
1 teaspoon water
½ cup yogurt raisins
Instructions
Preheat oven to 325 degrees,
In large bowl, mix cereal, pretzels and cranberries. Set aside.
In small bowl, combine honey, pumpkin pie spice, oil, vanilla and water. Pour over cereal mixture.
Gently toss until well combined.
Spread cereal mixture out on parchment paper or silicone baking sheet lined cookie sheet. (Or ungreased cookie sheet.)
Bake for 15 minutes, stirring once halfway.
Cool completely (approximately ½ hour) and gently stir in yogurt raisins.
Store in air tight container
While I have made homemade baked granola and trail mix before, I've never tried anything with a pumpkin spice. I immediately fell in love with the aroma as it cooked and the taste. There is nothing better than trying this fresh out of the oven. Heavenly!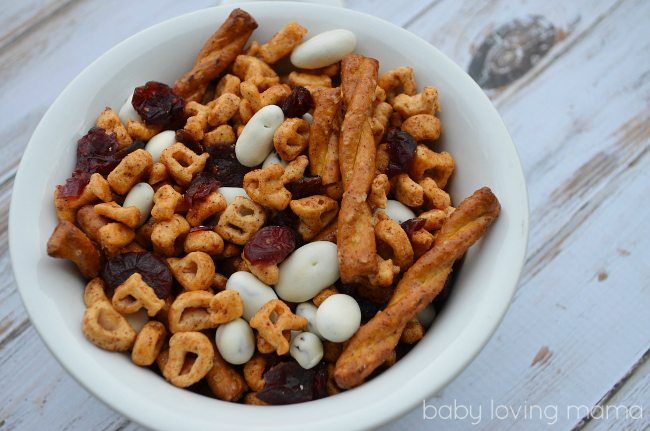 To make the day extra special, I put some of the trail mix in a handy to go box and greeted the boys outside. I wasn't sure what they would make of the different fall flavor but they loved the combination and didn't want to stop eating their snack.
With the cereal letters, it makes it fun and education to play with their Alpha-Bits. It is an easy way to mix snack with learning, whether it means playing a "find a letter" game for letter recognition or seeing what words my boys can spell.
For more information about Alpha-Bits, including recipe ideas, visit the
Post Alpha-Bits
page. Also search for the #alphabits hashtag to see more creativity from other bloggers.
Disclosure: I am participating in this blogger campaign with the  Mom It Forward Blogger Network and Alpha-Bits. All thoughts remain my own and are not influenced by monetary compensation received.