Last week I was stumped on what to make for dinner.  I was craving something new yet quick. After a search through my fridge I found I had all the makings for something taco related. This is a favorite of my husband's so I tend to have the ingredients on hand. And since I'm part of the Kraft Tastemaker blogging program which encourages me to use items around my kitchen, I decided to check out some recipes on the Kraft website.
The first recipe I came across was this Quick-Fix Beef Burrito Skillet. It had fabulous reviews and looked so simple. My kind of dish!
After quickly scanning the ingredients list, I realized I had everything I would need to make it. I wasted no time and started browning my hamburger. I had everything on the table in under 30 minutes with this easy dish!
Quick & Easy Beef Burrito Skillet
Ingredients
1 lb. lean ground beef
1 pkg. (1-1/4 oz.) TACO BELL® Taco Seasoning Mix
1 can (15.5 oz.) no-salt-added red kidney beans, rinsed
1 cup TACO BELL® Thick & Chunky Salsa
1 cup water
4 flour tortillas (6 inch), cut into 1-1/2-inch pieces (or smaller if preferred)
1 cup KRAFT Mexican Style Finely Shredded Four Cheese
Your favorite toppings such as:
⅓ cup BREAKSTONE'S or KNUDSEN Sour Cream
1 large green onion, chopped
chopped tomatoes
black olives
Instructions
In large nonstick skillet over medium-high heat, brown your hamburger until fully cooked and meat is no longer pink. Drain.
Stir in taco seasoning mix, kidney beans, salsa and water.
Bring to boil then simmer on medium-low heat for 5 minutes.
Gently stir in tortilla pieces until combined and top with cheese. Remove from heat and cover.
Let stand 5 min. or until cheese is melted.
Serve with your favorite toppings such as sour cream, green onion and tomatoes.
I cut my tortillas a bit smaller than the recipe called for to make it easier for my kids to eat. I also cut them at an angle for something different because sometimes it is just fun to change things up a bit.
While the original recipe calls for the sour cream and onions to be placed on top of the skillet dish before serving, I like to serve these things on the side as not everyone in the family appreciates these flavors. It also makes it easier for storing and heating up leftovers, although there certainly weren't any leftovers of this dish!
I also served it with tomatoes which I really felt rounded it out. My husband loved this meal and told me I have to make it again. My 1 year old wasted no time eating and both of my kids enjoyed it once they actually tried it. (Sometimes this is no easy feat.)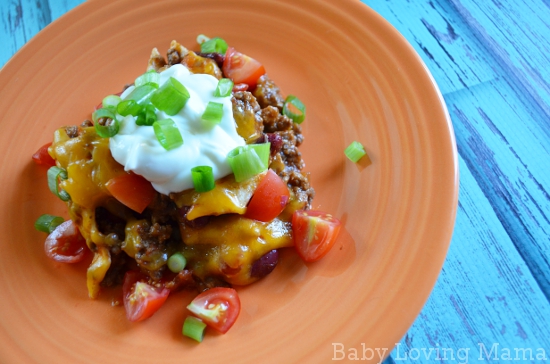 Feel free to switch up the toppings or try other types of beans. This is a great dish for any time of year and perfect for those hot summer days when you don't want to turn on your oven.
What is your favorite Mexican inspired dish?
If you are looking for more great south-of-the-border type recipes such as Taco Salads, perfect for summer entertaining, check out Kraftrecipes.com. Don't forget to follow them via Facebook and Twitter to stay connected.
___________________________________________________________________
Disclosure: This post was created for the Kraft Tastemaker Blogger Program. All thoughts remain my own and are not influenced by the monetary compensation received.