It is rhubarb season! Every year my mom has an abundance of rhubarb in her garden so she always shares some of her bounty with us. Last year we made a homemade strawberry rhubarb sauce and then strawberry rhubarb lemonade. They turned out so good! This year we opted for Rhubarb Banana Muffins for a special morning treat!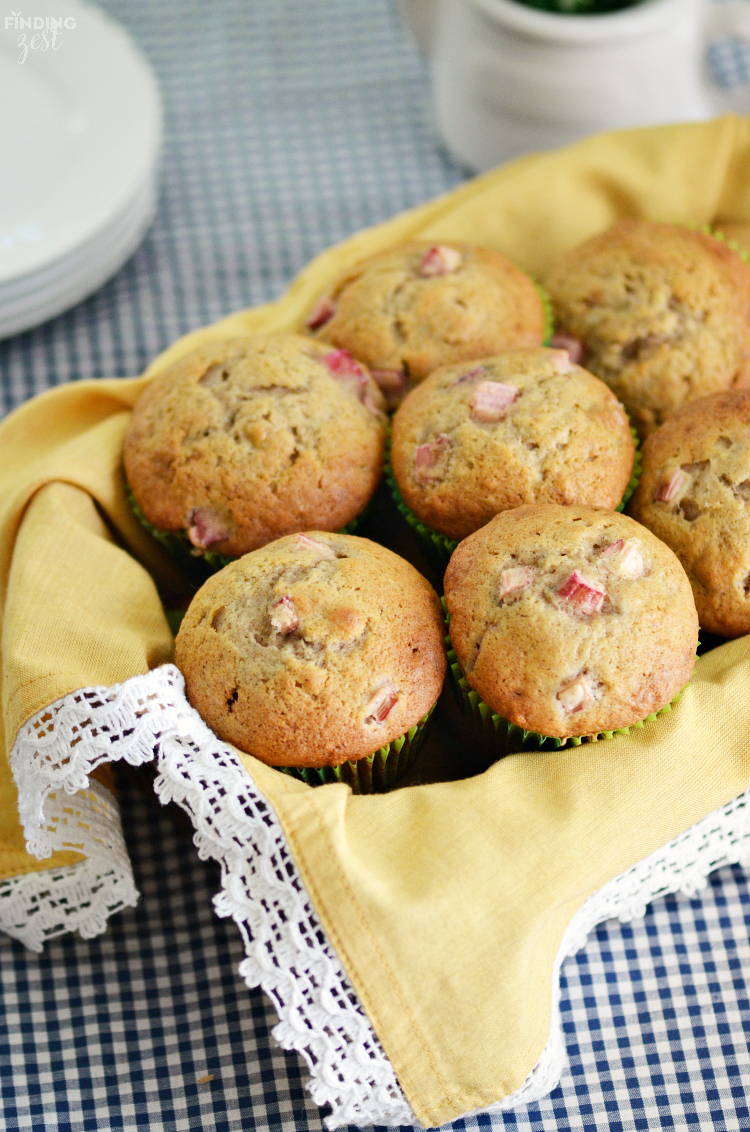 How to Make Rhubarb Muffins
Using our favorite strawberry muffins recipe as a base, this muffin was quick and easy to prepare.
Originally I wanted to give Wes the opportunity to use his kids knife set to chop of the rhubarb but it is just too stringy for the serrated edges.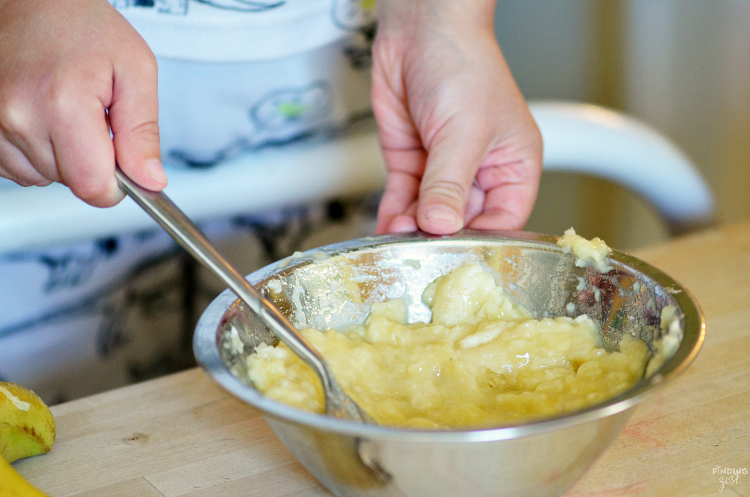 Instead I put Wesley to work mashing up the banana while I diced the rhubarb.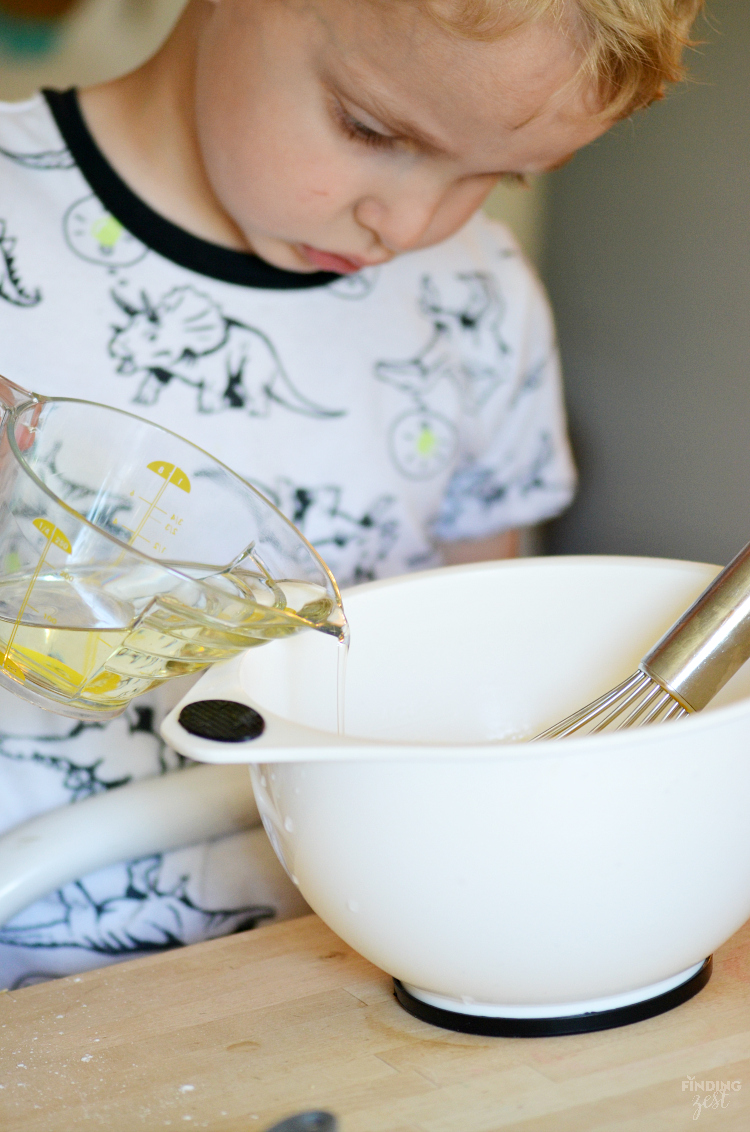 There are a lot of opportunities for measuring, pouring and stirring for this recipe. Wesley was happy!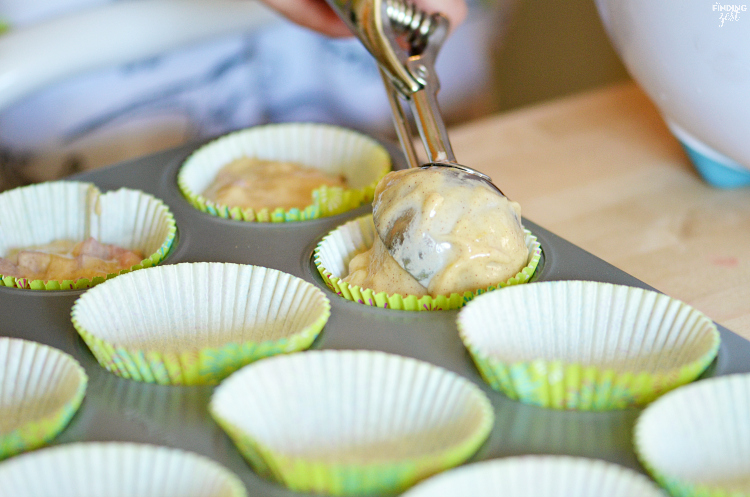 Making Muffins with Kids Tips:
When baking muffins with my kids, I like to use a large scoop. It is a great way to develop not only hand strength but coordination. We also like to use colorful cups. Wesley loves to line our muffin tins, and bright colors or fun designs makes our muffins look even better. If you are running low or need some cool baking cups in your life, Amazon has plenty of options that can be shipped directly to you!
Here are just a few of our favorite products:
Wilton Recipe Right Nonstick 12-Cup Regular Muffin Pan
Norpro Stainless Steel Scoop, 56MM (4 Tablespoon)
Wilton 415-8123 300-Pack Baking Cups, Pastel, Standard
Wilton 415-2870 150 Count Woodland Animals Baking Cups Value Pack, Assorted
Wilton 415-2178 300 Count Party Pack Standard Baking Cups
Wilton 415-2179 300 Count Rainbow Bright Standard Baking Cups
Those woodland animal cups are next on my to buy list. Aren't they adorable?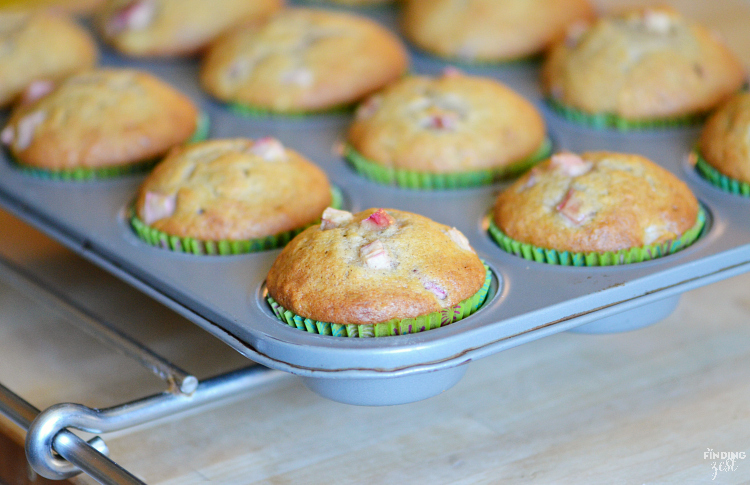 Rhubarb Banana Muffins Tip:
The tartness of the rhubarb and sweetness of the banana is a great combination! But it is important that the rhubarb is cut small as it is a pretty strong flavor.

Rhubarb Banana Muffins
Author:
Emilie at FindingZest.com
Ingredients
⅔ cup sugar
½ cup oil
2 eggs
⅔ cup mashed ripe bananas (about 2 medium sized bananas)
1 teaspoon vanilla
1⅔ cups all-purpose flour
1 teaspoon baking soda
1 teaspoon cinnamon
½ teaspoon salt
1 cup finely chopped fresh rhubarb
Instructions
Preheat oven to 375 degrees. Line a 12 cup muffin pan with paper liners or grease cups.
In medium bowl, whisk sugar, oil, eggs, bananas and vanilla until well blended. Set aside.
In large bowl stir together flour, baking soda, salt and cinnamon.
Stir banana mixture into dry ingredients.
Gently fold in rhubarb.
Add batter to muffin cups.
Bake for 17 to 20 minutes or until golden brown and toothpick inserted in center comes out clean.
Move muffins to wire rack to cool.
Serve while warm or cool completely.
Serve these rhubarb banana muffins with fresh butter and coffee for you and milk for a mini chef. They are so good!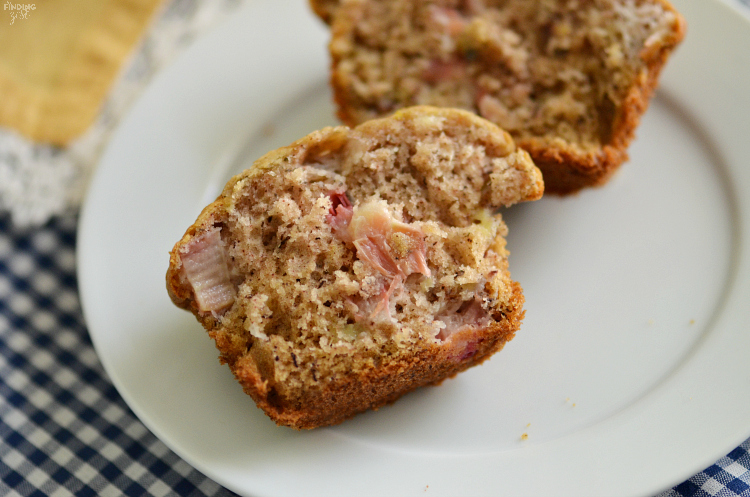 What have you been up to with your chefs this week?
I am hosting Mini Chef Mondays along with 4 fabulous bloggers, find out more about the Mini Chef Mondays Team!
Join our facebook group to find even more recipes and share your own recipes!
Get featured and follow us too!
Be sure to check out each of their Mini Chef posts as well!