Rolo Pretzel Bites with M&M Candies for Easter
This post may contain affiliate links. Please read my Disclosure and Privacy Policy.
Last Easter my mom made several different types of Easter candy. Besides these Coconut Chocolate Balls, she also whipped up these super quick and easy Rolo Pretzel Bites featuring spring colored M&M candies. You may have made them with pecans on the top instead but by using chocolate candies, you can add a nice pop of color. This are really great for any seasonal M&M candies, depending on the time of year, or for everyday celebrations with their usual rainbow of colors.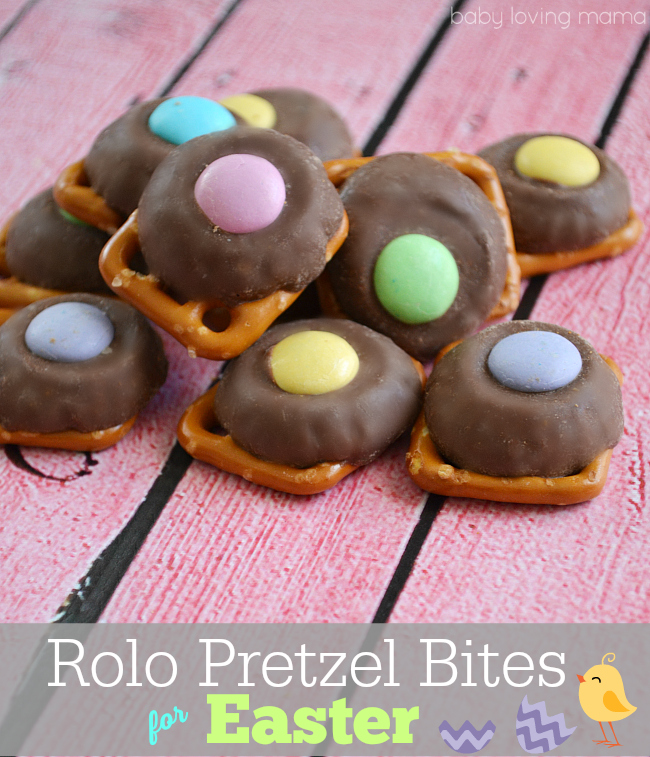 I don't know who originally came up with the idea of using M&M's versus pecans, but it was genius!
Rolo Pretzel Bites
Ingredients
Small pretzels

ROLO Chewy Caramels in Milk Chocolate

unwrapped

M&M chocolate candies
Instructions
Preheat oven to 350°F. Line cookie sheet with parchment paper, foil or silicone baking sheet.

Place a pretzel for each treat on lined sheet. (I like the square shape of Snyders Snaps instead of the traditional pretzels.) Top each pretzel with one ROLO candy.

Bake 3 to 5 minutes or until caramel piece begins to soften, but not melt.

Remove from oven and immediately top with M&M candy.

Cool completely.

(You can also try this in the microwave by placing up to six on a microwave plate on parchment paper. Microwave at 50% power for 30 seconds or until beginning to soften. Follow directions as above and cool completely.)
They are a quick treat with minimal effort, but really taste fabulous!
Do you have a favorite dessert recipe with only a few ingredients?