Feeding my kids isn't always easy. I could say they aren't picky about what they eat, but I'd totally be lying. One meal that has always been a hit with them however, is polska kielbasa. We typically keep things simple and just heat it over the stove but sometimes we like to try new recipes for smoked sausage like this sausage skillet.  When I was asked by Hillshire Farm to make something with their smoked sausage, a very similar product, I thought it would be fun to change things up a bit. This Smoked Sausage Penne Pasta is a simple meal loaded with a flavor that isn't too spicy for the kids. I love all the fresh vegetables!
If you are looking for a recipe that you can get on the table in under 30 minutes, this is smoked sausage pasta is a great option. It is filling but not heavy, flavorful but not spicy.
How to Make Smoked Sausage Penne Pasta
Virtually any fresh vegetables would taste great in this dish including broccoli, cherry tomatoes or even asparagus. I went with sweet peppers, red onion and mushrooms. Feel free to change up the vegetables to suit your own tastes.
To make this recipe, you'll need to first cook your pasta while you are sauteing your vegetables and smoked sausage.
You can lighten this smoked sausage pasta recipe by using a substitute product from Hillshire Farm made with turkey, such as turkey kielbasa and use a whole grain pasta. You can also cut the olive oil and Parmesean cheese amounts in half.

Smoked Sausage Penne Pasta
Ingredients
3 cups uncooked penne pasta pasta
14 oz package Hillshire Farm Smoked Sausage, cut into ½-inch slices
2 cups sliced fresh mushrooms
1½ cups sliced red onion
2 large sweet bell peppers (red, yellow or orange) cut into strips
2 garlic cloves, minced
5 teaspoons minced fresh basil or 1-1/2 teaspoons dried basil
2 tablespoons olive oil
2 tablespoons lemon juice
salt and pepper to taste
¼ cup fresh parmesean cheese
Instructions
Cook penne pasta according to package directions. Meanwhile, in a large nonstick skillet, heat oil over medium heat.
Saute sausage, mushrooms, onion, peppers and garlic and until vegetables are tender.
Drain pasta and add to the sausage mixture.
Add basil, salt and pepper. Gently toss and heat through.
Sprinkle with fresh parmesan .
Serve immediately.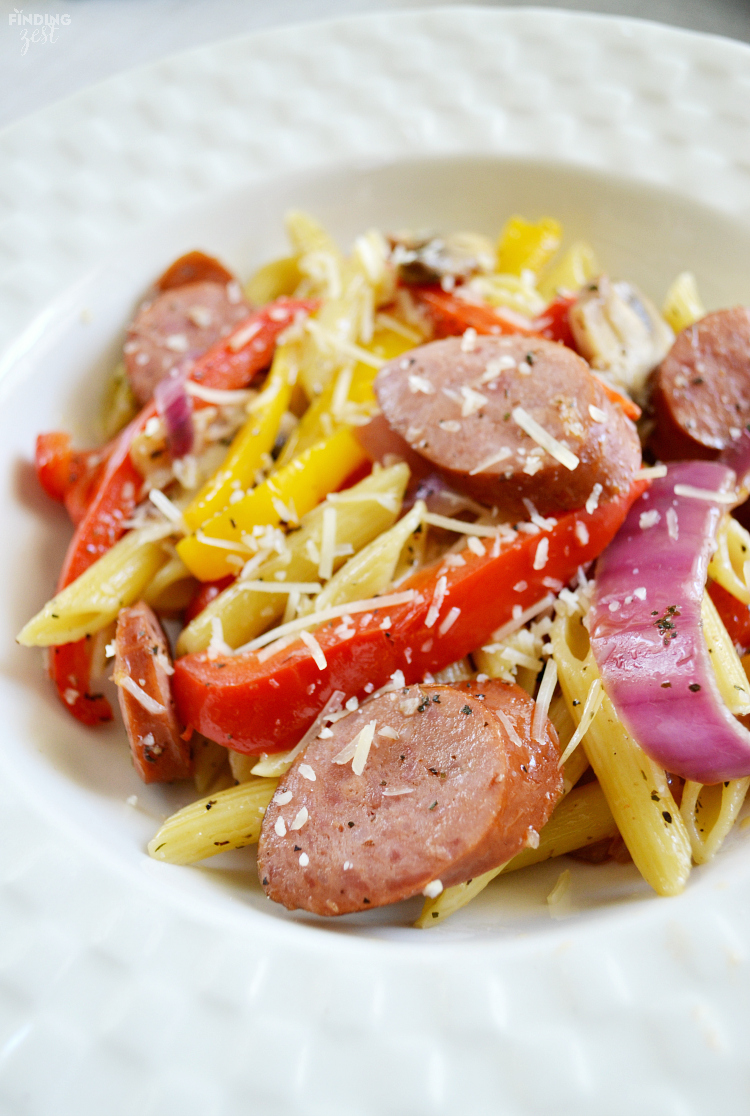 More Smoked Sausage Recipes
If you want more dinner time inspiration with smoked sausage and pasta, try this Smoked Sausage fra Diavolo. It is a fun twist on classic spaghetti! Don't want red sauce? Try this sausage with white sauce recipe. Alternatively, you can break away from the pasta and try this shrimp sausage gumbo or this shrimp paella recipe with chicken sausage.
Hope you enjoy these recipes with smoked sausage!
This is a sponsored post. All thoughts are my own.