It is said that mermaid themed foods is one of the latest trends and it isn't hard to see why. From mermaid toast to mermaid water, fun mermaid ideas are everywhere! I've been making several mermaid treats lately with my kids and they have been a lot of fun. One garnish that I will feature in my Mermaid Fruit Dip and Mermaid Ice Cream Dream Shakes (watch for that for Mini Chef Monday) are these beautiful mermaid tails. They are easier to make then you think and would be awesome for a mermaid party on everything from cupcakes to garnish to party favors! Keep reading to learn how to make a sparkling chocolate mermaid tail!
Sparkling Chocolate Mermaid Tail Supplies:
All the supplies you need can be found at most craft stores, with the exception of the mermaid tail silicone mold.  But why go out searching when you can have it all shipped directly to you, right from Amazon? It is so much easier than bringing my kids with me to the craft store!
Pearl Dust 3g-Silver
Wilton 1907-1352 5-Piece Decorating Brush Set
Mujiang Mermaid Tail Silicone Jelly Sugar Chocolate Fondant Molds Small
Wilton 1911-1358 Lavender Candy Melts, 12-Ounce
Wilton 1911-1351 Candy Melts, 12-Ounce, Blue
Wilton 1911-9424 Turquoise Candy Melts Candy
I purchased this mermaid tail silicone mold which features both a large and small mermaid tail. The large would be a great option for a birthday cake but for my purposes I wanted to use the smaller version as garnish for fruit dip and milkshakes. The mold had a slight smell when I first took it out of the package but that went away after I washed it a few times and gave it some air.
To fill the small mold you will need exactly 6 candy melts. If Wilton doesn't make the exact color of candy melts that you need, you can always mix colors. For example, to get a light aqua color you can mix half turquoise and half bright white.
The first mermaid tail I tried I left it looking like the image above. It seemed pretty level and I thought it was good enough. But if you don't use something with a nice straight edge to remove the excess, you won't have a clean look on the back or sides of your chocolate mermaid tail. Be sure to also gently tap your mold a few times against a level surface to remove air bubbles!
It only takes about 15 minutes or so to become solid in the refrigerator. If you plan to make a lot of chocolate mermaid tails, I'd recommend buying more than one mold.  Here are two other mold options from Amazon which would allow you do many at once. (This netting also works great for mermaid party decor!)
Cybrtrayd Mermaid Tail Chocolate Candy Mold in Sealed Poly Bag w/Copyrighted Molding Instructions
2-12 cavity (24 Total)Gummy Mermaid Tail Mold DIY Candy Gelatin Maker Fishing Lures
Elinka Cute Romantic Seashell Sea Shell Silicone Cake Mould Chocolate Fondant Mold
Natural Fish Net Party Accessory (1, 1 LB)
Not sure which mermaid tail mold to purchase?
Check out this post on Which Chocolate Mermaid Tail Mold is Right for You where I break down the pros and cons of each mold and do a size comparison so you can choose the best mold for your project!

Be careful when removing your tail from the mold so you don't break it.
Once your chocolate mermaid tail is removed, you can add a beautiful shimmer by applying pearl dust. I used silver but any metallic would be beautiful. Be sure to use food safe brushes! The size of the brush will determine how your dust is applied. If you want a lighter look, pick the bigger brush. A more compact brush like the one shown above will apply a thicker coat.

Sparkling Chocolate Mermaid Tail
Ingredients
6 Wilton candy melts
¼ teaspoon canola, vegetable or coconut oil
Wilton pearl dust in silver or gold
Instructions
Melt candy melts and oil in microwave save dish in short intervals, stirring often. (This will take around 30 seconds total. Do not over cook chocolate.)
Stir to completely combine.
Using a spoon, carefully drop chocolate in small silicone mermaid mold, filling to the top.
Using straight edge of scraper or knife, slide along top of mold to remove excess chocolate.
Gently tap mold a few times against a hard surface to remove any air bubbles.
Transfer to refrigerator until firm, about 15 minutes.
Carefully remove from silicone mold.
Brush with pearl dust using food safe brush.
Store in airtight container.
For this tutorial I'm featuring the blue, lavender and vibrant green candy melts. Aren't they pretty? I can't wait to play around with more color combinations and come up with new ways in which to use them. These sparkling chocolate mermaid tails would be perfect to use as a mermaid party favor or on mermaid cupcakes.
Be sure to check out my other mermaid party ideas including these colorful Mermaid Fruit Smoothie Shots which also use Wilton candy melts!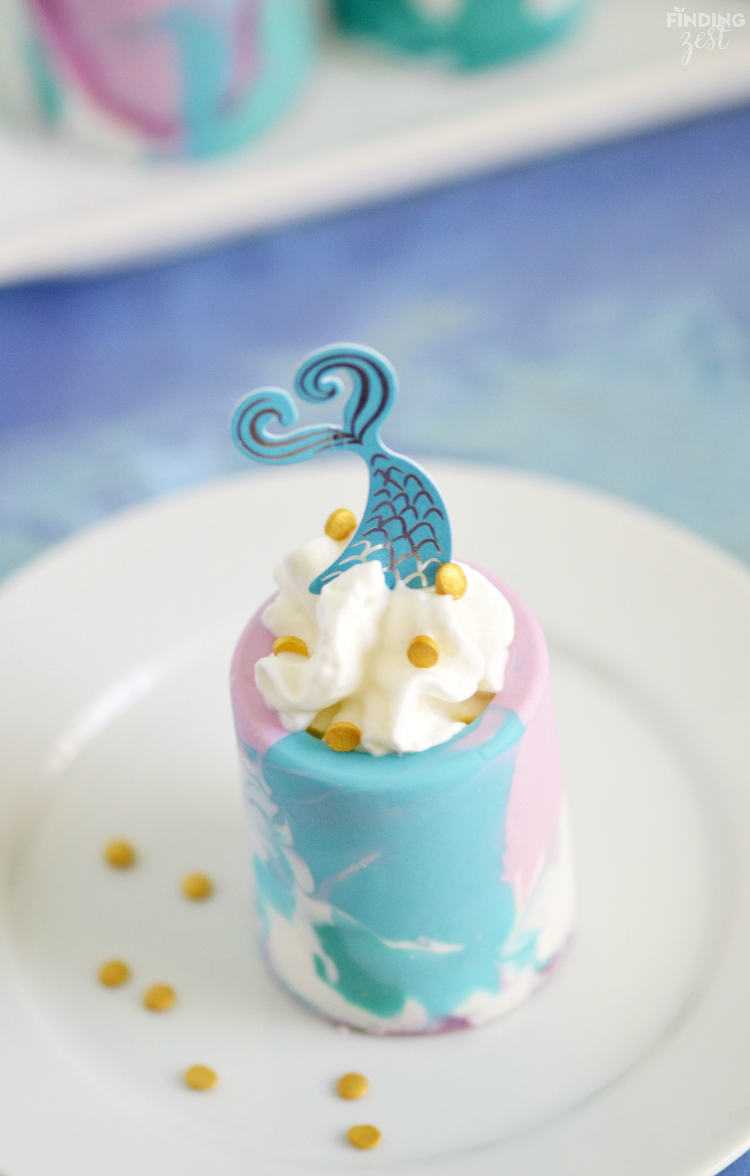 This Mermaid Party Bark designed to look like ocean waves is another great option!
Hope you make some waves with your mermaid party!