Halloween is one of my very favorite holidays, especially for food. It is so fun to come up with new and creative Halloween treats and snacks that I know my kids will love like these Spider Web Halloween Chocolate Dipped Pretzels. They are no bake, no fuss and kid-friendly. My kind of recipe. Don't they look cool? They are easier than you think!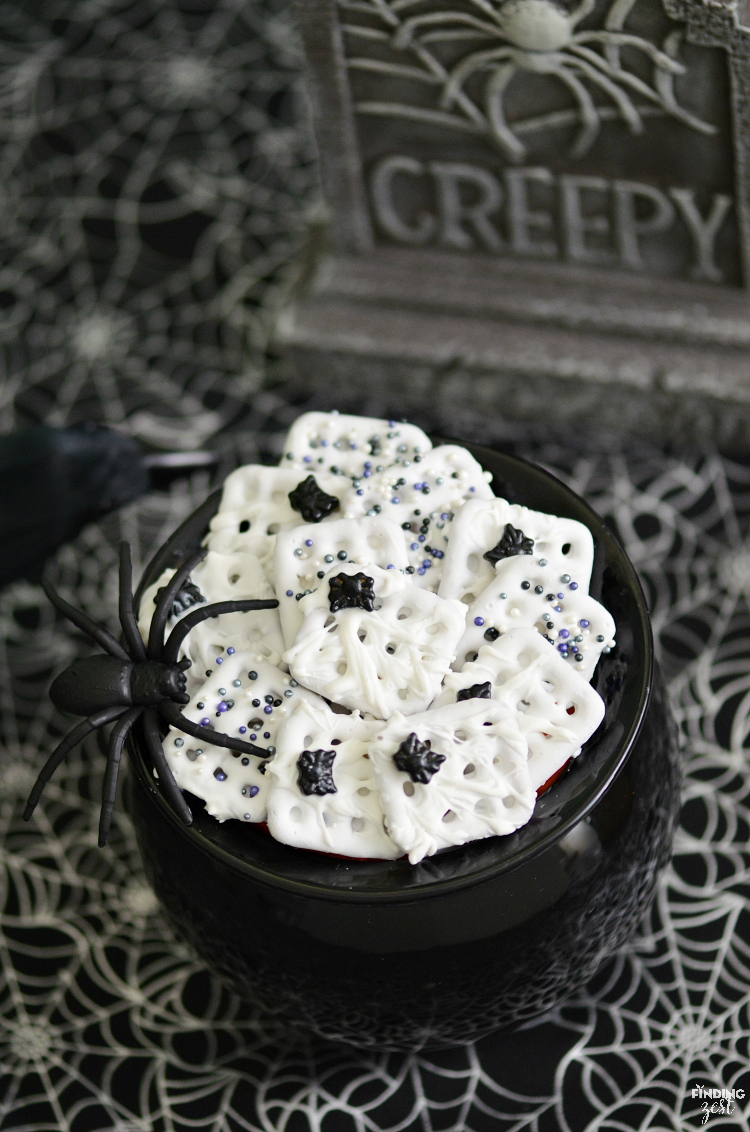 Halloween is really centered around the kids and fun. There are no presents to wrap or holiday dinners to plan.  All I have to worry about is costumes and weather for trick-or-treating. Nothing too stressful which leaves me plenty of time to make Halloween chocolate dipped pretzels.
Spider Web Halloween Chocolate Dipped Pretzel Supplies
Wilton Candy Melts, White, 12 oz.
Wilton 710-2123 Halloween Spider Mix, Assorted
Wilton 710-593 Halloween Nonpareils
Wilton 710-685 Halloween 6 Cell Sprinkle Mix, 204g
Reynolds Kitchens Cookie Baking Sheets Parchment Paper (Non-Stick, 22 Sheets)
Artisan Silicone Baking Mat for Half-Size Cookie Sheet with Red Border, 16.5 x
For this recipe I used Wilton Bright White Candy Melts. You can use almond bark or your favorite white chocolate chips, but to get this bright white you'll need to use these melts. You'll want parchment paper or reusable silicone baking mats to dry your chocolate dipped pretzels. I love my silicone baking mats use them all the time for baking, especially cookies!
For the little spiders I used this awesome Wilton Halloween Candy Decorating Kit from Target. I love that it has such a great variety. You can find it in store or purchase online. You can also find these small spiders in this Wilton Spider Mix Sprinkles, although you might need to buy more than one jar for this project.
To create the spider web look, I simply used a toothpick and dipped it into more white chocolate and used that to spread it over the already dipped pretzels. I wanted it to appear random so it is extra simple to create this look. No two webs looked exactly the same, just like real life.
For a little pop of color, I also used these non-pareils for some of my pretzels. This is a good way to make more pretzels without needing more spider sprinkles. I bought these last year, but I've seen similar color scheme including lime green in store at Target. Otherwise, really any Halloween sprinkle or non-pareils will work!
Whether you make these to serve at a Halloween party, as a classroom snack, or just because, these Spider Web Halloween Chocolate Dipped Pretzels are sure to be a hit!
Looking for more great Halloween ideas? Be sure to check out my other Halloween recipes like these Halloween Marshmallow Monsters!