*This post is brought to you in partnership with Finish Power & Free.*
Every year I'm reminded how important it is to enjoy the summer months during our harsh winters.  Unless the weather doesn't cooperate, we get outside every day. It might be going to the park,  or even a big vacation. But it the fun that we have in our own backyard that we enjoy most often.
It is amazing the fun you can have outside, right at home. Some of the activities we've enjoyed just this month include setting up a tent. We would have loved to camp overnight, but the weather wouldn't cooperate. That didn't stop us from having a ton of fun reading inside the tent under the stars.
We've had several picnics in our backyard. Watermelon just seems to taste better outside on a blanket.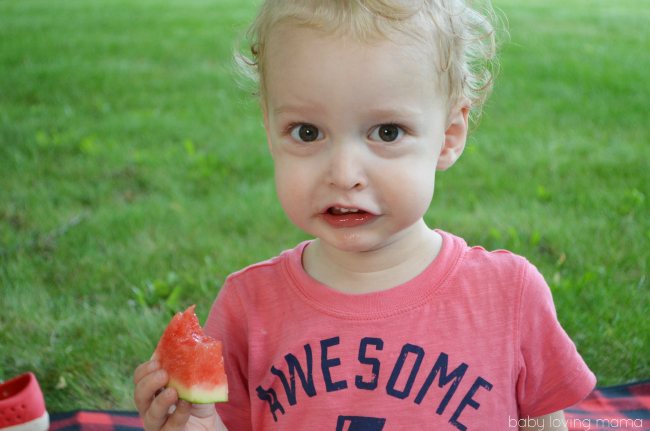 We let the kids be silly. Table manners while eating on the ground go out the window. But that is ok because these are special memories in the making.
Warren had his first chance to roast marshmallows by himself, under direct supervision. This summer rite of passage was a big deal for him. He learned how not to roast them quickly and soon was browning his own tasty marshmallows.
The boys have played in trees, blown and chased bubbles, and created artwork together with sidewalk chalk.  I even learned that my kids are better at tag than I am. It is these small, everyday family moments that I will remember about this summer.
And it is the small decisions that I make for my family every day that make me proud to be their mom.  Even the decisions that seem ordinary and trivial to some, like what kind of dishwasher detergent to use.
Finish® Quantum® dishwasher detergent and Finish® Jet-Dry® as part of the Finish Power & Free line provide residue protection versus detergent alone so that nothing is left behind. Because it is less harsh, it can be used with baby products yet still offer superior cleaning power.
I like this peace of mind so I can spend more time doing the important things. I encourage you to get outside and make some special summer memories with your kids!
REQUEST A FREE SAMPLE:
Fill out the sample request form to try it out yourself! Be sure to like Finish on Facebook to keep up on all the latest product news and offers.
GIVEAWAY:
Finish is offering a $100 Visa gift card for one of my lucky readers to have their own outdoor family adventure!
a Rafflecopter giveaway


Disclosure: I am a member of the Finish Power & Free Alliance of Moms, which is a sponsored. All thoughts remain my own.