*This is a sponsored post written by me on behalf of Asurion.*
I will never forget when my  husband Joe called me to tell me his jacket had been stolen at his fitness center while he was working out a couple of years ago. Not only was his favorite jacket gone, but so were his keys and cell phone. Thankfully my husband didn't have his wallet on him.
Wait, what?
How did this happen?
The fitness center is a sizable location downtown, complete with electronically secured areas within a large healthcare facility. It is mostly made up of professionals, retirees, etc. Who would want to steal a jacket and how did they do it?
During an investigation, they found the culprit on camera snagging his jacket and acting as though it were his as he nonchalantly went out the door. Security was able to identify him as someone who is not a member and they had had issues with him before. Law enforcement was able to retrieve his his favorite jacket and presented it to him in a brown paper bag but his keys and cell phone were gone for good.
We had to have a very expensive set of keys remade and our lock replaced on our house. My husband was forced to borrow a phone from my parents until we could get him a new one. (Which really meant he had to wait until I was able to get a new one and he could use the one I had.)
All this was very stressful and such a pain. With contracts typically lasting for two years, anything that happens to a phone under contract can be extra expensive indeed. I'm happy that I haven't had anything happen to my iPhone, (knock on wood)  but I know I would be lost. It is part of how I make my living. My contract is not up until July so if something happened to it now, I would be forced to pay full price.
Did you know? 
Cellphone theft is on the rise. It makes up 30% of all robberies in major cities (Frost & Sullivan, The Rising Trend of Mobile Handset Incidents, 2013).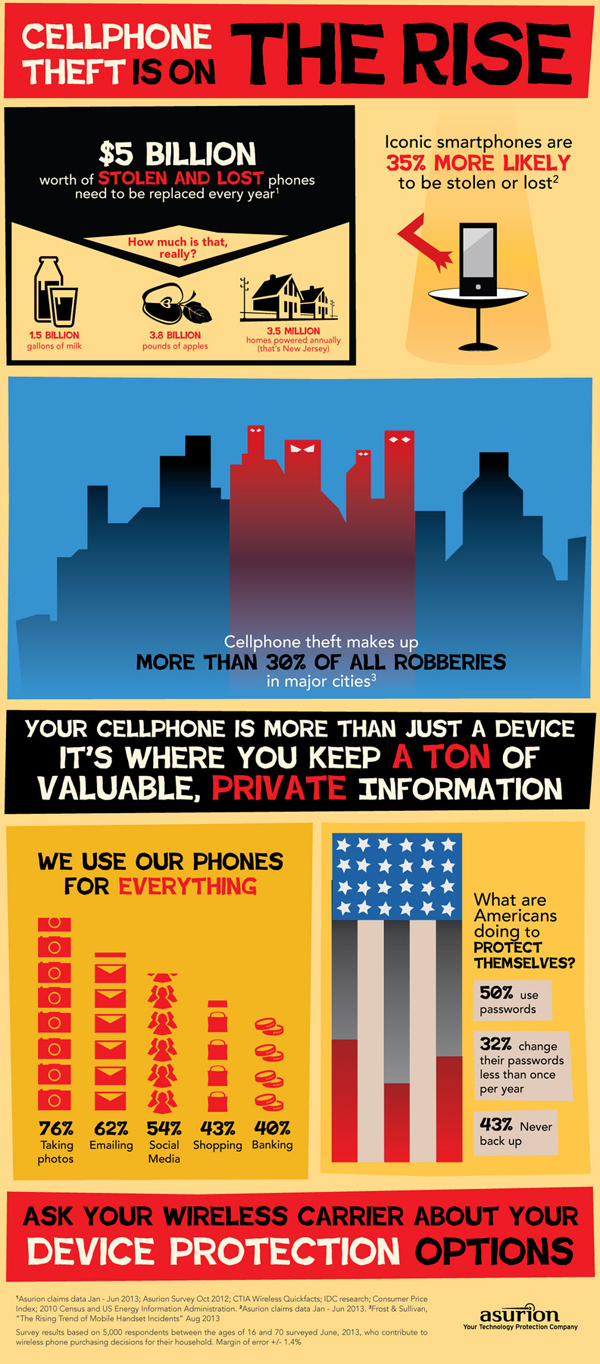 After reviewing millions of consumer claims, Asurion found that iconic devices such as the Apple iPhone and Samsung Galaxy series are 35 percent more likely to be lost or stolen than other smartphones.
Asurion is a privately-held company operating across three continents. It also happens to be the global leader in providing consumer technology protection services, including security to help ensure content privacy and peace of mind through rapid replacement of lost, stolen, damaged or malfunctioning devices. With more than 150 million customers, Asurion is the clear leader in mobile device protection, working closely with the leading carriers to provide the most comprehensive protection plans at a low monthly cost.
How Can Asurion Offer Peace of Mind?
Asurion Mobile Protection allows customers to back-up content on their cellphones, as well as to remotely lock and locate a lost or stolen device.  And in the event the device cannot be recovered, customers can easily wipe their sensitive information, and Asurion will ship a replacement overnight, quickly restoring connectivity.
For more information, visit Asurion on Facebook.
This is a sponsored post written by me on behalf of Asurion.