Have you tried TruMoo Chocolate Milk yet?  We have been drinking it in our house for several months now.  We don't allow chocolate milk with every meal, but it is a treat we allow with some meals or snacks.  I found it is a wonderfully healthy alternative to all of the sugar filled drinks my kids usually want.
TruMoo, the nation's leading ready-to-serve chocolate milk, is made with fresh white milk- sourced from regional dairies around the country- pure cocoa and just enough natural sugar to make it taste great. 
This is what I love about TruMoo, it uses natural sugar, not corn syrup and no artificial sweeteners.  It uses JUST ENOUGH sugar, they don't load it full of sugar, but add enough to make kids like it.  It is low-fat milk, which is a part of a healthy diet.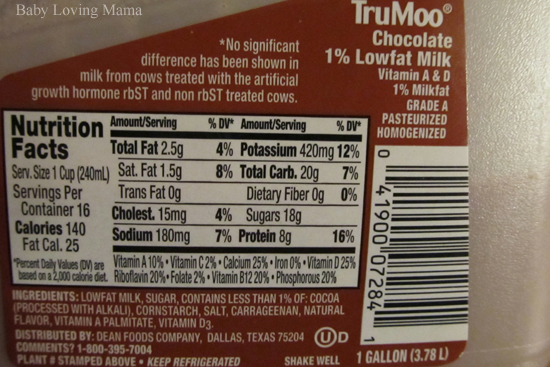 Like regular milk, TruMoo provides eight essential nutrients: calcium, protein, vitamins A, D and B12, riboflavin, phosphorus and potassium.
I did not realize until now that they had reformulated TruMoo this past January to make it even healthier than the previous formula.  It now contains 35% less total sugar than the leading chocolate milk competitor and 40% less added sugar than its previous formula.
So, did I mention my kids love it?  Kurtis has a serious sweet tooth and LOVES milk so this is right up his alley, he would drink it for every meal if we let him.  If you are wondering why we don't let him it is because it does contain sugar which we try to limit and we do have to limit Kurt's milk consumption because of allergy issues.
The newly reformulated fat-free variety of TruMoo, which contains only 120 calories per serving and 6 grams of added sugar can be enjoyed hot, cold or even as frozen popsicles.  And because chocolate milk has double the carbohydrates and protein content, which is ideal for replenishing tired muscles, athletes are turning to TruMoo for a post-exercise recovery beverage.
I personally am lactose intolerant so I have not enjoyed any milk for several years (I used to love it), but my husband Kyle is an avid milk drinker.  I asked him about the taste of TruMoo and he said that it just tastes like chocolate milk, you can't tell that it has reduced sugar.
What I really love about TruMoo is the price.  I can often get it at our local grocery store for cheaper than white milk and there are often coupons available making it much cheaper.  The suggested retail price is $4.49 for gallon; $2.99 for half gallon; $1.49 for single serve.  I assume this varies by location because I know I usually pay less than that.
For more information, visit TruMoo.com, follow them on Facebook and on Twitter.
BUY IT!
TruMoo Chocolate Milk is available in the dairy case at grocery and convenience stores nationwide.  TruMoo is also available at Wendy's locations from coast to coast.
Disclosure: I received compensation  for the purpose of this post however all thoughts remain 100% my own.