I love to spend time in the kitchen.  While I do enjoy cooking, baking is one of my favorite hobbies and one that has been a lot of fun to share with my kids.  One baking brand that I've had a long standing relationship with is Wilton. I've been one of their Wilton Mom Ambassadors since 2010 and I'm sad to say that program has come to an end. But with endings come new beginnings. Now I'm part of a different Wilton group of bloggers, the Wilton Sweet Treat Team!
To see the full list of bloggers, check out this Wilton Sweet Treat Team announcement on the Wilton blog.
One of our fun packages we've received since this program began was a Easter theme baking box with an assortment of PEEP themed merchandise.  While they may put you in a sugar coma if you eat too many, PEEPS are the epitome of Easter candy fun! This is certainly a very fitting partnership between Wilton and the PEEPS brand.
One item that caught my eye was the 12 Cavity PEEPS Chicks and Bunnies Treat Mold. My mind started spinning on how I could use the mold in a fun and unique way. I decided that a two-toned gelatin chick would be so cute, especially since there were two distinct parts of the cavity for the PEEPS chick.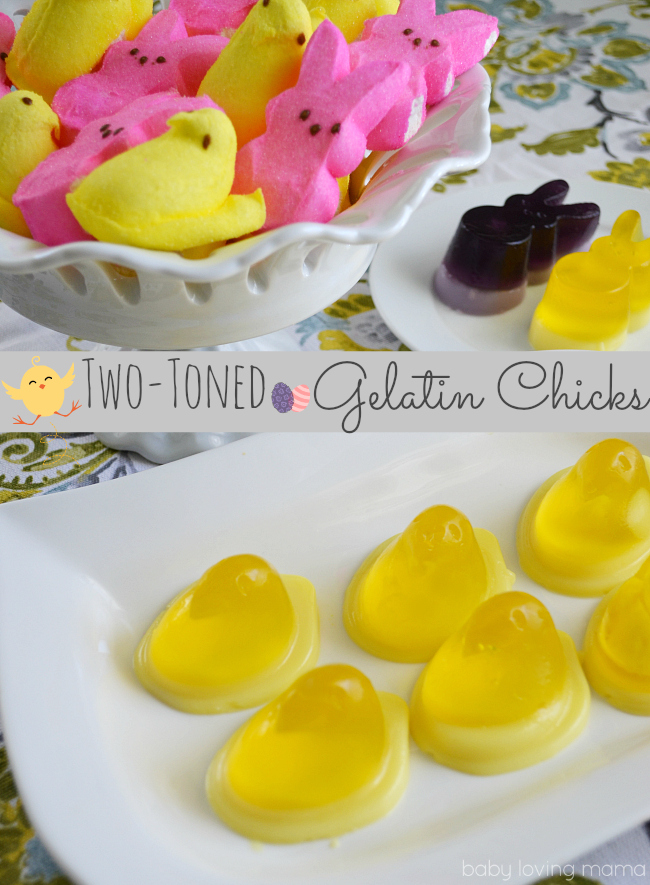 I loosely followed these instructions for a Rainbow Ribbon Mold from Kraft.

The top part of the chick (and bunnies) is made up regular flavored gelatin. I used lemon because that is what I had on hand, but pineapple is another great option. I added french vanilla yogurt for the creamy layer, although sour cream works well too.
Keep in mind that two boxes of gelatin is necessary to fill the entire 12 cavity mold with extra left over. If you are only interested in a one group of six chicks, one small box is enough.  I decided to make a few grape bunnies with mine and I used some other containers for the excess gelatin. (Can't let any go to waste!)
I filled the bunnies 2/3 full with regular gelatin while I filled the entire top of the chick.
It is important to let your gelatin get firm but not set before adding the next layer. Pour it  too early and it will fall into your first layer. Wait too long and the layers will completely separate when you pop them out of the mold. I recommend letting your gelatin get to room temperature before placing it into the refrigerator. It took about 20 minutes for mine to hit the right stage but you will need to check it closely.
After a few hours, I popped my gelatin chicks and bunnies out. The chicks were very easy to remove.
Most of the bunnies came out well but a couple separated a bit. I think the shape is just a bit trickier.
My kids loved these, especially my oldest son Lucian. The creamy yogurt layer was their favorite. I can't blame them. Now I want to make a larger mold with a much larger creamy layer. It is so refreshing!
Wilton also sent me this fun PEEPS cupcake combo. The bunny ear picks stood out at me.
Why not let the gelatin chicks dress up like bunnies? I think they look adorable this way!
No matter how they are served, these PEEPS themed two-toned gelatin treats would be a perfect addition to your Easter or spring celebrations! Look for the PEEPS line at your local craft store. I found a whole display at Michael's. You can also find seasonal Wilton merchandise at Walmart and Target.
 Disclosure: This post was brought to you in partnership with Wilton as part of the Wilton Sweet Treat Team ambassador program. All thoughts are my own.