Growing up we always made spritz cookies for Christmas.  With spritz cookies you can skip rolling out dough and still get fun cookie shapes. But did you consider spritz for other holidays? Since we have a heart shaped cookie disc with our cookie press, Wes and I decided to make these Valentine Spritz Cookies for Valentine's Day! These mini heart shaped cookies with a butter flavor feature sparkling sugars and milk chocolate, served two ways!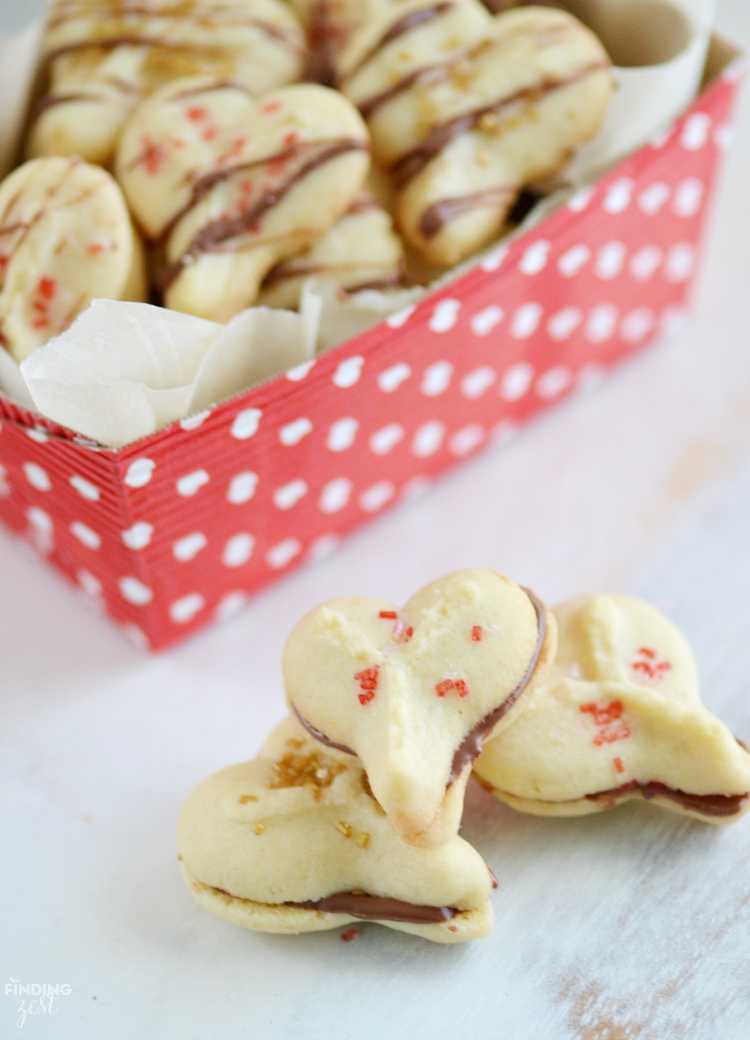 How to Make Spritz Cookies with Kids
They were such a fun cookie to make as a kid because of the cookie press. We have always called it a "cookie gun" because you squeeze the trigger and out pops a cool cookie shape! It is a great exercise for kids to build up hand strength in a fun way!

Wesley wasn't able to squeeze out all of the cookies because of hand strength. With both hands he was able to pop out several of the cookies but once he got tired he started to tilt the cookie press instead of keep it flat on the cookie sheet as required.
While I worked on squeezing out the rest of the cookies, Wesley got to work adding sparkling sugars to the tops before baking. If you've never working with sparkling sugars, I highly recommend them because they stay so bright after baking! We used a white and red sparkling sugar and gold sparkling sugar.
The following day we melted some milk chocolate to make cookie sandwiches with some of the cookies. With the others we drizzled the remaining chocolate over the tops.
Both of these options worked great. These butter cookies have a very mild flavor so the chocolate really adds.
If you prefer to decorate your cookies after baking, you can use piping gel (or even corn syrup) to get your sprinkles or other decorations to stay on.
You can also add food coloring to the dough to make red hearts instead but I love the way the sparkling sugar pops on these valentine spritz cookies.
Valentine Spritz Cookies
Author:
Wilton and FindingZest.com
Ingredients
1½ cups butter (3 sticks)
1 cup granulated sugar
1 egg
2 tablespoons milk
1 teaspoon vanilla
½ teaspoon almond extract
3½ cups all-purpose flour
1 teaspoon baking powder
To decorate:
sparkling sugars
½ cup semi-sweet or milk chocolate chips
1 teaspoon canola oil or shortening
Instructions
Cream butter and sugar thoroughly.
Add egg, milk, vanilla and almond extract. Beat well.
Stir together dry ingredients (flour & baking powder) in separate bowl and gradually add to creamed mixture.
Mix until dough is smooth. DO NOT CHILL!
Add dough to a cookie press with disc.
Press out cookies onto an ungreased cookie sheet.
Gently press down dough that forms Y shaped created by cookie disc.
Sprinkle with sparkling sugars.
Bake in a preheated 375 degree oven for 10 to 12 minutes or until lightly golden just around edges.
Cool completely on wire rack.
Melt chocolate and oil.
Drizzle over cookies or spread over back of cookie to create cookie sandwich. Transfer to lined baking sheet to set chocolate.
Store in airtight container.
Looking for more fun Valentine's Day treats you can make with your kids? Try these Chocolate Banana Sundae Bites we made last year! They were a huge hit.

What have you been up to with your mini chefs this week?
I am hosting Mini Chef Mondays along with 5 fabulous bloggers, find out more about the Mini Chef Mondays Team!
Be sure to check out each of their Mini Chef posts as well!