Thank you to SUNSET® produce for sponsoring this Veggie Skewers with Homemade Ranch Dip recipe post. Thoughts are my own.
The school year has officially started and once again I'm on the hunt for more ideas for their lunch box and after school snacks. Since I pack their lunches each day, I get bored with the same old things as much as they do. My kids have an extended school day which means they need their bellies full with nutritious foods that will keep them satisfied. My 12 year old Lucian just found his new favorite snack when I packed these veggie skewers with homemade ranch dip!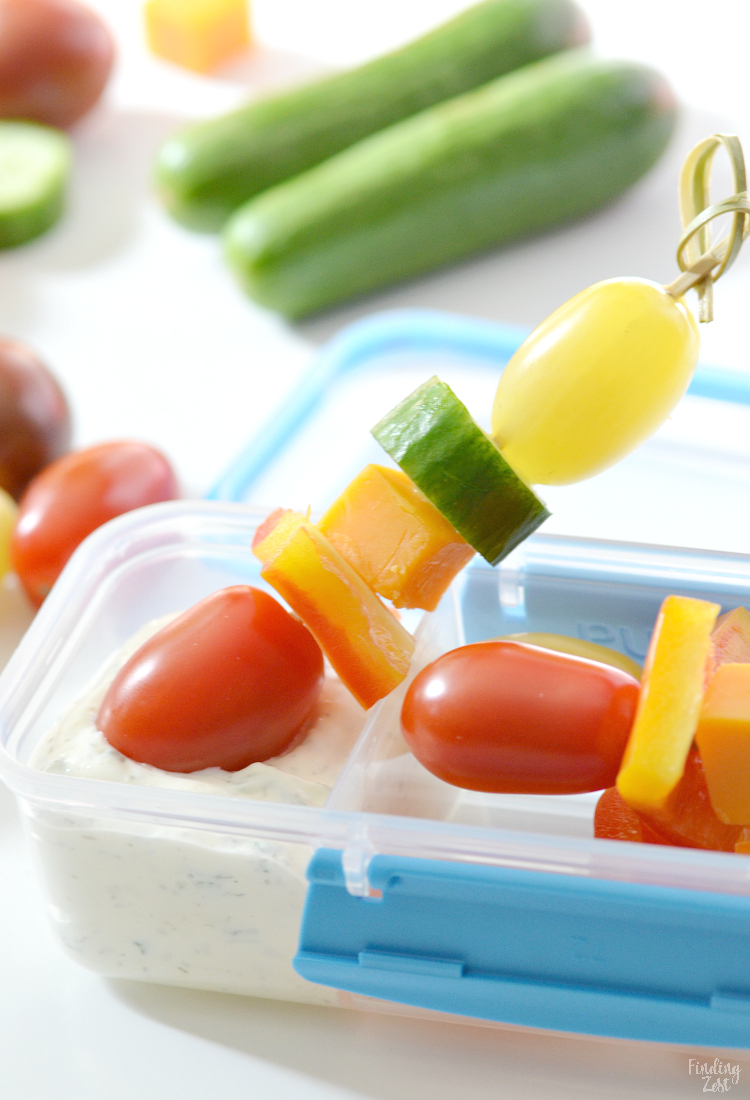 Over the years I've learned some tricks when it comes to snacking and school lunches. It really helps to get my kids interested in the foods I offer which is important since they can also be selective, even dare I say picky. The last thing I want is for anything to go to waste and be thrown away.
Easy Tips for Kid Snacks
Make it colorful. Colorful foods look more appealing overall, especially to kids. Try to include a wider variety of colors to draw them in!
Make it fun. Put a smile on their face and it is much harder for a kid to refuse it. Cut food into fun shapes, add a funny note, etc. Help them feel good about what they are eating.
Make it taste good. Consider your child's personal taste buds. Incorporate flavors you know they already enjoy.
Make it innovative. Offer foods your child already eats in new and interesting ways for more variety. For example, use food to create a face or write their name, add in fun food picks, or follow a theme.

This school year I wanted to incorporate even more vegetables into my oldest son's diet. His love of veggies has increased a lot over the last several months and I wanted to add more options for lunch that go beyond his usual carrot sticks.
I can always count on SUNSET to offer colorful and delicious tasting produce. I often pick up their Angel Sweet® tomatoes in bulk from my local warehouse club because they are the best and a great value!
How to Make Veggie Skewers
The key to delicious veggie skewers is colorful and flavorful produce. For these I used SUNSET Wild Wonders® tomatoes, SUNSET ALOHA™ peppers cut into chunks and SUNSET ONE SWEET® cucumber cut into slices. I did add in cheddar cheese cubes for extra protein.
Keeping kids safety in mind, I used 4 1/2 inch bamboo knotted skewers to avoid the normally extra sharp skewer ends.
When assembling your veggie skewers it is always nice to cap it off with a Wild Wonders tomato to cover the ends. If you do use cheese in your veggie skewers, do not place your cheese next to any cut vegetables if assembling more than a couple hours in advance to avoid the moisture getting into your cheese.
How to Make Homemade Ranch Dip
Fresh herbs taste absolutely amazing when making any veggie dip. I happened to have fresh chives and parsley from the farmer's market on hand when making this recipe and used that in place of dried. So delicious!!
Quick Tip: Approximately 1/3 of the full amount is needed for dried herbs versus fresh herbs. So 1 1/2 teaspoons of fresh chives is equivalent to 1/2 teaspoons dried chives. 
While it is best to let the flavors have a chance to settle, this homemade ranch dip could be served right away in a pinch.
I packed these into Lucian's lunch as a surprise and was so curious about his reaction. He came back home and mentioned them to me right away without any prompting. He said he loved the veggies skewers with dip and asked if I could pack them in his lunch for the next day.  I call that a big win! These vegetable skewers are now in our regular lunch rotation.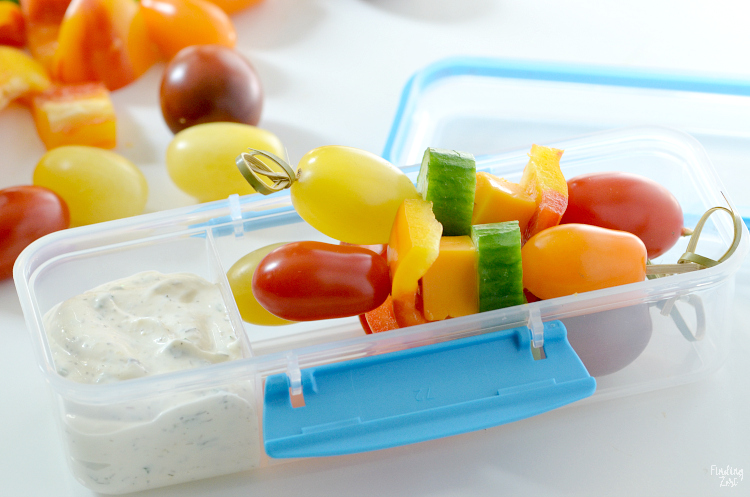 This is such an easy and portable snack that works well for sporting events and other after school activities.
Don't have a lot of vegetables on hand? No problem! One package of Wild Wonders tomatoes is all you really need to create a colorful and healthy snack option!
After School Snack
Welcome your child home from a long day of learning with a refreshing snack! Skip the skewers and simply fill a small platter with their favorite SUNSET produce including ALOHA pepper, ONE SWEET cucumbers or Wild Wonders tomatoes like I've featured below are so colorful and a must on any veggie tray.
Veggie Skewers with Homemade Ranch Dip
Ingredients
¾ cup mayonnaise
½ cup sour cream or plain yogurt
1½ teaspoons fresh chives (or ½ teaspoon dried chives)
1½ teaspoons fresh dill weed (or ½ teaspoon dried dill weed)
1½ teaspoons fresh parsley (or 1/12 teaspoon dried parsley)
½ teaspoon garlic powder
¼ teaspoon onion powder
salt and pepper to taste
SUNSET Wild Wonders tomatoes
SUNSET red, orange or yellow bell pepper or ALOHA peppers cut into chunks
SUNSET ONE SWEET cucumber cut into slices
cheddar cheese cubes (optional)
12 bamboo skewers (4½ inch)
Instructions
Whisk all dip ingredients together in medium bowl. Refrigerate at least one hour.
Skewer veggies in any order, ending with a tomato. Repeat 11 more times.
Keep refrigerated until ready to serve.
With the sweet flavors found in SUNSET tomatoes, snacks like these can be like a treat instead of just a healthier option.
Snack to School
Looking for more nutritious recipe ideas and helpful tips for the back to school season? Visit Snack to School from SUNSET for more great snack solutions and easy dinner recipes to have on hand for your busy family!