My kids love fresh berries. Who can resist their sweet flavor? Last week I realized I had raspberries, blueberries and strawberries all on hand and simply had to make something with all three of them. Since it was very hot, I opted for something fresh for Wes and I for Mini Chef Mondays. We made this delicious Very Berry Fruit Salsa and enjoyed them with warm cinnamon and sugar flatbread triangles. Yum!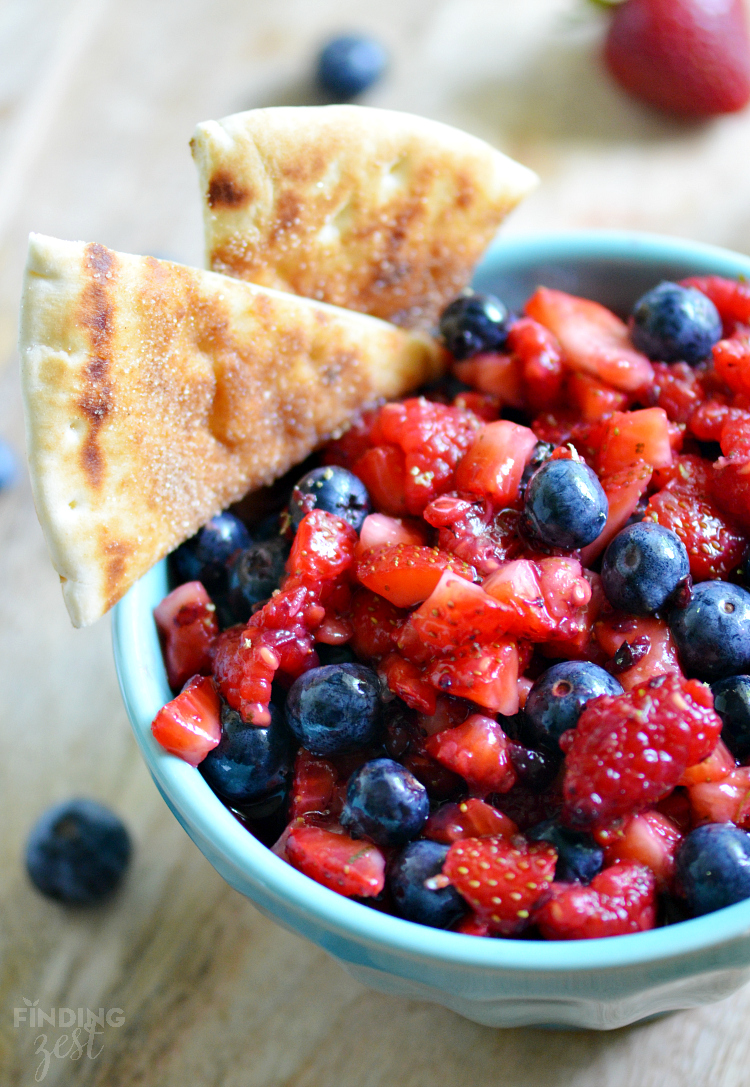 After complaining several times about having to eat strawberries so quickly before they go bad, my mom came to my rescue. She surprised me with three Rubbermaid FreshWorks containers to keep my produce fresh longer. I honestly had never heard of these before but use them all the time now. Simply place your unwashed fresh produce inside and store them in the fridge. My strawberries are lasting several more days now!
I let Wes pick out which strawberries he wanted to use and wash them in a colander.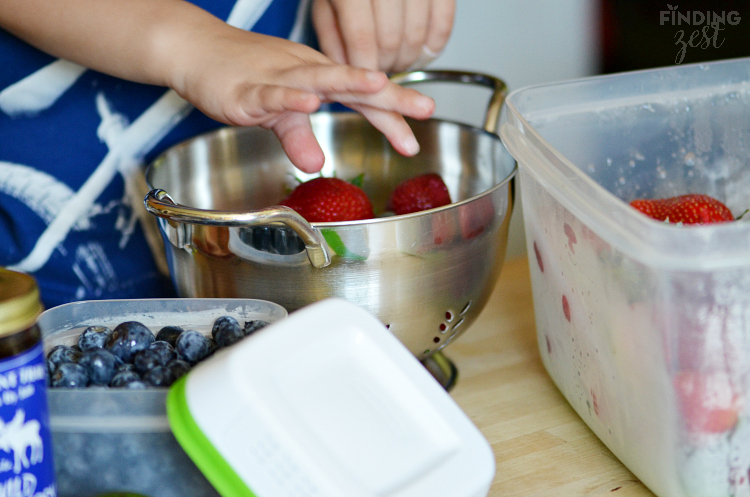 We also set to work together cutting up our strawberries together. Wesley handled cutting off the stems with his butter knife and I chopped them up.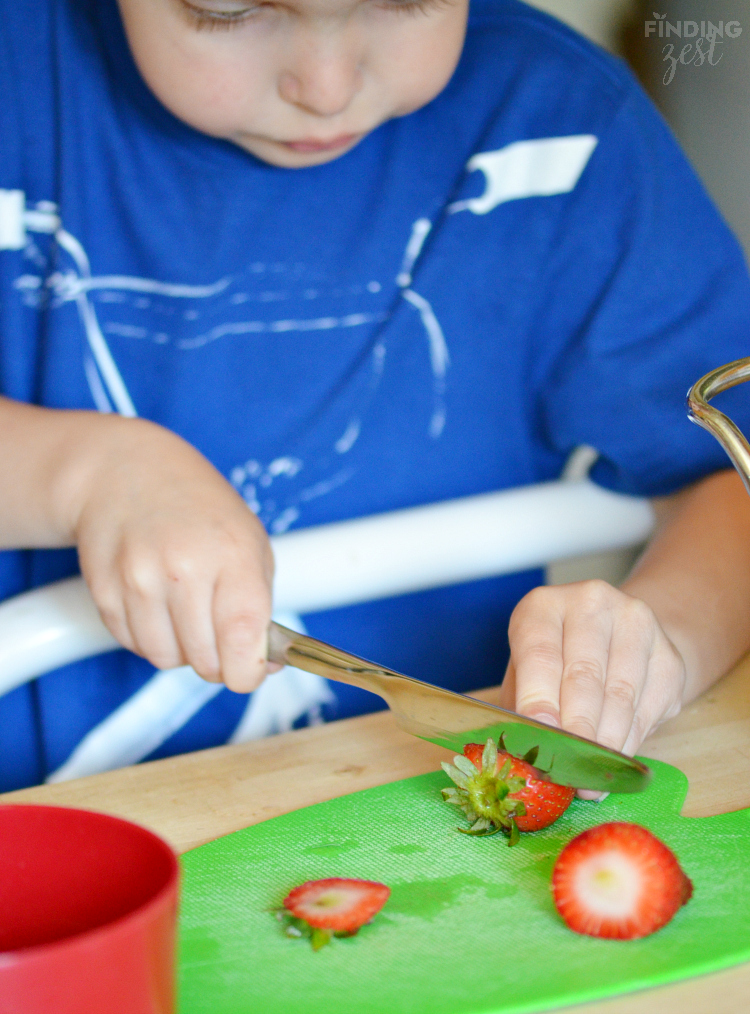 We had a bunch of delicious seedless limes so we zested and juiced one for more flavor. Lemon or orange would work just as well.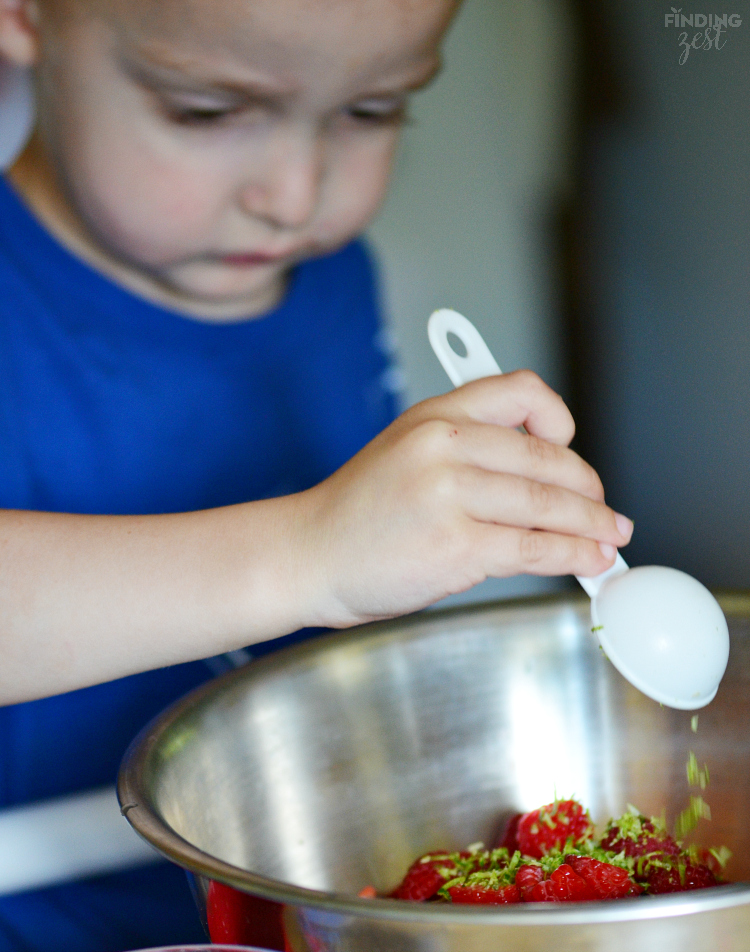 I went with a delicious wild blueberry jam made locally but any of your favorite preserves would work for this recipe.

Very Berry Fruit Salsa
Author:
Emilie from Findingzest.com
Recipe Type:
Dessert/Snack/Appetizer
Ingredients
2 cups chopped fresh strawberries
1½ raspberries, sliced in half
1 cup fresh blueberries
1 tablespoon fresh lime zest
1 tablespoon lime juice
3 tablespoons jam/preserves
Instructions
Place all ingredients in large bowl and gently stir.
Let sit at least 15 minutes before serving.
Eat immediately with cinnamon tortilla crisps, flatbread or chips.
Refrigerate leftovers.
To make our cinnamon flatbread, I simply heated them one at a time in a frying pan on the stove (about 30 to 45 seconds each side on medium heat) then spread butter over it and sprinkled with cinnamon sugar. Then cut into triangles and serve. Warming them up in the oven would have been even easier but I didn't want to turn it on. The microwave will also work.
With our leftovers I served our fruit salsa a couple of days later with angel food cake and whip cream. It was delicious!

What have you been up recently with your mini chefs?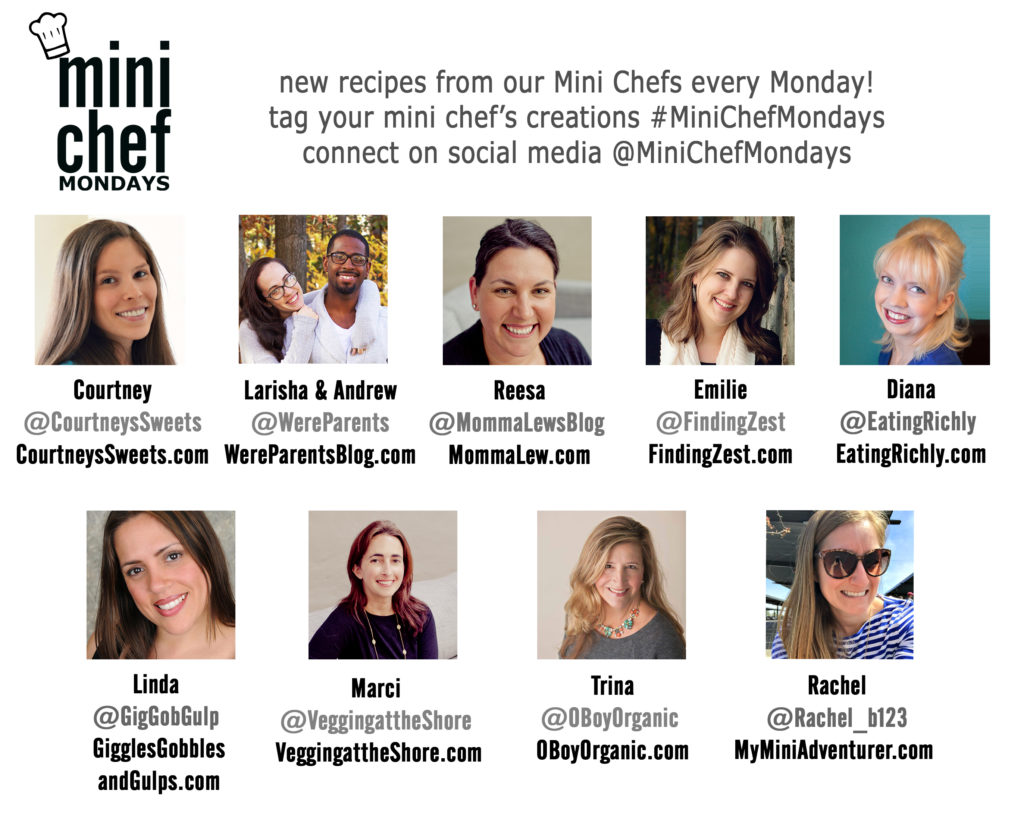 I am hosting Mini Chef Mondays along with 8 fabulous bloggers! Read how Mini Chef Mondays started, plus how to link up!
Join our facebook group to find even more recipes and share recipes too!
Join the Mini Chef Mondays newsletter to get the latest recipes delivered to your email each week! Don't worry, we will only use your email for Mini Chef Mondays recipes, pinky promise!
Get featured and follow us too!
Be sure to check out each of their Mini Chef posts as well!