Since becoming parents it seems we've played musical chairs, bedroom style. We have a 4 bedroom house with 3 kids so it should all be very easy to figure out who sleeps where, right? Except it isn't. Right now our family of five is sleeping in just two bedrooms, even though we have the space for everyone to have their own bedroom. Let me explain why our kids share a bedroom, even though they don't have to.
House Layout
In an ideal world, all the bedrooms would be located together. But our bedrooms are separated with two bedrooms on the main level and two on the upper level. While the two bedrooms on the main level are conveniently near everything, there is no bathroom upstairs. Having make a quick trip to the bathroom in the middle of the night is not so quick. You really have to wake yourself up to navigate stairs. I also like having my bedroom near the kids so I can be more aware and accessible to my kids. When sleeping upstairs it is hard to know what is going on downstairs.
Trouble Sleeping
My husband has had sleep troubles for years now. He typically can fall asleep without issue but staying asleep is tough and he is an early riser. This led to 4 years of us sleeping apart because he slept better without me, as sad as that is to say. Our sleeping arrangement was definitely non-conventional. For the last year I slept in a twin bed next to my son's toddler bed so I could sleep on the main level. Now that we have a king size bed where he can sprawl out and my movements don't disturb him at all, we've decided to give sleeping together a try. So far so good!  Having everyone sleep where they can get the most sleep is my main priority.
Why are Our Boys Sharing?
Because they want to.
Our boys are ages 10, 9 and 5. Before having our third child, our two boys each had their own bedroom. When my middle son Warren was three, we moved him from the toddler bed in our room into his own bedroom with a double bed we had for guests. It wasn't long before my oldest Lucian starting doing regular sleep overs in his brothers room. At ages 3 and 5, they loved sleeping together at night. When my third child Wesley was born, we decided to move them permanently together and make Lucian's old room his nursery. Fast forward a few years and Warren asked for his own bed. He understandably want his own space to sleep but to still share a room. So we bought them bunk beds. Shortly thereafter I'd find them still sneaking in to sleep with each other, except this time it was in a tiny twin bed. Feeling left out, soon my youngest wanted to have sleepovers in his brothers' bedroom too. I'd have to separate them when I found three kids squeezed into a twin. It was all a bit much.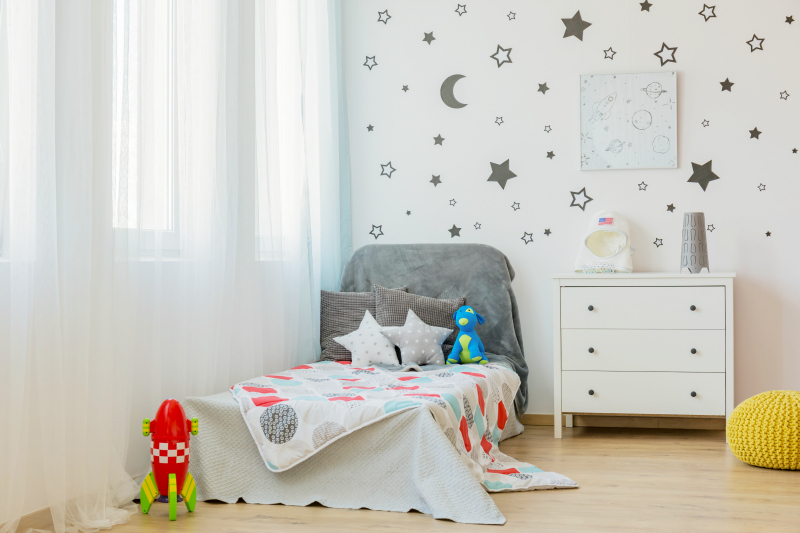 Final Push
When we recently upgraded to a king size bed, we made the move. Tired of having to transition the children at night or threaten them with consequences, we decided to keep our bedrooms on the main floor and use the upstairs as a guest bedroom and office. Now my husband and I can be next the bathroom like we wanted and we get to keep an eye on the kids. They get to be right where they want to be, with each other. After six weeks with this arrangement, we are definitely happier. When the weather warms up and we can paint again, we'd like to freshen up the room and make it a space that reflects each of their individual personalities.
I'm sure this arrangement will change. I assume eventually the boys will want some privacy but until then, we'll just keep going with an arrangement that works best for our family.
Do your kids share a bedroom by choice? Need some tips? 
This is a two part series. Be sure to visit this Tips for When Your Kids Share a Bedroom post where I share what I has worked for us! There is also a fun giveaway at the end so make sure you scroll to the bottom.