This post was sponsored by Sam's Club, however, the text and opinions are all my own.
It's been a long time since we've had a baby in the family. Some things you just never forget. Those sweet baby snuggles after a fresh bath. Smiles and giggles in the morning. The endless diapers. The sleepless nights. Those first weeks are survival mode for the family with the "ups" hopefully outweighing the "downs" on your new baby roller coaster.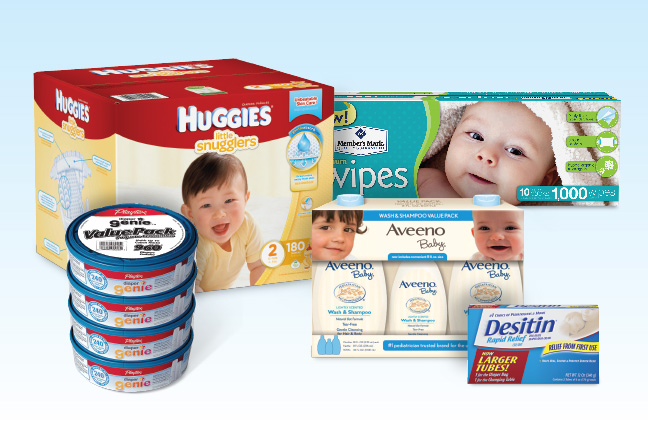 Sam's Club® is here to make life a bit easier along the way with my New Mommy Survival Guide, helping you find everyday savings on essential baby items. #MomSavesAtSamsClub
Aveeno® Baby Wash & Shampoo:
Babies crave routine and as baby gets older it's nice to start bedtime with a warm bath. Our family has always loved AVEENO Baby Wash & Shampoo. The tear-free formula gently cleanses without drying baby's gentle skin.
AVEENO® Baby Wash & Shampoo blends natural oat extract into a rich lathering wash that cleans without drying because it is soap free and allergy tested.
JOHNSON'S® baby lotion:
Follow your bath time with a gentle massage using Johnson's baby lotion. Their baby fresh scent helps calm baby before bedtime and a helps their sensitive skin stay soft and moisturized.
JOHNSON'S® baby lotion softens and nourishes your baby's skin, and is gentle enough to use morning and night. As the #1 choice of hospitals*, this CLINICALLY PROVEN MILDNESS formula is designed gentle for newborns.
Member's Mark® Premium Wipes:
Along with the many boxes of diapers comes the baby wipes. There's nothing quite like the moment you realize you've used your last baby wipe and you have to pack the kids into the car to get more. The Sam's Club Member's Mark Premium Wipes have you covered with a case of 1,000 wipes. Yes. You will use them. No need to worry about what size to buy or how long they'll fit like buying diapers. Buy them. You will need them. For years. Whether it's changing a diaper, wiping up a spill in the car, or cleaning messy hands, they're great to have stashed in the house, the car and the diaper bag. These premium wipes are made with a unique 3 layer fabric making them thick enough for even the messiest of jobs.
Member's Mark® Premium Wipes are a great value, costing less than 2 cents per wipe! The wipes are Hypoallergenic, fragrance and latex free.
DESITIN® Rapid Relief Cream:
It's not a surprise that Desitin is the #1 choice of pediatricians and moms. This is what my own mom used. I remember using it even as a toddler. My oldest daughter had some tough diaper rashes and the key to preventing them is a consistent moisture barrier. I used diaper cream in a small amount if I saw a minor irritation with an infant but had no idea how to apply it for a bad diaper rash with my teething daughter until talking to my pediatrician. She suggested a proper barrier for a healing diaper rash should be applied THICK. This makes all the difference in the world.
Diaper Genie Elite Diaper Pail:
With the diapers come disposal. It seems diaper pails are either a love or hate item for many moms. Some dislike the idea of storing multiple diapers in the house and take them to the garbage immediately. Although baby's diapers might not smell so bad at first, they will eventually, and it's the last thing I want to smell opening a kitchen garbage can. I personally LOVE my Diaper Genie Elite Diaper Pail. I used one with my oldest daughter and am again with our new baby. The Ultimate Odor Lock System keeps diaper odor locked inside even as you drop a dirty diaper in. It's lid opens easily with a foot pedal keeping your hands free to ensure baby is safe and sound on the changing table. These refills are another must-have item in bulk making them a perfect Sam's Club purchase.
With the Diaper Genie Elite Ultimate Odor Lock System, a double-lock design seals away odors each time you drop in a dirty diaper, for a fresh-smelling nursery. A safe, natural activated carbon filter absorbs strong diaper odors and built-in antimicrobial inhibits odors caused by bacteria on the pail.
Infants' Tylenol:
I love having a bottle of Infant's Tylenol on hand in both the nursery and the diaper bag when it comes to teething. This two-pack is the perfect buy to stock up on before those fussy nights begin. It's also great to have on hand for the unexpected late-night fever when the stores are closed or you're home alone with your little one.
Carter's Clothing:
I absolutely love the comfort and quality of Carter's baby clothing and was shocked to find their fleece footed pajamas for such a great price! I stocked up on future sizes for winter. The zipper makes it easy for changing at night and they're great for snuggling on a cold day.
I found more amazing prices on the Carter's children's clothing sets. This is a great chance to stock up for gifts with the coming holidays or for baby showers.
Dreft:
There's nothing quite like the smell of Dreft baby laundry detergent. This was something my mom gave me when I was expecting my first baby. We washed everything ahead of time and neatly sorted her drawers so everything was ready for her arrival. Since then that scent has become a form of nesting for me. It's tough on stains but gentle for baby's sensitive skin.
Fisher-Price Newborn Rock 'n Play™ Sleeper:
A friend recently borrowed me her Fisher-Price Newborn Rock 'n Play Sleeper. I wish I had heard of it sooner. At home, it's not only an inclined sleeping option but an easy and safe place to set baby down during the day. It's also a great option to travel with being incredibly light and easy to pack.
An inclined sleeper and playtime seat in one—now with calming vibrations! The inclined seat helps baby sleep all night long. A gentle push from mom rocks the sleeper back and forth. Additional features include a light-weight design for portability and storage, three-point restraint and linkable teether. Insert is machine washable and dryer safe.
Safety 1st Alpha Omega Elite™ 3-in-1 Car Seat:
If you're interested in making your $45 Sam's Club Membership instantly worthwhile, consider buying your car seat there. This Safety 1st Alpha Omega Elite 3-in-1 Car Seat is significantly less than the cost if you purchase through the brand's site. We own a Safety 1st 3-in-1 seat and love that it works as a rear-facing infant/toddler seat, forward-facing seat, and belt positioning booster.
The Alpha Omega Elite Convertible Car Seat is an extended-use car seat with superior comfort and convenience features to keep your growing child safer while riding in the car; from a tiny baby coming home from the hospital to an older child going to school, it'll keep your little one safer during the ride. It starts as a rear-facing infant car seat with a removable infant support to keep smaller babies snugly positioned. It then converts to a forward-facing harnessed car seat and later transitions into a belt-positioning booster for use up to 100 pounds. The moveable armrests make it easier to get in and out of the seat and the padded QuickFit headrest adjust with the harness in one easy step and never needs re-threading!
Sibling Gifts:
Since Sam's Club offers such a wide variety of items for your family needs, it's also smart to consider a gift for baby's siblings. Consider something that might help occupy their time since your hands will be full with baby to care for. I love the variety of engaging activity books to pick from.
Don't Forget Dad:
Coffee. I don't drink it but my husband does and during those first weeks home he survived on it. If there were a time to buy bulk coffee in our house it was upon the arrival of our children.
Comfy Jammies Are a MUST:
Mom often thinks of herself last. I encourage you to find a simple way to pamper yourself after bringing home baby. Comfy jammies are a must in my book. They're often a gift I give to new moms. When you're doing the zombie walk all night long and rarely have time to change OUT of your jammies during the day, you deserve something new.
I was excited to find an extremely affordable pajama set which included both a top and pants for less than $20. Now the fact that they can also be used while nursing with the button-up front made me jump for joy. Finding comfortable and affordable nursing pajamas is nearly impossible. The other bonus of this pair is the draw string waist which allows for an ever-changing size after baby is born. When in doubt you can buy the bigger size and tighten them as your body changes.
Sneaking away to Sam's Club this week without the kids is a luxury. I know my bulk purchases mean more time spent with my little ones instead of hauling them around the store buying our daily baby needs.
I love that I can make one convenient stop and buy quality items in bulk with a cost savings in the end for our family. Last on my list was Raisin Bran Crunch. My last mommy tip of the day: Raisin Bran helps with regularity after delivery and the new "Crunch" version gives a new mom a chance at eating your cereal without it being soggy!
Join and start saving – When you join through this special link, you get $80 in savings on baby items like diapers, wipes, formula, etc.
Everyday savings – on baby items… Even though you pay for a larger pack, it costs you less per unit (diaper, bottle of formula, etc.)
Sam's Club carries favorite brands AND high quality private brands at an equal quality for a lower price. Example: Member's Mark formula has the same ingredients as other top national brands
Convenience of SamsClub.com – Spend more time with your baby, and family, at home!
Sam's Club is savings for your entire family – Not just baby. Get all of your household needs, great prices on groceries and extra savings at Sam's Club fuel stations.
High quality fresh foods – USDA meats, seasonal produce picked at the height of freshness, freshly baked items
Instant Savings Books – Throughout the year. Suppliers provide additional savings beyond already low prices at Sam's Club.

SamsClub.com
The SamsClub.com subscription service lets you set shipping intervals on most baby items. Have them delivered when you need them and avoid the trip to the store. They offer free standard shipping on most diaper, wipes, and formula.
Club Pickup allows you to save shopping lists online for easy repeat purchases. Complete your order online for pickup and receive a text when your order is ready. Get details at samsclub.com/pickup
Sam's Club provides big savings for growing families, join and get $80 in special savings on baby basics. 
This post was sponsored by Sam's Club, however, the text and opinions are all my own.