Thank you RiverSouth for sponsoring this post. There's fun around every bend in RiverSouth! Plan your trip today!
Long weekend getaways are my new favorite way to enjoy quality family time. When I can pick locations that are within driving distance, I can have a mini vacation without a lot of money or time off work. A long vacation just wasn't in the cards this summer but my kids didn't feel like they missed out. We visited RiverSouth, an area just outside Minneapolis right before they went back to school. There is plenty of excitement in RiverSouth and you'd find something for everyone with the non-stop opportunities for adventure. Valleyfair®, the Minnesota Renaissance Festival and Mystic Lake Casino Hotel® are three amazing reasons to hit RiverSouth. Read on to see why!
Valleyfair Theme Park
Visiting Valleyfair® was just like revisiting my childhood. I had been there several times as a kid and teenager. Going back was like a blast from the past.  With more than 75 rides and attractions, Valleyfair is the Twin Cities' outdoor amusement park for summer fun! With eight thrilling coasters there are plenty of options for adventure seekers but still lots of thrills to be found on one of Planet Snoopy's 16 kid rides for the younger crowd.
Valleyfair Rides
We headed towards the Wild Thing roller coaster first. My husband and I went on it together over 20 years ago when it was brand new so it felt familiar and nostalgic. The first drop is absolutely insane and had my kids screaming. It was so fun to ride as a family.
Afterwards we headed over to Planet Snoopy to enjoy some family rides that would allow them to catch their breath. Since my youngest is only 6 he felt pretty cool that many of the rides were just for him since his brothers were too big to join him.
Planet Snoopy also has rides that families of all ages can enjoy together like the Flying Ace Balloon Race.
We got to Valleyfair just as the park opened and we found in the first few hours most rides had a minimal line. Later in the day we did wait a around an hour or so to go on Thunder Canyon. We watched several people make the most of their day with a Fast Lane wristband. They were able to bypass the regular lines and go right to the front. This is a great option if you plan to ride a lot of the most popular attractions or just want to have more time to spend actually enjoying the rides!
Our favorite ride at Valleyfair theme park was The Wave. This is one ride that is just as fun for people watching as riding. It had a short line because you don't just get wet. You get soaked. We were already wearing swimwear from the water park so that wasn't a problem.  If you keep your eyes open when you hit the bottom, a wall of water surrounds you until a split second later it all comes crashing down on top of you. We weren't prepared for the cold water from The Wave. It was around 90 degrees that day so it was rather refreshing in a crazy way. The line was short so we rode twice in a row, stopping to enjoy the wave from the next set of riders by stopping on the bridge. The water force on the bridge is enough to knock you over but so fun.   All five of us were laughing from the experience!
Have you heard about Delirious?
Valleyfair has an all new 70-foot looping thrill ride called Delirious which coils riders upside-down on a seven-story, 360-degree freestanding structure. This high capacity, high-speed train completes ten revolutions in less than a minute. How insane is that? My 38 year old self can't handle that much rotation since even watching my kids on the merry-go-round now makes me dizzy. But a younger version of me would have given it a try at least once.
Valleyfair Soak City Water Park
Because it was such a hot and sunny day, we spent much of our day in the water park area. We headed over early enough to get a locker and few lounge chairs in a shaded area. If you plan to go to Soak City, I highly recommend stopping by earlier in the day or you'll have to watch closely for other people leaving to snag a lounge chair.
Of course you can also always relax in the Ripple Rapids, a lazy river which winds around a section of the water park. In is very shallow so you are required to remain on tubes at all times. This was such a great way to cool off together as a family.
The Breakers Bay Wave Pool was a favorite for our whole family. I've been in many wave pools but never one that provided this powerful of a wave to ride. We hung out listening to fun music as we rode waves together. My older boys went down several of the more tame slides and really enjoyed them. But if you are thrill seeker there are steep slides to make your heart race. My heart rate picked up just watching others go down them!
Valleyfair Beach Bash
When we visited Valleyfair we happened to catch the Beach Bash. For one weekend only they featured a pig roast and live entertainment in their water park.
It may have been a pig roast, but we enjoyed some freshly grilled chicken, coleslaw and watermelon as part of their platter options. It was so flavorful and very filling!
We had such a great time at Valleyfair! We stayed for 8 hours and would have stayed even longer if we didn't have dinner plans. Soak City offered a way to relax and cool off on a day when my kids would have struggled to last in the heat with just the theme park alone. 
Minnesota Renaissance Festival
The Minnesota Renaissance Festival is celebrating their 48th season this year in Shakopee and offers the chance for visitors to experience an authentic 16th century village.
We couldn't wait to finally hit this super popular festival that we've wanted to visit for years! Open weekends through September 30, 2018, Labor Day and a special day for schools and seniors on Festival Friday, September 28, 2018.
Minnesota Renaissance Festival Parade
We were so happy when we arrived at the festival in time for the daily parade at 11:30 am. Everyone was in character and it was a great way to see all the cast together at such a large venue.
If you can work the parade into your plans, I highly recommend it!
Minnesota Renaissance Festival Activities
The Minnesota Renaissance Festival has so many different activities for all ages. My kids especially loved the petting zoo and we spent a lot of time feeding the animals including goats, sheep and a calf. The animals loved all the attention and our food. One greedy goat stole my son's whole cup!
There are also opportunities to ride elephants and camels and other old style rides including merry-go-rounds.  With over 50 family friendly free activities, there is always something to do!
While we concentrated on more family friendly activities there were plenty for adults such as ax throwing and fencing.
Minnesota Renaissance Festival Entertainment
Various performers and entertainment is constantly going throughout the festival grounds and 16 stages. The atmosphere was very open so you could watch for just a few minutes or stay for the whole show. There were so many fun performances that used comedy and amazing stunts.
Minnesota Renaissance Festival Food
The festival is loaded with  food & drink fit for a king! I can't believe I didn't get pictures of all the food we consumed while we were there but I can only say that I was distracted by all the deliciousness.
When we hit the first food area we mistakenly thought that was the main food area and ate lunch there. While we loved the prime rib sandwich, chicken & wild rice soup, and bratwurst we consumed, we missed out on other options that we had wanted to try but were too full. There is food everywhere and several clusters of food vendors throughout the festival grounds.  My favorite food was the strawberries & cream crepes!
Minnesota Renaissance Festival Joust
While we enjoyed the parade, the joust was our favorite activity of the day. The entire performance was full of laughs and action. My kids really got into it!
Our knight was Henry and he was sure to let us know that while it is nice to cheer for him, the most important thing was that we boo whenever possible for his opponent, Jacob. (Boo, Jacob!!!)
The joust was like something straight out of a pro wrestling match. They fought with various weapons and hand to hand mock combat using plenty of humor along with way.
The Joust is performed several times a day and it is definitely a must-see attraction. Here closer look at just a small portion of it and and the daily parade!
Fun, right? And yes, that is my 10 year old who is really getting into it in front of me. 
Afterwards Henry was kind enough to pose for pictures my kids, which they loved!
Minnesota Renaissance Festival Shopping
With over 250 artisan booths, there is endless shopping opportunities at the festival. While they have a lot of apparel vendors to get into the dressing up aspect there was so much more than that! I picked up a pair of leather bracers in purple and gold from Viking Vear, perfect for football season and cheering on the Vikings!
I let each of my kids pick out one item as a souvenir.  My oldest picked out a beautiful Harry Potter themed wooden mug while my middle son chose a black and silver wooden weapon that he plans to use for Halloween.
My youngest was drawn to these homemade wooden shooters. He's been shooting marshmallows all over the house with it!
Theme Weekends
Be sure check out Minnesota Renaissance Festival website for theme weekends. The newest addition is the Buccaneer Beer Bash which was going on while we were there. It included beer tastings, competitions, lessons,  costume contests and so much more.
Mystic Lake Casino
We spent the night during our getaway at Mystic Lake Casino Hotel®. While it wouldn't have been the first place I would have thought of for a family vacation, I was pleasantly surprised! Yes, Mystic Lake Casino Hotel has plenty of slots, blackjack and bingo on one of the Midwest's largest gaming floors but it is also so much more than that.
Whether you feel like pampering yourself at The Spa, or teeing off on The Meadows at Mystic Lake award-winning golf course, there is more here to do than just gambling.  You can even see some of today's biggest stars live on stage in the Mystic Showroom.
Mystic Lake Casino Hotel
The Mystic Lake Casino Hotel boasts of 600 luxurious hotel rooms and features very sleek and eye-catching decor.
Our double queen room was very comfortable and included a ridiculously relaxing walk-in shower and over-sized shower head. Almost all sound was blocked out and we slept great.
We woke up to this beautiful view of the golf course. I could get used to this!
Mystic Lake Hotel Atrium Pool
My kids, like virtually all kids I'm sure, love to visit a hotel pool. This weekend was no exception so we made time on Sunday morning before heading out.  This pool certainly stands out among other hotel pools.
The atrium ceiling lets in so much beautiful light, even on an overcast morning like this one was.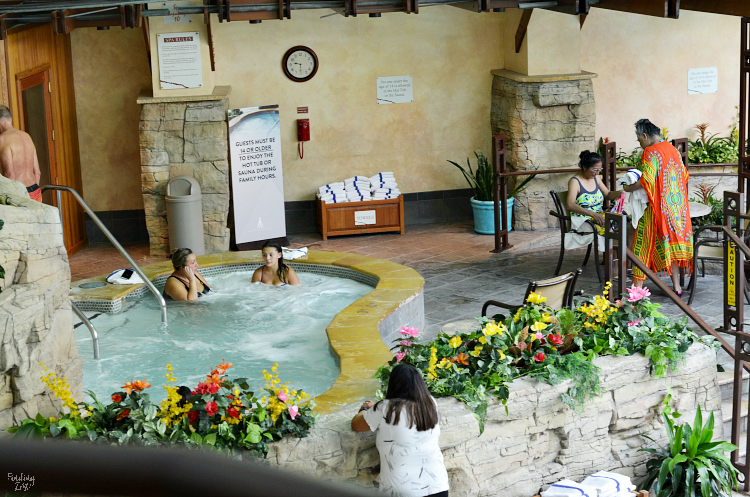 The pool area has set hours for family time and adult time so both groups can have uninterrupted time in this space.  The boys had a blast with their dad playing while I packed us up!
Mystic Lake Casino Dinner Buffet
You can taste your way through ten unique bars and restaurants at Mystic Lake Casino Hotel. For our mornings we were always on the go to the attractions we visited so we kept thing simple with coffee and baked goods at Caribou Coffee in the hotel lobby.
But for Saturday night we visited their dinner buffet after a long day at Valleyfair. It featured prime rib and plenty of options the whole family loved. From fresh pizza to pasta to Chinese to fried chicken, there was something for everyone. Our favorite was the huge dessert selection. It was so hard to choose so I didn't. I had several small portions of desserts and my favorite was the warm bread pudding with vanilla sauce. So delicious!
I hope you'll check out RiverSouth for your next getaway. It is an amazing area with so much to explore and a great place to make some special memories. We'll definitely be heading back again!
Be sure to visit RiverSouth for more information on these adventure-packed destinations.
I was selected for this opportunity as a member of CLEVER and the content and opinions expressed here are all my own.