While in Chicago for a conference last month, a very lucky group of bloggers, including myself, had the opportunity to be among the first to hear some big news from American Girl. They are relaunching their Bitty Baby line of dolls on August 27, 2013 and we got to see the new collection up close! You should have heard the excitement in the room with the big announcement.
I'll admit I'm a bit of an American Girl newbie. Not having grown up with an American Girl doll and having three boys myself, everything was a bit new to me. But I felt as though I had been brought back to my childhood with a trip through the store in Chicago. And even better, I had the chance to share the experience with several of my friends who were very familiar with all things American Girl.
(from left to right: Debra, Me, Kate, Ellen and Leanne )
So what do the new changes bring? You'll soon be able to chose from 11 different dolls with your choice of skin and various hair and eye color options. This extends the previous choices which were limited to seven and gives each girl more options to have a doll that looks like her.  Designed for ages 3 and up, this new enhanced line of of 15 inch baby dolls also includes many new premium play sets including a wooden crib and plush animals.
As a thank you for attending the event, I received a Bitty Baby courtesy of American Girl. And this very generous offer is going to make my niece Bella one very happy four year old! I chose the light skin, brown eyes and brown hair doll, special just for her!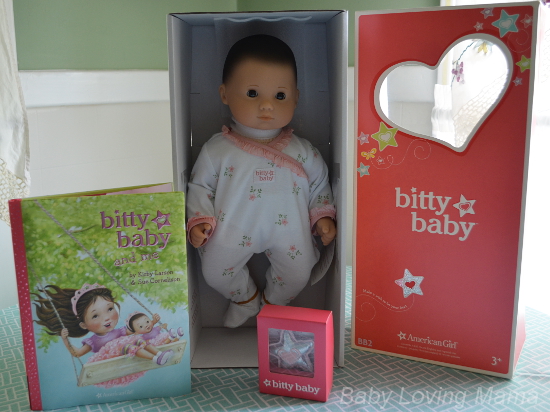 She is dressed in a signature sleeper, along with a special "wishing star" keepsake toy and Bitty Baby and Me, the first in a series of five hardcover picture books.
The details in the hands and face is simply amazing. I know when I was a little girl, I would have loved to have a Bitty Baby of my very own. Which is why I'm so excited to share this doll with my niece. Several new outfits in various designs are also available for even more fun and personalization.
Another favorite feature is the new set of books which bring to life each Bitty Baby and  show the special relationship each child can have with her special doll.  These are not short books and really tell a unique story.
The new Bitty Baby picture-book collection, brought to life by Newbery Honor Award author Kirby Larson and award-winning illustrator Sue Cornelison, follows a little girl and her beloved Bitty Baby doll as they discover the world around them. The heartwarming tales help little girls shine bright by encouraging curiosity, generosity, confidence, and kindness. Each book also comes with a special "For Parents" section that focuses on the social and emotional experience of preschoolers and offers parents tips to help their little girls become more confident, patient, and independent.
Celebrate with American Girl!
You'll find several ways to join in the fun soon with the following:
Sweet Moments with Bitty Baby Video Contest:  Beginning August 27, 2013, parents are encouraged to create an original video clip (up to 60 seconds) of their little girl's sweetest moments with her Bitty Baby doll, then submit the video at americangirl.com/bittyparents  for a chance to win one of two grand prizes worth $1200 each. Videos must be received by October 20, 2013.
Bitty Baby Online: Visitors to americangirl.com/bittyparents will find even more of Bitty Baby's world to explore. The all-new content includes a downloadable app and enhanced e-books, plus a "For Parents" section with tips to help their daughters to be their best. And little girls can find more fun with Bitty Baby by going to americangirl.com/playbitty, where they'll discover online games, activities, and puzzles inspired by the Bitty Baby picture books.
Bitty Baby In-Store Reading Events: On every Tuesday and Thursday in September, little girls and their parents can hear a reading of Bitty Baby and Me at American Girl retail locations nationwide. To learn more about the free reading events or to find the nearest American Girl store, visit americangirl.com/stores.
BUY IT:
The new Bitty Baby dolls, books, outfits, and accessories will be available starting August 27, 2013, through American Girl's catalogue (1-800-845-0005), at americangirl.com, and at all American Girl retail locations nationwide. Be sure to like American Girl on Facebook to stay up to date on all the latest product news!
 Disclosure: I received a sample however all thoughts remain my own.