This is a sponsored event but opinions are my own.
If you followed me for a while, you may remember my participation in the Ultimate Online Baby Shower last year and Moms Week this spring with Sampler. They have sampling events all year long and now I'm partnering up with them again for back to school!  Along with several other bloggers, we'll be bringing moms some great samples from fabulous brands.  Here is what you can expect from this fun event.
This event will be taking place for a few days only,  August 8th – 11th.  To get in on the free samples you will have to be fast!!
The Sampling Event
There are 8,000 samples from various brands are up for grabs this week through Sampler. You will need to be fast in order to claim them and you can't claim them for yourself.  Instead you can send them up to up three of your friends. If you want to snag some samples, you'll want to buddy up with a friend so you can send samples to each other! Note: You can claim coupons for yourself. 
RSVP to Win & Calendar of Events
The final giveaway will be for a Grand Prize Basket worth over $200 to one lucky winner who RSVPs to the event! You'll definitely want to enter because it will also register you for the event, giving you access to the calendar of events. This calendar will let you know when each of these awesome brands is giving away samples.
By checking out samples ahead of time, you can let your friends and family know to send you one. If you buddy up, you can each fulfill each other's wishes.
**Click here RIGHT NOW to RSVP on the Sampler App Facebook page and be entered to win.
Participating Brands
At this point, I'm sure you are all dying to know what brands are participating in this fun event! Here is a quick run down on all the companies.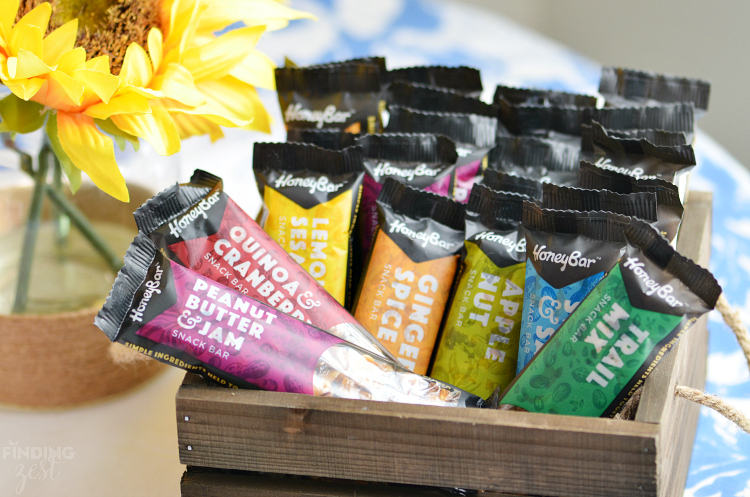 HoneyBar
I'm always looking for nutritious, great tasting snacks that are convenient. HoneyBar Snack Bars are made in Canada and offered in a wide variety of flavors with REAL ingredients.  Held together only by honey, my entire family has been enjoying these snack bars throughout the day. Use them for school lunches or give them a try for a quick breakfast on the go or a tasty after school snack. I received seven varieties but haven't had the opportunity to try them all (yet). So far we've loved all the those we have tried including Peanut Butter & Jam, Sweet & Salty and Apple Nut.
As you can see by the ingredients list, there is nothing you can't pronounce. Just simple ingredients you can feel good about. While they are currently only available in Canada, they will be available on Amazon starting in September.
Fun Fact: The HoneyBar Trail Mix Bar went to the International Space Station!
Get your sample during the Back to School event right here. (CANADA ONLY)
Bazic Products
You can't start the back to school season without plenty of new school supplies! Whether buying them for yourself or your child, the 3-Color Pen w/ Cushion Grip from Bazic is a great choice. This retractable ballpoint pen allows you to easy select between red, blue or black ink. The rubber grip makes it easy to hold and the medium point offers a smooth writing tool. I haven't yet tried this brand before and was pleasantly surprised by the quality.
Fun Fact: Every month, Bazic Products treats the entire company to lunch by inviting various food vendors to cater the staff, and it's always different vendors and food every month! (Sounds like a great place to work!)
Get your sample during the Back to School event right here. (US and CANADA)
Explore Cuisine
With the start of school comes more hectic evenings and the need for simple and nutritious meals. Any kind of pasta is always a family favorite so I look forward to trying out these plant -based protein loaded pastas from Explore Cuisine. By using these bean pastas, you enjoy up to 25 grams of protein per serving and enjoy products that are vegan, organic, gluten-free, and kosher! I've been loving my plant-protein based shakes and can't wait to explore the same great taste in a pasta form.
Get your sample during the Back to School event right here. (US ONLY)
Chewz Brands
The best part of getting up in the morning for me is my cup of coffee. I only allow myself one cup a day so I can limit my amount of caffeine. If coffee isn't your thing or you'd like a little pick me up during your day, Zap Cubez puts the control of caffeine in your hands  with only 50mg per cube – compared to 150mg in a typical cup of coffee. This is the perfect option for me during that afternoon slump without having to worry about overdoing it. The last thing I need is to have problems sleeping at night.
Zap Cubez are nutritionally fortified with Vitamins B6 and B12 and made with chocolate (a natural antioxidant). This is a brand new energy supplement, reinventing energy with caffeinated chocolate energy chews. Available now in chocolate mint but watch for new packaging and orange chocolate and pomegranate chocolate flavors coming soon!
Get your sample during the Back to School event right here. (US ONLY)
Bitsy's Brainfood
I'm no stranger to Bitsy's Brainfood or their new organic Smart Crackers.  They contain a half serving of organic vegetables per serving and are made in the USA! Available in three flavors, our favorite is the Sweet Potato Cinna-Graham but the Maple Carrot Crisp and Cheddar Chia Veggie are also delicious!
The crackers come in a fun puzzle shape which are perfect for building different animals and objects. These make a great addition to your child's lunchbox or after school snack!
Look for Bitsy's Brainfood Smart Crackers at your local Target.
Get your sample during the Back to School event right here. (US ONLY)
Danskin Now
Danskin Now has some great inexpensive options like this machine washable Women's Active Short Sleeve Crew Neck T-Shirt with moisture wicking  for just under $5. (Yes, you read that right!)  It will make a great piece for layering this fall or just by itself with a pair of simple jeans. When I'm on the go for preschool drop off and pick up, I like clothing that is comfortable and easy to mix and match with other items in my wardrobe. This fits the bill at a very affordable price! I love the length and the versatility of this black tee.
Keep in mind that it is semi-fitted so you may want to size up if you appreciate a slightly looser look.
Look for them at Walmart.
Get your sample during the Back to School event right here. (US ONLY)
7th Heaven
I'm not always kind to my skin. While I appreciate a good moisturizer and cleanser, I'm not always dedicated to keep my face looking its best. This is probably a result of having very few  breakouts and normal (not too oily or dry) skin. It is easy to become complacent so I was looking forward to trying this 7th Heaven Tea Tree Peel-Off.  It contains Tea Tree and Witch Hazel to clean impurities, and calm skin. Great for blemishes or simply a deep cleanse.
I only own a few types of essential oil, but tea tree is one of them and a favorite. If you aren't familiar, the scent reminds me of the outdoors or more traditional incense.
It is simple to apply this mask, just be sure to wash your face first and test a small area before starting for sensitivity. It does burn a bit in the beginning but after about 5 minutes that went away for me completely. After 20-25 minutes, peel off the mask to reveal super soft and refreshed feeling skin!
Get your sample during the Back to School event right here. (US and CANADA)
So there you have it. All the brands participating in the Back to School Sampler Event, all in one spot. Be sure to RSVP by going to the Sampler App on Facebook page to participate in this event. Don't forget to watch my Facebook page and Twitter feed for links to giveaways and sampling events so you don't miss out. Remember, things will go FAST so be at the ready.
Have fun!