Last week I had an amazing opportunity to tour the still under construction U.S. Bank Stadium, the future home of the Minnesota Vikings, before heading to training camp to watch the team practice. Anyone who knows me well knows how much I love football and the Vikings are my team. This was definitely an amazing adventure for me. I turned to Caribou Coffee to help me stay fueled with their new Crafted Press.  They created Crafted Press to help power our daily adventures. Whether these adventures are special or every-day, we want to stay awake for it! Since it takes 12 hours to cold steep their coffee, Caribou Coffee invited me to share what motivates me for 12 hours in a blog post. This was my #12hrAdventure.
I stayed overnight in the Minneapolis area to avoid feeling drained after a 2 1/2 hour drive or hitting morning rush hour. The day before I gathered all my gear for the stadium tour which included hard soled boots, jeans and a jersey top with some team spirit. I even threw in some fun nail tattoos to show off my purple pride, because why not? A large vanilla Crafted Press from Caribou Coffee was perfect for helping me pack up.  (Seriously, any excuse to enjoy some coffee.)
If you know the Minneapolis area, you know that Caribou Coffee is everywhere. Thankfully I had a Caribou Coffee just a couple of minutes away from my hotel which meant I could swing by and snag another Crafted Press before I headed out to the stadium. This time I opted for caramel flavor. It was perfect to help cool me off with the jeans and boots I was required to wear during this hot summer day!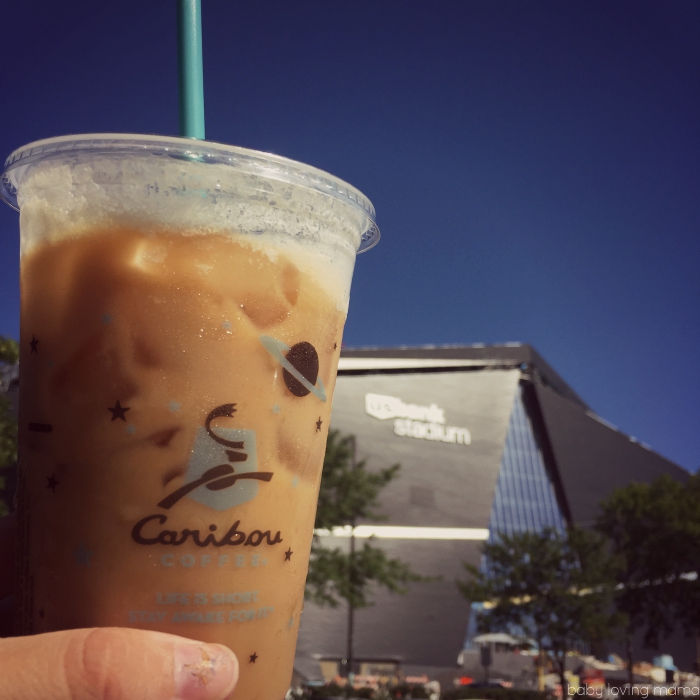 I got a great preview of what is to come with the new stadium to open July 2016 , including some amazing state-of-the-art features. While I was covering the day as media for my blog, I was joined by 40 Vikings Biggest Fan contest winners and their guests.  We headed out on buses for a longer drive to Mankato for a VIP experience at training camp.
Watching practice in an air conditioned luxury tent with plenty of food and beverages and other fans was definitely an awesome experience. We did get to spend some time on the field too.
My adventure ended with a meet and greet with Vikings linebacker Chad Greenway, a veteran of the team. I was able to have him sign a keepsake football and was thrilled to say the least. It was a great ending to my awesome adventure!
Special Offer
Interested in trying Crafted Press to fuel your own #12hrAdventure? Sign up for Caribou Perks from the mobile app. Fill out out the optional survey and receive one complimentary medium beverage, perfect for trying out the new Caribou Coffee Crafted Press. Then grab your camera and a Crafted Press and share your adventure with the world using #12hrAdventure on social media!
This is a sponsored post written by me on behalf of Caribou Coffee. Thoughts are my own.