My oldest daughter Danica is now in her 5th year of dance class.  She loves it and I love watching her.  What I don't love is trying to get her hair perfect for pictures and recitals.  It is a challenge to say the least.  Her first year of dance they wanted tight curly hair for the recital.  The problem was that Danica's hair was extremely long, thick and heavy at that point.  I learned all about sponge rollers and with a lot of practice we got it to work.
Following years have included more curls, tight buns and even crimping.  Yes, I had to buy a crimper.  Not an easy task since about nineteen eighty something.  All of this has come with a great deal of hair care products to make it all hold.  Many have failed me miserably.  I now have a new tool in the arsenal with great hair care products we received for review from Cheer Chics.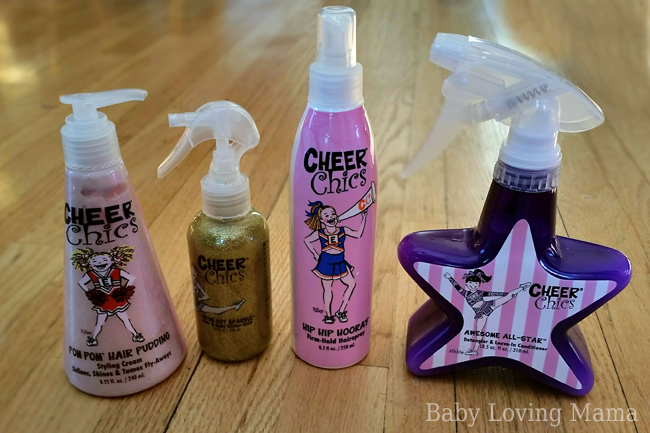 Cheer Chics hair and body products were created for girls who are full of spirit — even if running for the morning school bus.  The products are entering stores just as kids are making their holiday wish list and moms are shopping for products with wholesome ingredients like Sunflower Seed Oil and Vitamins A & E
We had the opportunity to try out 4 great Cheer Chics hair care products:
Hip Hip Hooray Firm-Hold Hairspray 8.5 oz. • $11.99- This firm-hold spray gives shine, protects hair from the elements and defends against fly-aways. The tropical fragrance will boost the spirits while
calming any performance nerves.
Awesome All-Star Detangler and Leave-In Conditioner  10.5 oz. • $11.99 – Spray this detangler for a first-place finish with soft, shiny hair.
Pom Pom Hair Pudding Styling Cream 8.25 oz • $13.99 – This medium-hold styling cream gives shine, definition and tames fly-aways. Keeps hair in place whether scrunched in a ponytail or worn long and flowing.
We've Got Sparkle Hair & Body Glitter – Gold – 5.2 oz • $9.99-  Show your spirit on the outside in these 7 colors — Red, Blue, Pink,
Gold, Purple, Lime Green and Silver.
Cheer Chics products are made by Lucky Luna LLC maker of Luna Star Naturals which I was able to review here last year.
Lucky Luna, LLC, was founded in 2012 with the goal to create fun and healthy personal care products for kids and teens. CHEER CHICS and DIVA CHICS hair care products are cult hits among teenagers, while LUNA STAR NATURALS, with its pledge to forgo parabens and other harmful materials, is catching on among greenloving parents and kids alike. All products are made in USA.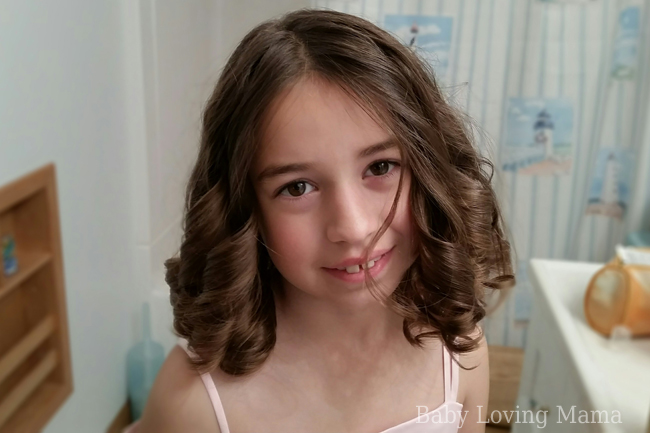 It's not dance recital season here yet, but it is Christmas season and we already had our first Christmas party.  I decided it would be the perfect opportunity to test out some of Danica's new Cheer Chics products.  With Danica's thick course hair, we have had to use a leave in conditioner for several years.  I sprayed the Awesome All-Star Detangler & Leave-In Conditioner onto her dry hair and brushed through it.  It worked great to make her hair easy to brush through and she commented that she loved the smell and thought it smelled like cotton candy.  My only issue was that it sprayed out quite fast and really saturated her hair in some areas.  This would normally not be a big deal, but I had to wait for it to dry some before I could start curling it.
I decided just to use a curling iron to add some curl to her hair that day, so I pre-sprayed her hair with a little of the Hip Hip Hooray Firm-Hold Hairspray.  The curl took fabulously.  Once completed I resprayed with hairspray.  Her curls held up all day.  I was very pleased with the hairspray and think it will work great for her next dance recital.
I tried just a tiny bit of the Pom Pom Hair Pudding on the front of Danica's hair that I pulled back into a small ponytail on top.  It was hard to tell how well it worked because it was a rather small area, but it definitely added nice shine to her hair.
Finally we were ready to try the We've Got Sparkle Hair and Body Glitter.  This was the item Danica was most excited to try out.  I first sprayed a bit of it into the sink to see how it worked.  It sprayed out a fine spray and looked like it would be great, so I turned to spray it on Danica's hair.  The nozzle became clogged and it would not spray out properly.  It was just dripping some wetness out with little to no glitter.  I tried removing the nozzle from the bottle and flushing it with warm water, but I was unable to get it to spray properly.  This was a big disappointment for both of us.
In addition to the products I was able to try, they also offer:
Bring It On® Body Lotion • 5 oz. • $9.99  Luxurious lotion makes skin shine as you show it off in competition or walking around mall. Lotion is also available in an adorable stocking-stuffer 2 oz. tube for $5.
Cheers 2 U® Shampoo • 8.25 oz. • $10.99  Shampoo moisturizes and helps defend hair against sun and heat damage. That's how to wow the crowd! Also comes in a 32 oz. liter for $30.
Cheers 2 U® Conditioner • 8.5 oz. • $11.99  This strawberry cream fragrance will put pep in your step. Gets hair smooth and sleek as it tackles tangles and provides mega moisture. It's available in a 32 oz. liter for $35.
BUY IT:
Cheer Chics products are now available in store and online at Ulta. Be sure to like Luna Star Naturals on Facebook  to stay up to date on all the latest product news!
Disclosure: I recieved samples for purpose of this Cheer Chics review however all thoughts remain my own.