Brought to you by JELL-O. Anything can go wrong during the holidays. Except these recipes.
Last month I visited my parent's house for dinner and decided to bring dessert. I looked over several great looking desserts from JELL-O, but this Cherry Poke Cake stood out.  It doesn't require any baking at all and is made with only a handful of ingredients. It was perfect and tasted fabulous. Wouldn't it look great on your table for the holidays?

123 Jello Cherry Poke Cake for Holiday Dessert
Ingredients
1 loaf (16 oz.) frozen pound cake, thawed
¾ cup boiling water
1 pkg. (3 oz.) JELL-O Cherry Flavor Gelatin
¼ cup cold water
1 oz. BAKER'S Semi-Sweet Chocolate
2 cups thawed COOL WHIP Whipped Topping, divided
1-1/2 cups cherry pie filling, divided
Instructions
Remove foil lid from cake package. (Do not remove cake from pan.) Pierce cake with skewer at ½-inch intervals, poking skewer through cake to bottom of pan.
Add boiling water to gelatin mix in small bowl; stir 2 min. until completely dissolved. Stir in cold water; pour over cake. Refrigerate 1 hour. Meanwhile, make curls from semi-sweet chocolate.
Microwave chocolate on HIGH a few seconds to warm it slightly. Draw vegetable peeler slowly over flat bottom of chocolate to form thin curls. Place on waxed paper-covered plate. Refrigerate until ready to use.
Invert cake onto platter. Cut cake horizontally in half. Spread bottom half of cake with ⅓ cup COOL WHIP; cover with 1 cup pie filling and top cake layer. Frost top and sides of cake with remaining COOL WHIP. Garnish with remaining pie filling and chocolate curls.
Dessert can be prepared ahead of time. Refrigerate up to 12 hours before serving.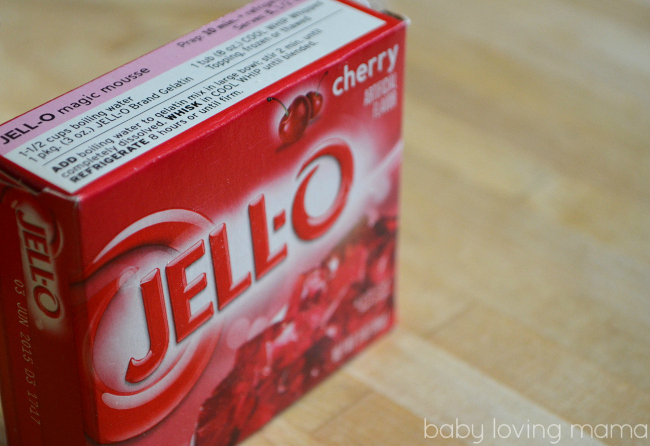 The poke cake gets moist and flavorful from cherry JELL-O gelatin. Making some holes in your pound cake will allow the gelatin to seep into your cake. I used a stir stick that was nice and round but a skewer would work well too. You just want to make sure you can push it all the way down to the bottom of the cake and create evenly spaced holes.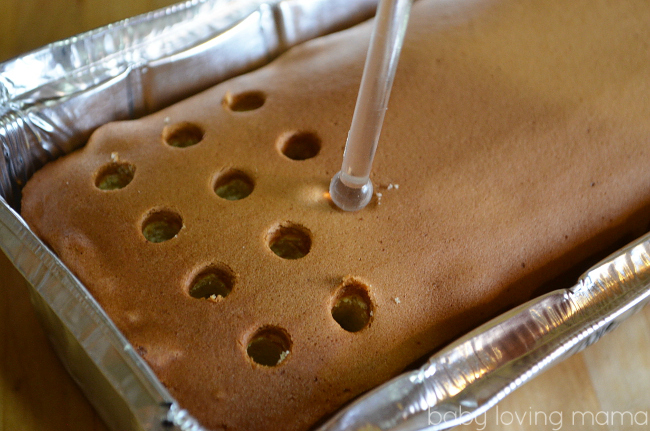 After preparing the JELL-O gelatin,  pour the contents over the cake. I like to make sure I fill each hole as well as the entire cake itself.
There are many methods to creating chocolate curls. I think using a vegetable peeler as suggested in this recipe makes it easy to quickly create smaller curls and chocolate shavings. If you are looking for gorgeous, big curls, I recommend this chocolate curls method shared by The Pioneer Woman.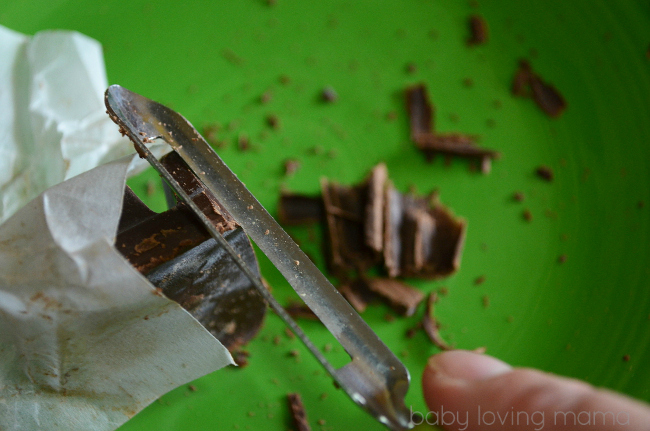 Since I was on my way out the door when making this recipe, I brought my pound cake, chocolate shavings, COOL WHIP and cherry pie filling with me to my parent's house for assembly there.
When filling the center with 1 cup cherry pie filling, I found that some did escape down the sides when I added my top cake layer. I recommend reducing that amount to perhaps 2/3 cup or only spreading cherries and not any of the delicious filling in the middle layer to avoid this.
Since I created more chocolate shavings than chocolate curls, I sprinkled chocolate over the top of my cherries and around the dish for extra garnish. I couldn't let all that precious chocolate go to waste but I didn't want to completely cover up those gorgeous cherries either. Problem solved.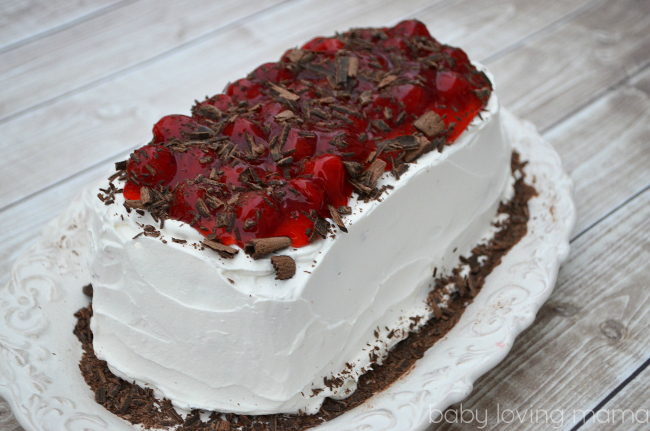 This dessert was a huge hit with my family! While you can serve it right away, I found that the cake sliced a lot easier once it had a chance to firm up in the fridge for a couple of hours. I highly recommend this if you want a beautiful presentation when cutting.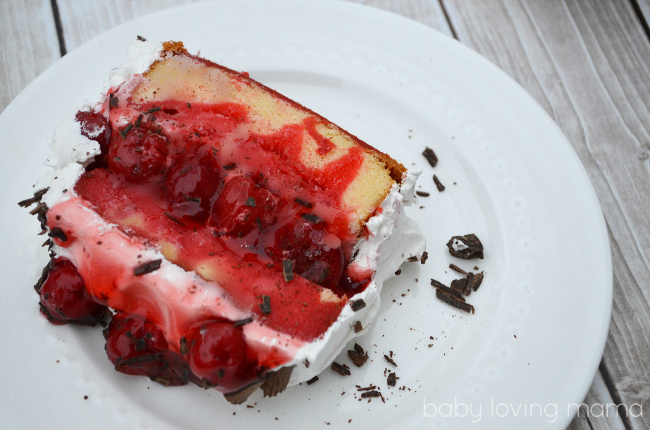 I gave the two leftover pieces to my parents as a thank you for having us for dinner. According to my mom, it tasted amazing the next day, as well. Now I'm a bit jealous I didn't get a second piece. I suppose that just means I have to make it again soon?
Do you have a favorite holiday dessert that is simple, but fabulous?
Disclosure:  This post is brought to you in partnership with Mom Spark Media and  JELL-O. All thoughts remain my own.