Chocolate Dipped Spritz for Valentine's Day
This post may contain affiliate links. Please read my Disclosure and Privacy Policy.
If you follow my baking blog, you might have seen me post about using the popular holiday cookie, spritz for Valentine's Day. (I made some fun love note and envelope cookies.) If you haven't considered your  cookie press for anything other than Christmas cookies in a while, you might be pleasantly surprised to find an awesome heart shaped disk waiting for you in your set. Obviously a heart would make a great Valentine cookie. Unfortunately I *ahem* broke my cookie press and with half a batch of dough left, the only shape I could make was the bar (or ribbon as I like to call it.).
I actually believe that with a few holiday sprinkles you can make almost any cookie fit for a specific holiday. So with that in mind, I dipped my ribbon cookies in chocolate and added some fun chocolate heart sprinkles and jumbo heart sprinkles.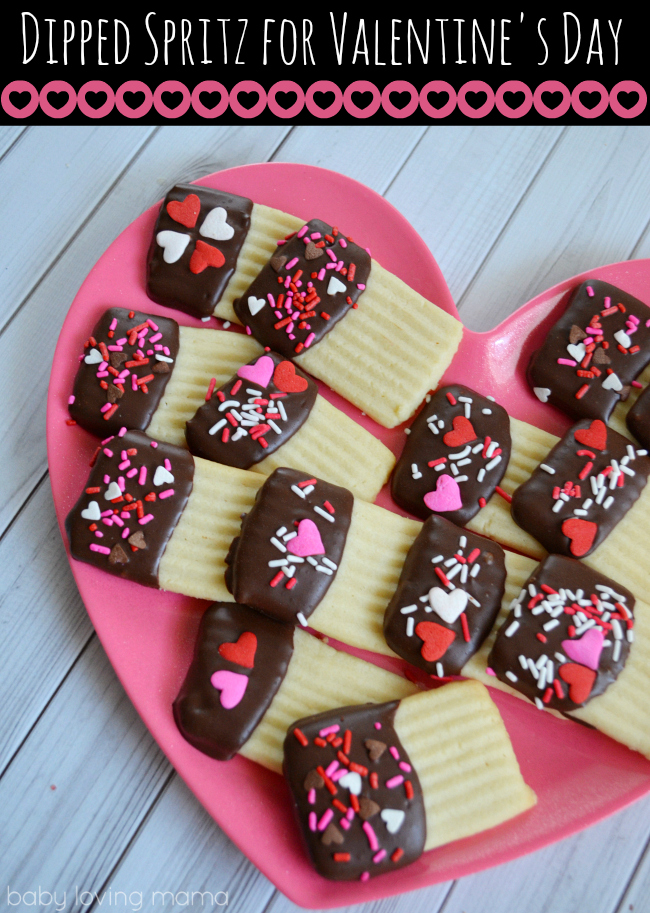 Ta-da!
Instant Valentine's Day cookie.
And because these cookies are so wonderfully simple with a lovely texture and buttery flavor, it pairs perfectly with the chocolate. The shape also makes for easy dipping.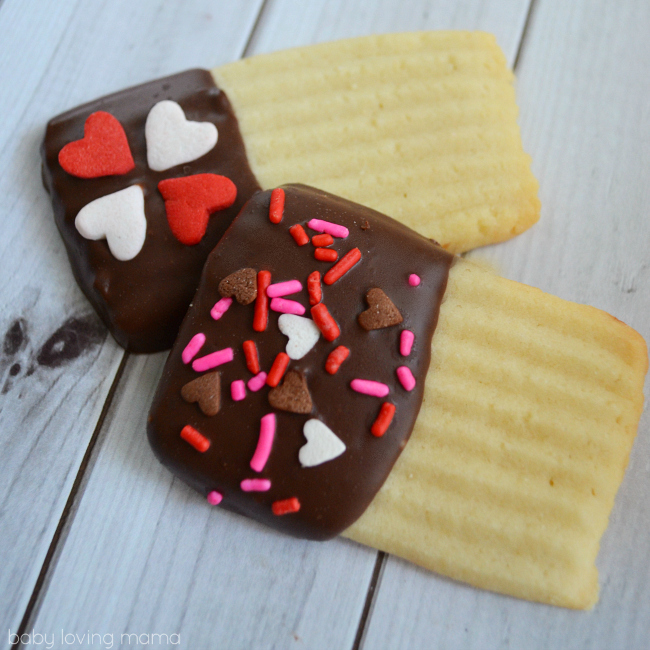 Buttery Spritz
(Makes 7-8 dozen cookies)
Ingredients
1 1/2

cups

butter

3 sticks

1

cup

granulated sugar

1

egg

2

tablespoons

milk

1

teaspoon

vanilla

1/2

teaspoon

almond extract

3 1/2

cups

all-purpose flour

1

teaspoon

baking powder
Instructions
Cream butter and sugar thoroughly.

Add egg, milk, vanilla and almond extract. Beat well.

Stir together dry ingredients (flour & baking powder) in separate bowl and gradually add to creamed mixture. Mix until dough is smooth. DO NOT CHILL!

Follow the instructions on your cookie press, using the bar or ribbon disc to create bar cookies, placing them on an ungreased cookie sheet. (I love my silicone baking sheets and parchment paper but this is one of the few cookies that just really don't need it. They turn out perfect and leave really no mess, all on their own!)

Bake in a preheated oven at 375 degrees for 10-12 minutes.

Cool cookies on a cooling rack.
To dip in chocolate you could use a chocolate melting pot from Wilton and their candy melts, or you could simply use some chocolate chips and melt them in the microwave or double broiler.  (I like to use a tablespoon of canola oil or shortening for every one cup of chocolate chips for a smooth consistency.)
I dip my cookies and an angle, use the rim of the bowl to remove the excess off the back and then place them on a wax paper or parchment paper lined cookie sheet. Then simply add some sprinkles and allow them to air dry.
Thankfully I got a new deluxe cookie press as a replacement from Wilton. I can't wait to experiment with the pumpkin shaped disc for fall.
Disclosure: While this is not a sponsored post, I am an ambassador for Wilton. Some of the products featured may have been given to me as samples or may have been purchased by me. (I honestly can't even remember anymore.)