My six-year-old daughter is just starting to explore games on the computer. We haven't been quick to jump into that area of play but she has computer time at school and she's been asking for more time at home. ThinkFun recently sent me their newest game, Compose Yourself, and asked us to share our thoughts about the computer-based music composition game.
With Compose Yourself, anyone can create world-class compositions in minutes. Invented by virtuoso cellist and composer Philip Sheppard, Compose Yourself turns kids ages 6+ into mini maestros, inspiring them to play with music as if it's a construction kit. Flip, rotate and re-order transparent music cards to create a visually appealing pattern, enter card codes onto a special website and instantly hear your composition played by virtuoso percussionist Evelyn Glennie and a full symphony orchestra at Abbey Road Studios. You can share your music on social and email, download an MP3, print sheet music…more than a billion melodies are possible.
Without a lot of musical knowledge, players are able to flip through a deck of cards with simple musical note patterns. You can flip and turn them in any way you'd like, creating a new tune. Mix them together to create a song and in an instant you're composing.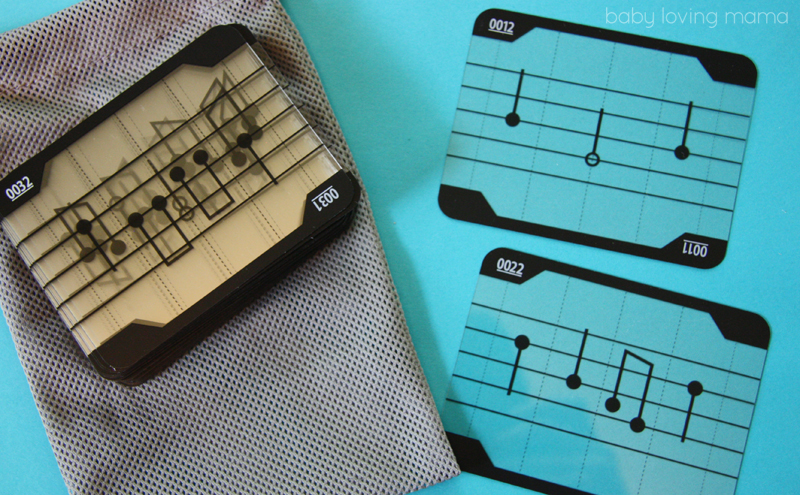 The sturdy cards come in a travel case. Each corner has a code which is entered on the Compose Yourself web site where you're able to hear your composition. *The game comes with a code you enter online to activate the site's functionality.
Mix and match any number of cards for nearly endless combinations.
I let my daughter explore the site herself to see if she could figure out how to make her song. As a very new reader she was still able to figure out the game with a little assistance from me. She simply entered the codes and hit the obvious play button to hear her song come to life.
She loved listening to her song in all of the variations; with marimbas, as an orchestra or both combined. It was also easy to switch the order of the cards and play again to discover how the song changed.
Here's what Nora's song looked like when she was done composing. ThinkFun has made it easy to share your creation with MP3 exports like this.
Overall I think this is a great game for educational and inspirational music fun for kids of all ages. With a bit of help even young kids can enjoy this game. That said, I believe players with a bit more musical knowledge and interest would get more out of this game. This could easily provide the building blocks to spark an interest in learning more about music no matter your current musical ability.
Take a look at the following videos to see more about our experience with this fun and intuitive musical learning game.


BUY IT:
To buy your own Compose Yourself game and get started creating your own musical masterpiece, buy your cards online at Amazon for $19.99 ($14.99 on sale now)
Disclosure: I received a sample for the purpose of review however all thoughts and opinions are my own.