This weeks marks over a month of Mini Chef Mondays! Spending time in the kitchen is such a great learning experience for children of all ages,  so I'm happy to share a recipe I've made with my kids each week.  I hope you'll link up with us this week! (See more information at the bottom of this post.) Last week we shared a delicious Homemade Berry Granola, perfect for gift giving. This week we made these fun Cream Cheese Bear Claws.  I was decided it would be fun to create a recipe inspired by a cooking package I received featuring a new children's book Mother Bruce by Ryan T. Higgins.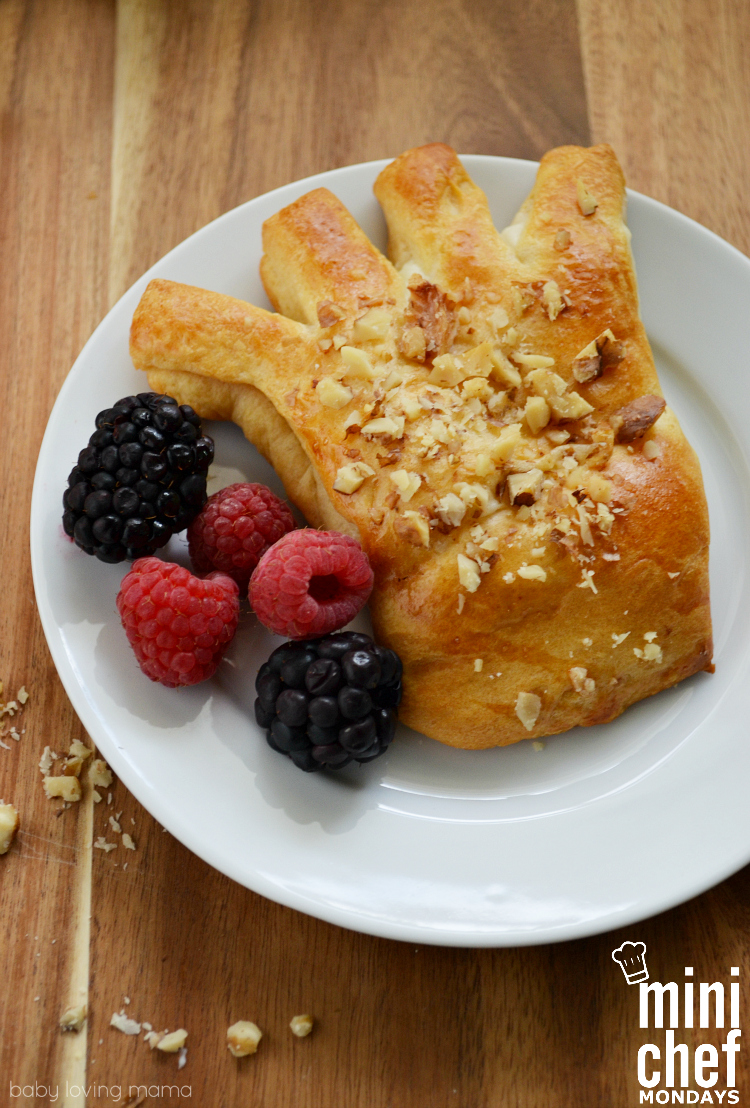 Mother Bruce is about a bear who loves to cook, especially eggs.
He unintentionally becomes the mama figure for some adorable little goslings, much to his chagrin. We love this adorable book full of laughs!
Inspired by Mother Bruce, we set out to make some easy cream cheese bear claws.
We happened to have some crescent rolls in our fridge so we decided a bear claw pastry would be a perfect breakfast.
Wesley loved helping me press the dough to close the seams, brush the tops with egg white and sprinkle with nuts!
You can easily add a glaze over the top if you desire using 1 cup of powdered sugar and approximately 2 tablespoons water or milk, but Wesley was certain we didn't need it.  They were easier to eat without any glaze and were sweet enough on their own.
Cream Cheese Bear Claws Inspired by Mother Bruce + Giveaway | Mini Chef Mondays
Ingredients
1 can (8 oz) refrigerated crescent dinner rolls
4 oz. (1/2 brick) cream cheese, softened
2 tablespoons sugar
½ teaspoon vanilla
¼ cup chopped walnuts or pecans
1 egg white, beaten
Instructions
Heat oven to 375°F. Line cookie sheet with cooking parchment paper or a silicone baking sheet.
In medium bowl, beat cream cheese, vanilla and sugar. and lightly with wire whisk. rectangles
If using crescent rolls: On lightly floured work surface, unroll dough. Separate into two 6x8 inch rectangles, firmly pressing perforations to seal.
Spread cream cheese mixture into a two inch strip lengthwise down center of dough. Fold ⅓ of dough over filling. Fold filling-topped section over last ⅓ of dough so seam is on bottom of folded dough. Gently flatten 1-inch-wide strip of dough along one long side of folded dough with your hand. Cut folded dough crosswise into 3 (2-inch) pastries. Along flattened edge of each pastry, cut 1-inch-long cuts about ½ inch apart. Repeat with second section of dough.
Lightly brush beaten egg white mixture over each pastry. Sprinkle paw with chopped nuts.
Bake 14 to 18 minutes or until golden brown.
Remove to cooling rack and cool 5 minutes before serving.
About the Book
Bruce the bear likes to keep to himself. That, and eat eggs. But when his hard-boiled goose eggs turn out to be real, live goslings, he starts to lose his appetite. And even worse, the goslings are convinced he's their mother. Bruce tries to get the geese to go south, but he can't seem to rid himself of his new companions. What's a bear to do?
I am hosting Mini Chef Mondays along with 11 fabulous bloggers!
Be sure to check out each of their Mini Chef posts as well. We would love it if you would share your Mini Chef posts with us each week, too! Follow along socially and join in on the fun by using our hashtag #MiniChefMondays to share creations your mini chef created in the kitchen. Additionally, if you have a kid-friendly recipe that kids can easily recreate link up! Don't have a blog? Share the URL of your instagram photo in our linky below.