My mom has always made her own dressing for coleslaw rather than purchasing it from a bottle. I'll never forget when I asked her for the recipe many years ago how she laughed and explained there isn't a recipe. Apparently she had been dumping her ingredients together and just eyeballing and taste testing to make sure it was just right.
I couldn't understand how anyone could do that.
Just know with no measuring at all.
Until I started to do the very same thing myself.
My mom gave me her best guesstimates over the phone so I could recreate her version. I took that as a base and made it my own by adjusting the ingredients to suite my tastes. (This happened naturally.)  I also added chopped apple and cranberries because both my husband and I love the additional texture and sweetness they add. I absolutely adore my moms coleslaw but our recipes are definitely not the same.
And up until now, I've been making my own coleslaw the very same way she always had. I simply toss those ingredients together and quickly taste to make sure it is the flavor I'm looking for until it is perfect.
When Kraft asked me to share a favorite recipe through the Tastemakers blogging program, I thought it was the perfect time to write this recipe down. Now others can enjoy my coleslaw as well! Ironically I had a hard time making it taste just right because I couldn't do my usually heaping spoonfuls or splashes.
After a couple of tries, I think I finally have what very closely resembles my usual coleslaw.

Creamy Apple Cranberry Coleslaw Recipe | Gearing Up for Summer #KraftRecipes
Ingredients
1 cup MIRACLE WHIP Salad Dressing
¼ cup milk
2 tablespoons white vinegar
1½ tablespoons sugar
1 pkg. (16 oz.) coleslaw blend (cabbage slaw mix)
1 medium crisp apple (such as Granny Smith, Braeburn or Fuji), chopped
½ cup dried cranberries
Instructions
Whisk salad dressing, milk, vinegar and sugar together in small bowl until well blended.
In a large bowl, add coleslaw blend, chopped apple and cranberries.
Pour prepared dressing over top and mix together until well combined.
Refrigerate until serving, approximately one hour.
Since this recipe is so quick and easy, it is definitely my go-to summer salad. Now I'm all set to start enjoying the food that always comes with warmer weather. I just need to convince my husband it is time to clean up the grill!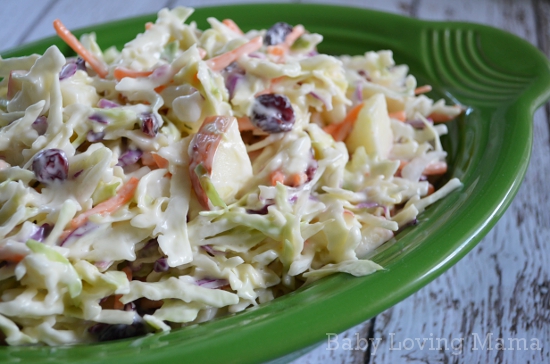 Get ready for summer with those backyard barbecues or picnics at the beach with Kraft! Don't forget to follow them via Facebook and Twitter to stay connected.
***If you are on the hunt for even more ideas such as this, check out Kraft's coleslaw recipes!
What is your go-to side dish for summer?
___________________________________________________________________
Disclosure: This post was created for the Kraft Tastemaker Blogger Program. All thoughts remain my own and are not influenced by the monetary compensation received.