This is a sponsored post. All thoughts are my own.
While my two oldest boys might be getting out of playing dress up in their comic book characters costumes and action figures, my youngest is just now discovering how much fun it is to pretend to be a superhero.  And one thing they all love to do together is watch cartoons featuring their favorite comic book characters! It is something you never quite grow out of and why my husband and I enjoy them as adults.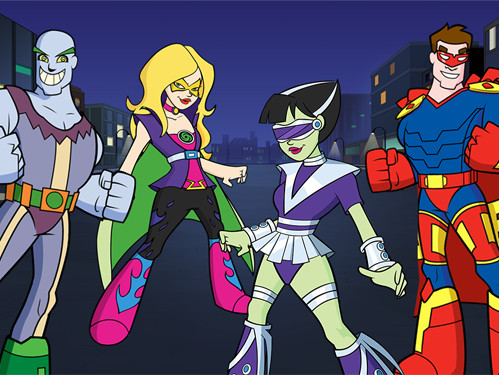 If you love superheroes as well, create your ultimate superhero with a fun name, look, powers and more!
Also check out some of the amazing new videos from Warner Bros, including favorites such as Scooby Doo  & Batman Unlimited. There will be many more updates over the next year, so don't forget to subscribe to their channels!
Here is just a sample of the type of content you can expect with these new videos featuring short stories from your favorite characters.
Batman Unlimited – Training Standoff
When Gotham City is plagued by a rash of bizarre crimes committed by the animal-inspired villain squad, the Animilitia (made up of Silverback, Cheetah, Killer Croc and Man-Bat), Batman swings into action to investigate. But could the Animilita be working for powerful businessman Oswald Cobblepot aka The Penguin? How does Cobblepot's new invention of robotic Cyber Animals fit into the mix? In the end, it'll take the combined forces of Batman, Green Arrow, Flash, Nightwing and Red Robin to fight off these "ANIMAL INSTINCTS."

WIN IT:
To celebrate, WBKids & DCKids is offering FIVE DCKids & WBKids gift sets.  There are a lot of easy ways to gain entries so be sure to take advantage. Good luck!
(Please note: I am only sharing the means to enter and not in charge of running the giveaway.)
a Rafflecopter giveaway