Thank you to Disney Book Group for sponsoring today's Dino Fruit Skewers with Yogurt Fruit Dip recipe post. Thoughts are my own.
Heading to school can be a stressful time for kids, especially if this is their first time.  Thankfully my kids have felt fairly comfortable in new situations but preparing them for the inevitable changes that come with starting school can help. This is especially true when you approach them in a fun and humorous way. The children's book, We Don't Eat Our Classmates by Ryan T. Higgins, is a great example of using humor to lessen back to school anxiety!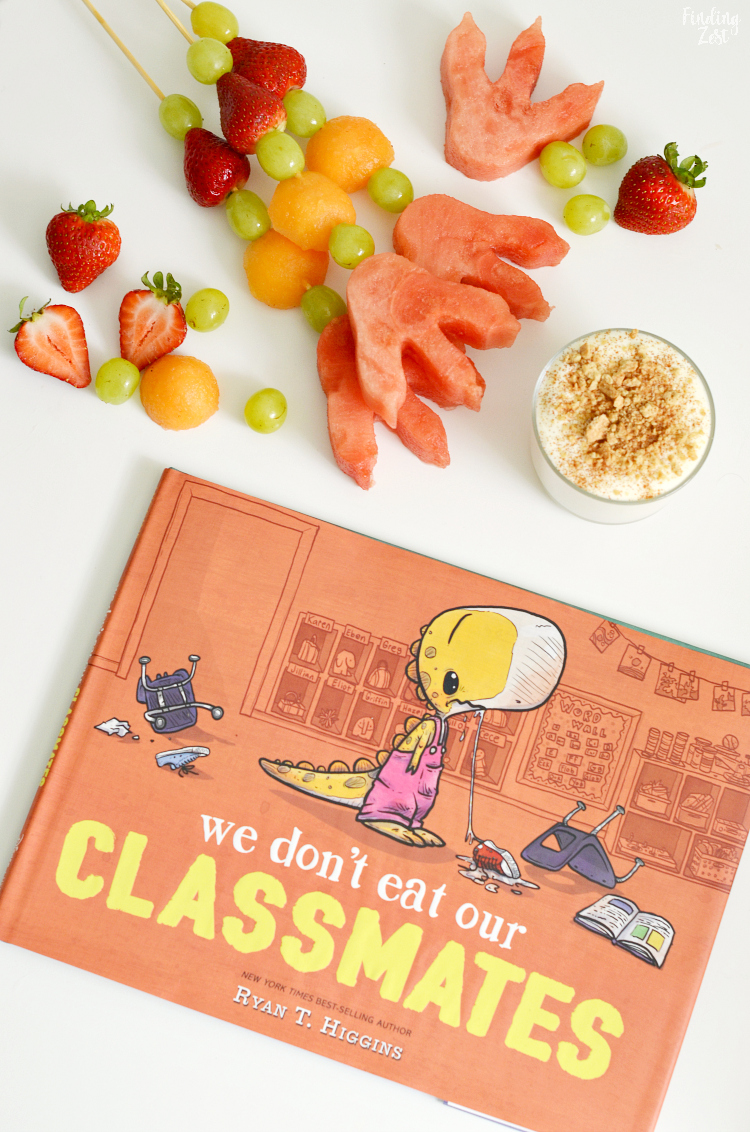 My six-year-old Wesley was pretty excited about going back to school this year but he still had some jitters about a new teacher and classmates. Our copy of We Don't Eat Our Classmates arrived the week before school started so the timing was perfect. Ryan T. Higgins is not only a New York Times bestselling author, he also happens to be one of Wesley's favorite authors. He loves the silly humor that can be found his books, and We Don't Eat Our Classmates didn't disappoint.  What happens when you are a dinosaur and you step into your classroom to find a bunch of tasty children? Penelope Rex finds out and gets a lesson in how to treat her classmates.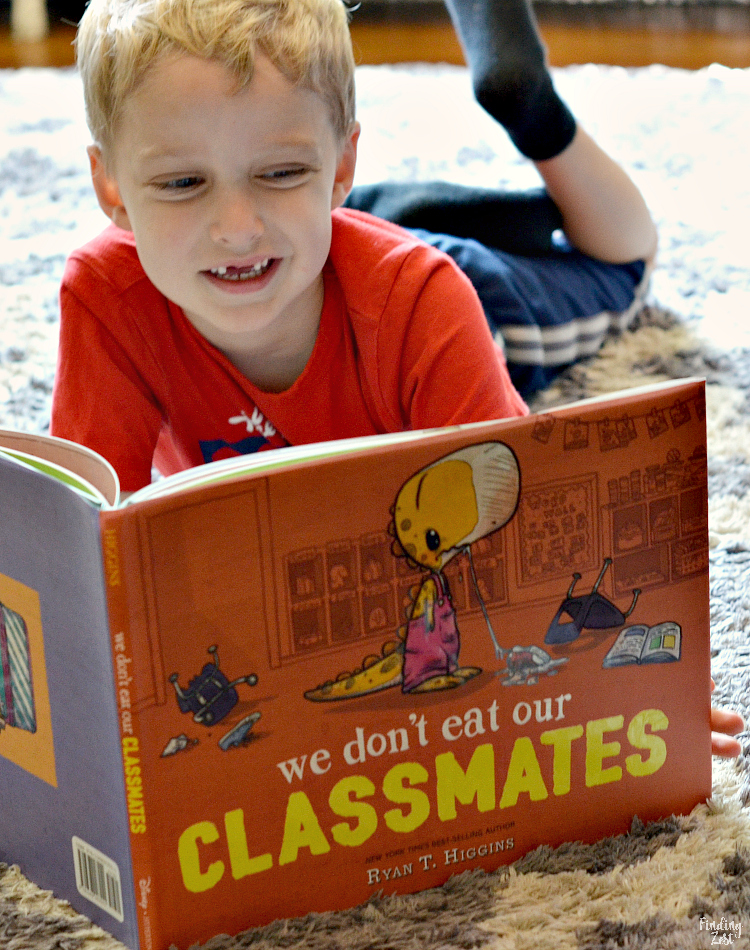 We Don't Eat Our Classmates Book Synopsis:
It's the first day of school for Penelope Rex, and she can't wait to meet her classmates. But it's hard to make human friends when they're so darn delicious! That is, until Penelope gets a taste of her own medicine and finds she may not be at the top of the food chain after all. . . .
This book is laugh-out-loud fun!
To celebrate the start of school and just enjoy a fun snack together inspired by this adorable book, I made Dino Fruit Skewers with Yogurt Fruit Dip.
How to Make Dino Fruit Skewers
Making this dinosaur snack is super easy with just a few ingredients. To make the fun dinosaur footprints watermelon slices, you'll need some watermelon and a dinosaur foot cookie cutter.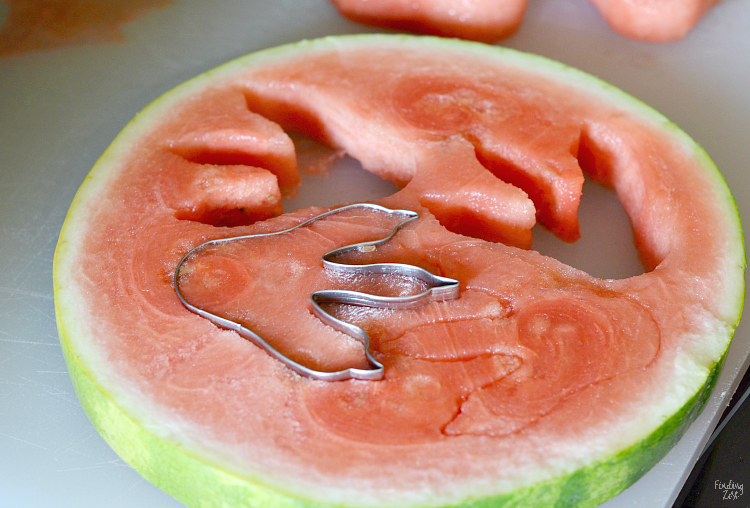 Choose your child's favorite fruits and attach them to a wooden skewer, ending with the dinosaur footprint on top. I chose strawberries, grapes, and cantaloupe, but many other fruits would also work well such as blueberries or honeydew melon. (Be sure to supervise when enjoying this snack since one end of the skewer is quite sharp.)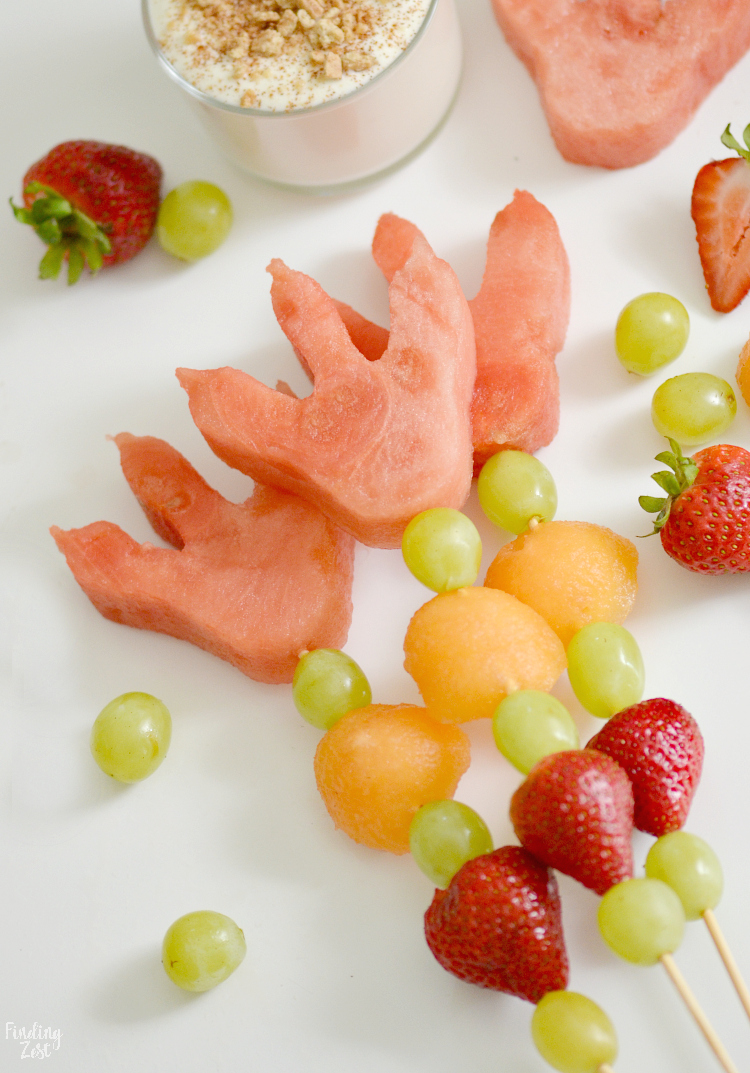 The fruit dip is very easy to make with some cream cheese, vanilla yogurt, and honey. To the top I  added a little cinnamon and crushed graham crackers to resemble dirt.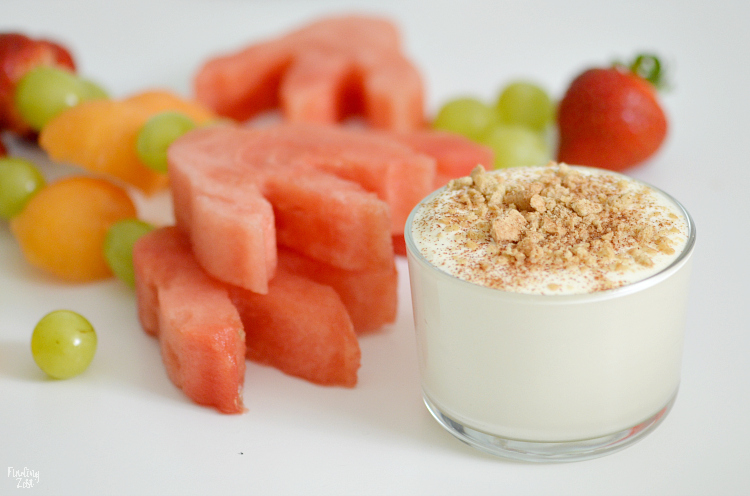 The fruit skewers were a hit with all three of my children, especially Wesley.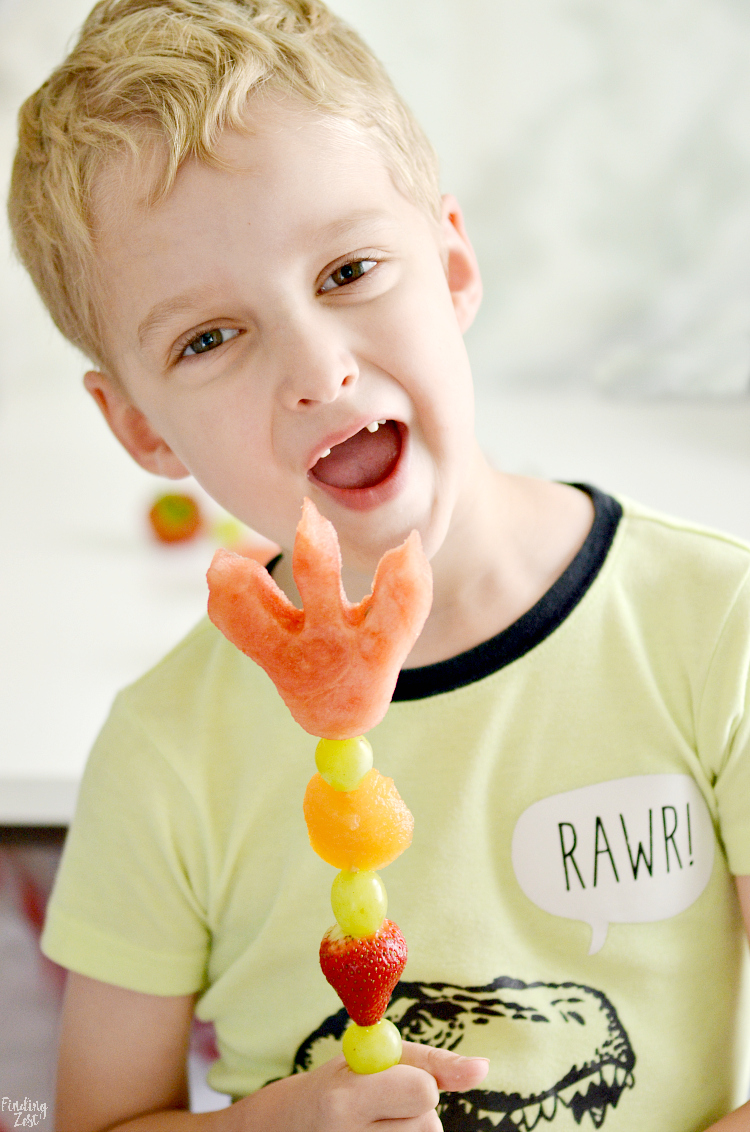 While my kids often eat fruit they don't often get fruit dip. They thought that was extra special and didn't want to stop eating it. My 10-year- old begged me to include the fruit dip in his first day of school lunch. He was so happy when he saw I remembered.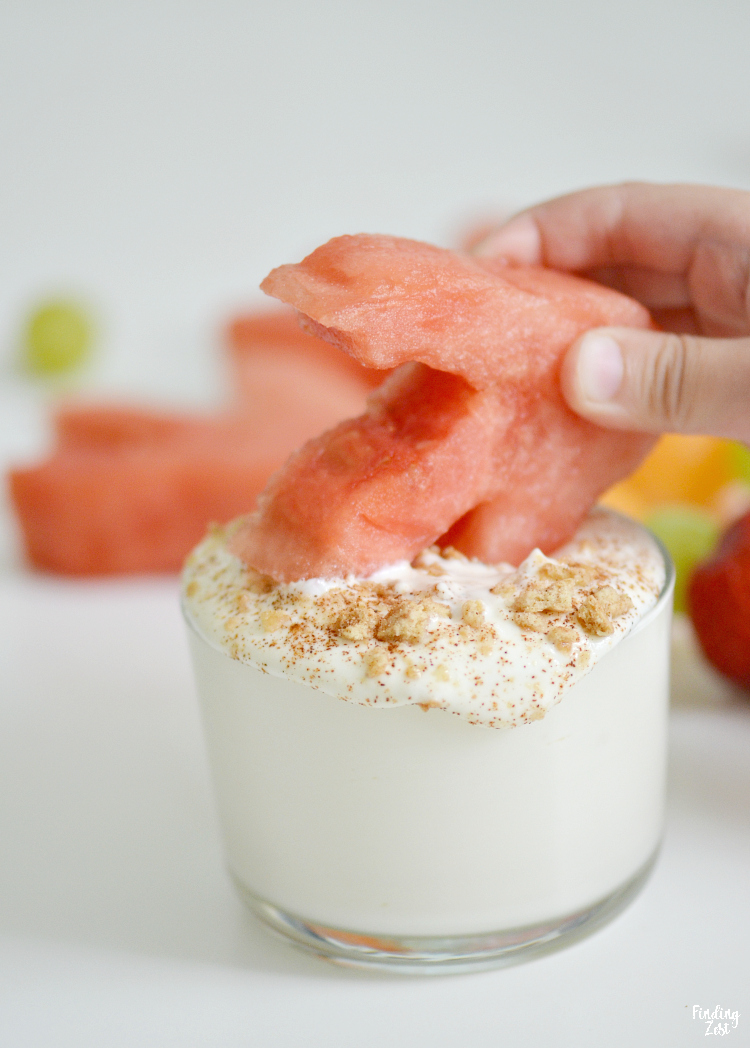 Dino Fruit Skewers with Yogurt Fruit Dip
Ingredients
4 oz cream cheese, softened
1 cup vanilla whole milk or Greek yogurt
1 tablespoon honey
dash of cinnamon (garnish)
1 tablespoon crushed graham crackers (optional)
watermelon slices
assorted fruit such as grapes, strawberries, melon balls or blueberries
wooden skewers
Instructions
Beat cream cheese, yogurt and honey until smooth.
Pour into one cup dish and garnish with crushed graham crackers and cinnamon.
Cover and transfer to refrigerator until ready to serve.
Using a cookie cutter in the shape of a dinosaur footprint, cut out 4 shapes from watermelon slices.
Assemble fruit skewers with assorted fruits, ending with dinosaur footprint at the top.
Serve with cold fruit dip.
We hope you love this dino-mite snack recipe idea for your own dinosaur fan!
Be sure to pick up your own copy of We Don't Eat Our Classmates by Ryan T Higgins, in stores now!