At my son Wesley's 9 month checkup we learned that he is still very tall and has pushed the limits of his current portable car seat. While I normally like the easy of being able to use it as a travel system with our stroller, I'll be honest and say I'm so glad to say goodbye. As much as I love being able to bring a sleeping baby in and out of the car with ease, my back has been killing me while lugging him around in it. If you saw me try to carry it around you would fully understand as it weighs a ton and has only gotten worse as my baby continues to grow.
The Diono Radian RXT birth to booster car seat arrived just in time this past month and is really the only car seat you would ever need.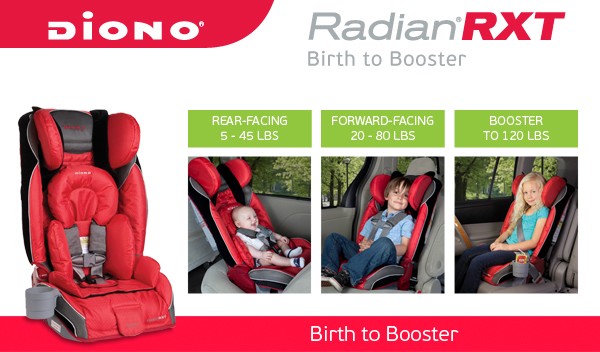 The Diono RadianRXT comfortably seats rear-facing children from 5-45 lbs, forward-facing children from 20-80 lbs in 5-point harness, then converts to a booster for children up to 120 lbs. It has been NCAP crash tested and is the only car seat rated for LATCH use with a child up to 80 lbs.  Not only that but it folds flat for travel and storage and has a 10 year life. You can use it until your child no longer needs a booster or it can be used for multiple children.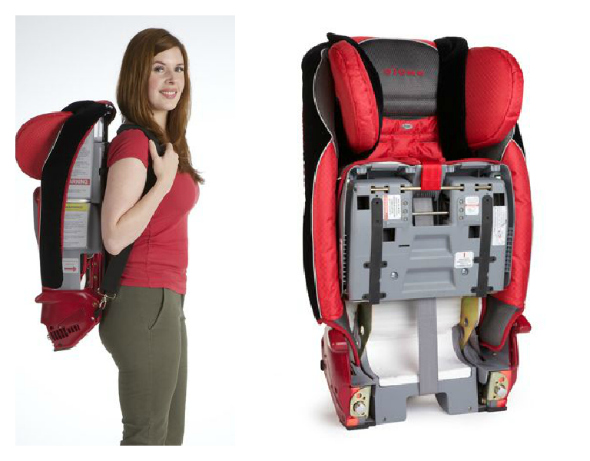 Even better, if you are like us with several children still in car seats, you can fit 3 across in a mid-size vehicle and your child can enjoy more shoulder space. The RadianRXT also sits low on a vehicle seat for easy boarding and expandable sides. The longer seat bottom provide extra room and comfort.
The first thing that I noticed was that the RadianRXT weighs a ton, which is probably due to its steel alloy frame and reinforced sidewalls. I don't think this is necessarily a bad thing and it gives me a greater sense of security. (If you do need to haul it, you can carry it on your back.) I like that it feels sturdy!
My husband installed the seat and mentioned that since it is heavy, you really shouldn't try to reconfigure it on the fly. He started out in the garage but it was cold and had to bring it inside because it was taking longer than he thought it would. He felt the reconfigure instructions were a bit hard to follow in some places with more steps than previous car seats that he has installed. Once it was ready for the rear facing latch, he thought the installation itself was very easy.
For someone like me who isn't car seat installation savvy, I appreciate the easy to read labels on the car seat, telling me exactly where to find the correct belt path. The velcro sides make it easier to buckle in and Diono's unique SuperLATCH system makes installation simple.
My husband and I both noticed was how soft and plush the fabric and padding is with this car seat. You'll find memory foam padding for superior comfort and EPS foam which surrounds the child's head and body to provide complete side impact protection. We both decided that we wished the seats in our van were as comfortable!
Some of my other favorite features:
Infant body support cushions
Adjustable head support and our patented SafeStop® energy absorbing harness.
5 shoulder and 3 buckle positions for custom fit
12 height positions for adjustable head support
2 recline positions in forward-facing mode
We used the seat for an trip that took over an hour each way and Wesley seemed very comfortable and immediately went to sleep both times. I think this seat will stand the test of time and is perfect for our growing child!
Besides the very neutral "storm" that we received, the Dion RadianRXT also comes in several additional colors including cobalt blue, plum, red and more! You are sure to find one that is perfect for you.
The only downside to these seats that I can find is the heavy weight and the price tag. However, I believe the quality is worth the cost and with the weight comes more peace of mind.
BUY IT:
The Diono RadianRXT has a list price of $339.99 and is available at many retailers nationwide including Sears and at our affiliates Amazon
 and Magic Beans, both at a discount! See their complete list of retailers. Be sure to follow Diono USA both on Twitter and Facebook to stay up to date on company news!
WIN IT:
I have one Diono RadianRXT car seat to give to one lucky reader in their choice of color! (US/Canada residents only)
a Rafflecopter giveaway

 Disclosure: I received a sample for the purpose of this review however no monetary compensation has been received. All thoughts remain 100% my own.