I remember when my husband, Joe proposed. It was Christmas Eve and I was honestly picking chicken out of my teeth (no lie) after dinner when Joe could wait no longer to pop the question. He got down on one knee in front of my family and produced a ring. We had been together a few years already and while I knew we would probably eventually get married, the timing really threw me for a loop. And as he held out a simple round diamond engagement ring, I didn't take a moment's pause before saying yes!
Apparently he had really stressed about picking out my engagement ring. There were so many things to consider such as ring settings and size. And because we were just out of college, it was important that the ring be both adequate and yet fairly affordable. To be on the safe side he picked a simple 1/2 carat round cut solitaire so that I could choose my perfect ring.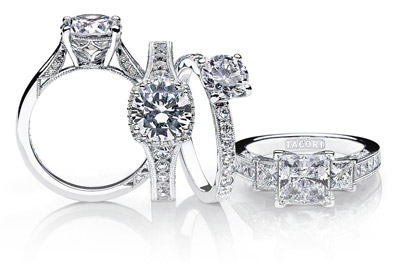 Joe purchased it from a big name jeweler from the mall and now I'm not sure he would do the same. Now he probably could have gotten a better deal from online retailers.
Within a week of being engaged, I caught the ring on the front door of our apartment building and bent one of the prongs. My diamond went flying. We found it right away but it scared us and we immediately went in for a six prong setting (versus the original four) and switched the band from gold to platinum so it would be stronger and the silver tone I preferred.
Later I chose a simple wrap band with four additional smaller round diamonds. It exactly what I was looking for in a ring. Simple and not too big but certainly not too small either at over a carat total.

For my husband we chose from simple titanium bands. We loved the color and the strength of the material. The only problem was that it couldn't be resized and only came in full sizes. It looked great for our wedding ceremony but not long into our marriage Joe lost his ring, several times. It was just slightly too big. While we found it each time it went missing, it just became easier for him to not wear it any longer, especially since he has lost 40 pounds or so since we got married.
I wear my ring every day. In fact I only take it off to take it off to shower, apply lotion or for other messy tasks. My husband on the other hand never wears his ring. And I guess purchasing a new band has never been a top priority. It actually doesn't really bother me and I suppose that is only because I understand why he doesn't wear it and I feel secure in our relationship.
So thinking about how much money and time goes into picking out wedding bands, I have to ask, do you you wear yours? Would it bother you if your spouse didn't?