For spring here in Minnesota, we like to start celebrating early. While it is technically spring already, it doesn't feel like spring yet. We still have snow on the ground and cooler temperatures because winter never wants to let go. (In fact, it is snowing right now as I write this!) I love doing fun spring projects with my kids to help our spring fever. Last weekend we made this Easy Marshmallow Popcorn, including some DIY Spring Treat Bags to remind us that spring is on the way!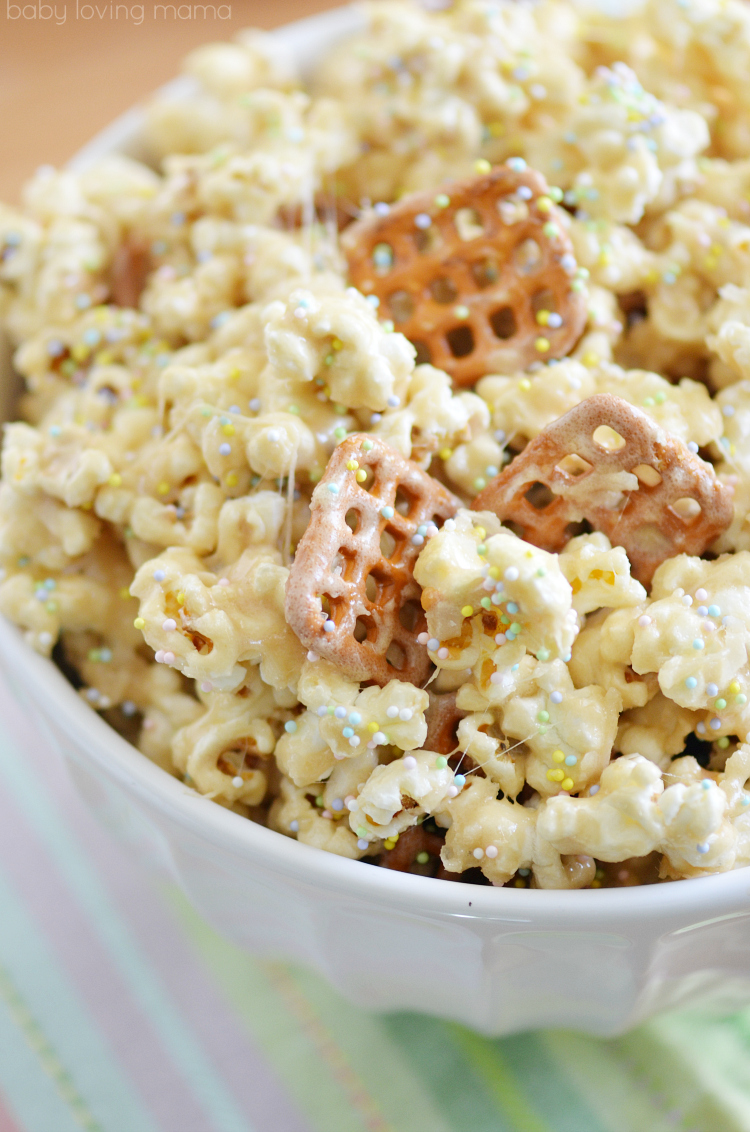 I've seen marshmallow popcorn recipes all over Pinterest and was inspired by this one from Cupcake Theory. I thought it would be fun to give a try.
Since my four year old has become my official helper in the kitchen with my Mini Chef Monday series, he was happy to give me a hand.
I'm the type of person to add extra marshmallows to my cereal treats, it made sense to me to do the same with my popcorn. The results is a super goey, sweet and salty treat.
Easy Marshmallow Popcorn
Ingredients
11 cups of premade bagged lightly salted popcorn
2 cups pretzels
18 big marshmallows
1 cup brown sugar
2 tablespoons honey
½ cup butter
sprinkles (opotional)
Instructions
Line large baking sheet with parchment paper, wax paper or a silicone baking sheet.Set aside.
Add popcorn and pretzels to extra large bowl and set aside.
Melt marshmallows, brown sugar, honey and butter in microwave or on the stove top, stirring often.
Spray large spoon with cooking spray.
Pour melted marshmallow mixture over popcorn and pretzels.
Gently stir until fully incorporated.
Spread popcorn mixture over baking sheet. Cool completely.
Store in airtight container.
With a sweet and salty snack like this, I like to serve it with milk.  We don't allow soda so my kids drink options are limited to mostly water and milk with some juice here and there. It was a perfect combination!
We had DairyPure brand milk since it is the only brand of milk backed by the exclusive 5-Point Purity Promise with no artificial growth hormones*. I also like that all the milk is tested for antibiotics.
For our spring craft project we created DIY Spring Treat Bags using craft supplies I already had on hand.
I offered supplies for our paper treat bags including deluxe spring craft stickers, stamps, a glue stick and streamers. I offered the idea of using the streamers for creating grass and other objects like the sun and they ran with it.
If you cut the streamers into squares you can bunch them up on and attach them to the bag with just a glue stick. I was familiar with this type of art with tissue paper but I didn't have tissue paper squares and thought the streamers would be easier. I was right!
You can offering just a couple of colors like I did or a rainbow of colors to let their imagination go wild!
The stamp set became a bit tricky to apply the right pressure so they skipped that step and instead focused on the fun sticker options I provided.
I love how they turned out! With very little help from me, these are the three bags my kids created!
All of this crafting of course made them thirsty. So I surprised them with their absolute favorite drink, TruMoo Chocolate Milk. TruMoo is the perfect way to keep kiddos smiling, while getting them the nutrition they need. It was a great way to finish up our art session. I introduced it during our cleanup stage to make that part a bit more fun and to avoid any spilling on the craft projects.
The bags worked great for holding our delicious marshmallow popcorn! While I don't serve snacks like this every day, an occasional sweet treat like this one is certainly special.
Since DairyPure brand milk and TruMoo both contain no artificial growth hormones* and come from your local dairy, they are a perfect pair for your children's diets!
You can start and end your day right with DairyPure brand milk and TruMoo, the perfect balance of nutritious and delicious!
Do you have a favorite milk and snack combination?
I was selected for this opportunity as a member of Clever Girls and the content and opinions expressed here are all my own.