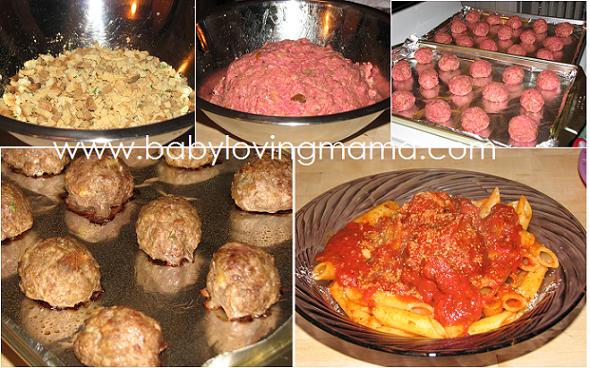 Ingredients
2 lbs ground beef
1 pkg (6 oz) Stove Top Stuffing for chicken
1 – 1/4 cup water
2 eggs
Instructions
Preheat oven to  400ºF.   Line two baking pans (15x10x1-inch) with foil. Spray with cooking spray.
Mix ingredients until blended. Shape into 32 (1-1/2-inch) balls, using 1/4 cup for each.
Place meatballs into each prepared pan. Bake 16 to 18 min. or until done (160ºF).
Tips
Because this recipe makes 32 rather large meatballs, freeze half this batch to be used for later use. Be sure to leave them loosely packed in a freezer bag and flat so they freeze separately. Then thaw overnight for a super fast dinner solution.
This recipe came from Kraft Foods Kitchens and I love it because it so easy and it makes enough for two meals! Trust me, these meatballs are quite large , very filling and really extend 2 lbs of hamburger. I have seen some people complain that they wish their was more flavor and others will say it has tons of flavor. Feel free to add some extra spices your family enjoys to taste.
You can see this recipe along with other great complimentary recipes for a Tomato-Basil Cream Sauce and Creamy Brown Gravy.