Over the last few years my husband and I have become a bit more adventurous with cooking different cuts of meat, including baby back ribs and now beef brisket. They always intimidated us before but now we've realized with a bit of patience and a great recipe, we too can easily create what we've loved eating in restaurants in our own homes like making brisket in the oven!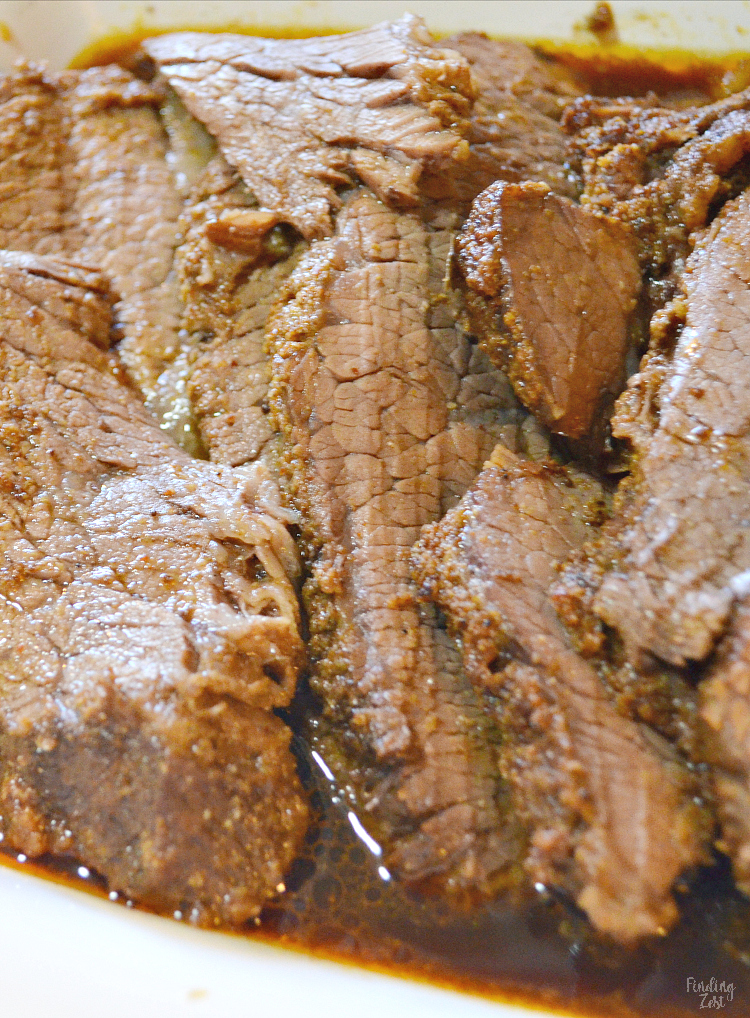 This brisket recipe from Paula Deen (slightly altered) is special because rather than cooking  for hours on end on a grill or in a smoker it is slow roasted in your oven. While you won't get the crunchy outside or that awesome smoke ring, you will get a very delicious and flavorful brisket that is very tender!
Beef Brisket
When making beef brisket, be sure to use a USDA choice cut of meat! Brisket is the type of meat which garbage in equals garbage out. You do not want to end up with tough meat.  I've used anywhere from a 2lb to 5lb Angus and simply adjusted the spices and cooking time as necessary.
It took about 3 to 3 1/2 hours total cooking time for a small, two pound brisket. We served it sliced with the juices. It worked great in rolls and then dipped in the broth.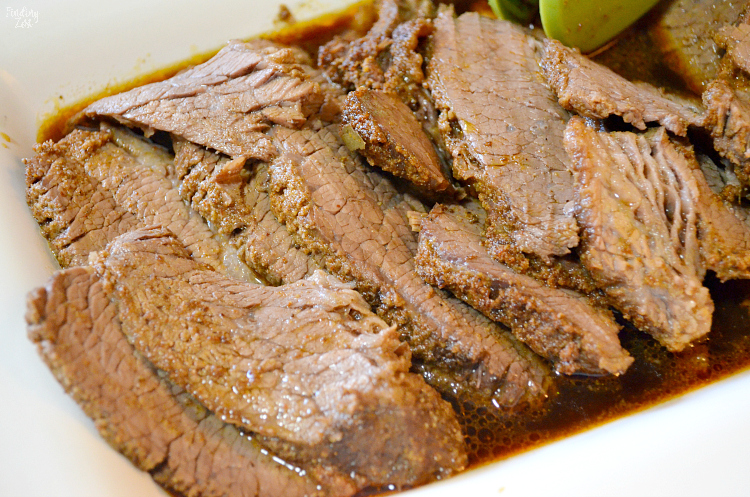 Oven Roasted Brisket Kitchen Tip:
I've also made a 3 pound brisket in my dutch oven and it worked great. If you don't have a dutch oven, I highly recommend them! It is such a versatile piece to have in your kitchen.  From soups to meats and stove top to oven, everything I've cooked in mine turns out great. If you can swing getting a Le Creuset Signature Dutch Oven, you won't be disappointed! But there are also several highly rated dutch ovens that are still very affordable on Amazon. The hardest part is picking out the color.
Le Creuset Signature Enameled Cast-Iron 7-1/4-Quart Round French (Dutch) Oven, Caribbean
Cuisinart CI755-30CR Chef's Classic Enameled Cast Iron 5-1/2-Quart Oval Covered Casserole, Cardinal Red
Lodge L10DOL3 Dutch Oven with Dual Handles, Pre-Seasoned, 7-Quart
Crock Pot 69145.02 Artisan Cast Iron Dutch Oven Non-Stick Surface, 7 quart, Sapphire
It took less time to cook in my dutch oven (about 2 1/2 hours total)  so be sure to keep an eye on the temperature.
My husband was in heaven! The aroma that this brisket will give your house as it cooks is amazing.

Easy Oven-Roasted Beef Brisket
Author:
Paula Deen, slightly altered
Ingredients
2 tablespoons chili powder
1 tablespoon salt
1 tablespoon garlic powder
1 tablespoon onion powder
1 tablespoon ground black pepper
1 tablespoon sugar
2 teaspoons dry mustard
1 bay leaf, crushed
4 pounds beef brisket, USDA choice trimmed
1½ cups beef stock or broth
Instructions
Remove meat from fridge and allow it warm up, approximately 20 - 30 minutes.
Preheat the oven to 350 degrees F.
Combine all the spices, including the bay leaf to make your delicious rub. Season the raw brisket on both sides with the rub.
Place in a roasting pan or dutch oven and roast, uncovered, for 1 hour.
Add beef stock to pan to get you approximately a ½ inch of liquid in the roasting pan. Add water to get to the ½ inch if necessary. Do not pour the liquid on top of your brisket however or you risk loosing the delicious rub!
Lower oven to 250 degrees F, cover pan tightly and continue cooking approximately 2 to 3 hours, or until fork-tender. Keep a close eye on as the cooking time can really vary. Temperature wise you are looking for a range of 195 to 205 degrees. Mine was about 200 and turned out amazing.
Trim the fat and slice meat thinly across the grain. Top with juice from the pan.
This recipe can be found on the Food Network and was altered slightly.