*This article is sponsored by Pop Secret. All thoughts are my own.*
On Friday night we decided to have another fun family movie night, complete with pizza for dinner and popcorn for a snack. This time around, we decided to offer fun mix-ins to enjoy with Pop Secret Movie Theater Butter popcorn. Yum! Nothing beats this salty snack and movies just aren't the same without popcorn!
But have you ever burned popcorn?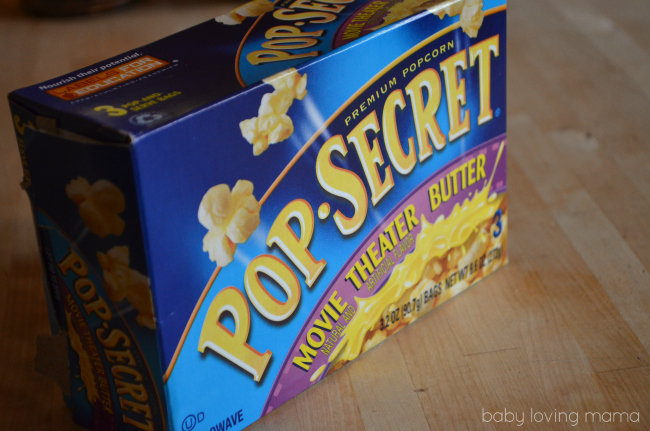 I'll never forget the time a co-worker burned popcorn in our microwave at work. I know that it can be tricky to cook popcorn, especially with an unfamiliar microwave. And those "popcorn" button options on microwaves can be misleading. In this case, they used that button and made the mistake of walking away. The smell was horrendous! It was hard to work that afternoon with the nauseating smell permeating through the entire office.
I think most people can relate to the frustration of burning popcorn, so Pop Secret decided to solve the problem once and for all, so you can spend more time enjoying movies and less time worrying about burned popcorn!
With your iPhone 5+ on iOS 7+, you can download Perfect Pop ("Perfect Popcorn") for free on the App Store.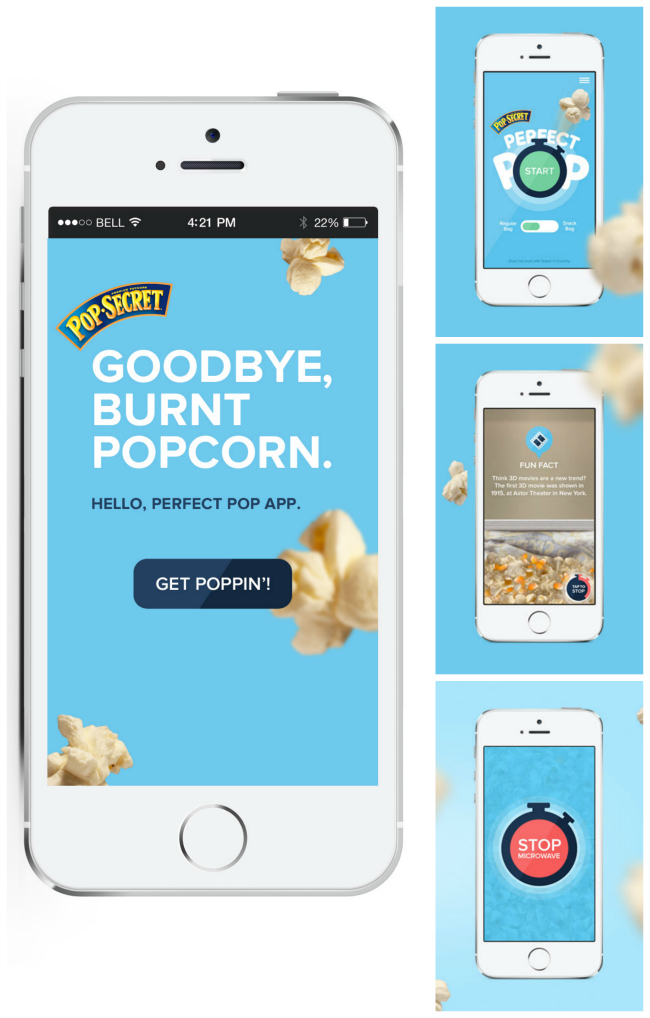 How Perfect Pop Works:
1. Put a bag of Pop Secret in the microwave and enter suggested cooking time from the packaging. Note: Perfect Pop is optimized for the deliciousness of Pop Secret popcorn only.
2. Turn up the volume on your iPhone. Point the phone's speaker towards the microwave and keep within 3 feet.
3. Start the microwave, and then start the app.
No more relying on the popcorn button or guessing how many seconds in between pops. Pop Secret is serious about perfect popcorn, so the less you have to worry about, the more time you can spend enjoying movie night with your friends & family. Perfect Pop listens to the pops, waiting for the precise moment to let you know when your popcorn is perfect.
How cool is that?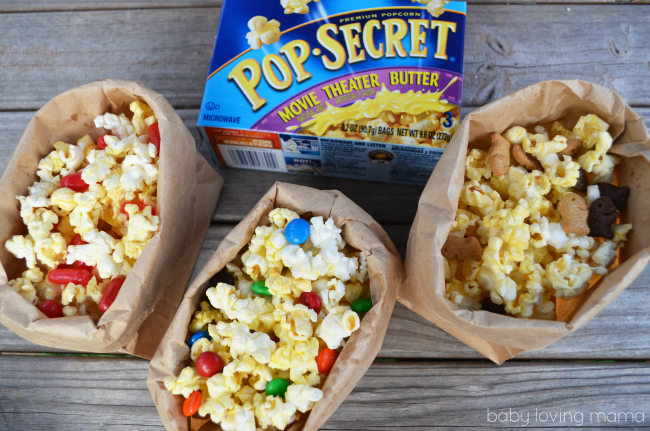 We enjoyed our own perfectly popped popcorn on Friday with Pop Secret.  I also offered some fun mix-ins to get that perfect pairing of sweet and salty.
Do you ever add anything special to your popcorn? If not, you should try it! Here are some options if you need some inspiration or want some new ideas.
Popcorn Mix-In Ideas
Candy: gummy bears, cinnamon candy, mini caramel candies, fruit flavored candy, chocolate candies
Nuts: peanuts, cashews, almonds, pecans, sunflower seeds
Chocolate covered: peanuts, almonds,  cashews, soynuts, raisins, dried cranberries
Cereal: virtually any kind
Dried fruit: raisins, apples, apricots, pineapple, cranberries
Spicy:  spicy peanuts, cajun trail mix, green peas (really anything spicy you can find)
Salty: mini pretzels or sticks, honey sesame sticks, fish crackers, corn nuts, cheese crackers
Mini cookies: chocolate chips, chocolate sandwich cookies, wafers, grahams
I served our popcorn in a lunch bag folded down. It works great for easy access, but makes for quick cleanup. I like to give individual servings, so we don't have to stay huddled together. Plus, my husband can inhale his popcorn.  My kids take their time while they eat, so they don't get very much if they share with Dad.
What is your favorite pairing with popcorn?  What do you think of the idea of this app?
Don't forget to download Perfect Pop for your own perfectly popped popcorn with Pop Secret!