This is a sponsored post. All thoughts are my own.
My three year old loves stuffed animals and can be seen cuddling them all hours of the day. But what he has never experienced, is having his own interactive stuffed friend like the Fisher Price SMART TOY Bear. This special toy is recommended for ages 3 to 8 years and has become his BFF (Best Furry Friend) just like it states on the box since I gave it to him 10 days ago. This bear can do so much, it is hard to put it all into a single post, but I'll try!
Product Description:
Smart Toy® is the next generation of play; providing high-tech play that's seamless and screen-less, it's a huggable plush friend delivering meaningful and playful interactive experiences to encourage social-emotional development, imagination and creativity. Smart Toy® inspires creative play through storytelling, fun adventures and energizing activities! Through speech recognition technology, the toy listens and responds to your child, and through image recognition technology, your child can direct the play.
Sounds pretty cool right?
He (or she) can easily be turned on by pressing the button on his paw.  It will turn white when he is powered on, red when he is running out of power and green when he is fully charged.
Unlike other interactive toys, the Smart Toy is super soft. The body does have some weight to it, but is still very squishy. The head is perfect for cuddling and the legs and arms can dangle. His nose features a sensor that can read Smart Cards through image recognition technology   These cards allow your child to choose the activity by holding the card a few inches from his nose.

Nine different smart cards are included along with a small yellow backpack to store them. The backpack conveniently velcros shut and can be worn by the Smart Toy. Instead of using batteries, this toy comes with a USB plugin and can be charged over and over again!
It is impossible to tell you how cool this toy really is without showing you.

Isn't this bear so fun and silly?
Our Overall Thoughts:
Wesley has been having so much playing with his Smart Toy Bear.  His older brothers (7 and 9) enjoy him as well. Their favorite activities are going on adventures and playing games. We had some of them repeat, but my kids don't mind. I was impressed when the bear acknowledged that they had done something before. I love watching them using their imaginations as they play instead of screens. Many of the activities require props or space to move around, but this toy will wait for your child to get the items before you squeeze the belly to begin.  He also has a good sense of humor and will often crack little jokes or say silly things to get a laugh.
Updates and Extended Play:
When connected to Wi-Fi through the Smart Toy: Parents App, Smart Toy® unlocks additional activities and download content updates automatically overnight. With the app, you can control Smart Toy® with your smartphone. Available for both iOS and Android devices.
You can also purchase additional Smart Cards for more stories, games, adventures and other fun activities. Categories include Adventure, Story Maker, Animal Doctor, Bedtime, Superhero and Experiments. Each come with an additional 9 smart cards with a list price of only $6.
Potential Improvements:
This toy will often give the child two choices when they are playing to make it more interactive. Unfortunately this bear can't always understand what my three year old is saying, as shown in the video. When that happens it will choose automatically, usually the opposite of what my son chose. I hope as my son grows and his speech becomes more clear this will happen less often.
I've also held off using the parent's app. The reviews of the app show a recurring theme with not being able to set the date correct on their birthday or change things once they've been set. Because of this, I'm waiting on an update before we give it a try. It will also give the toy new life when he starts to want to do something new with his bear.
Neither of these would keep me from purchasing this adorable toy!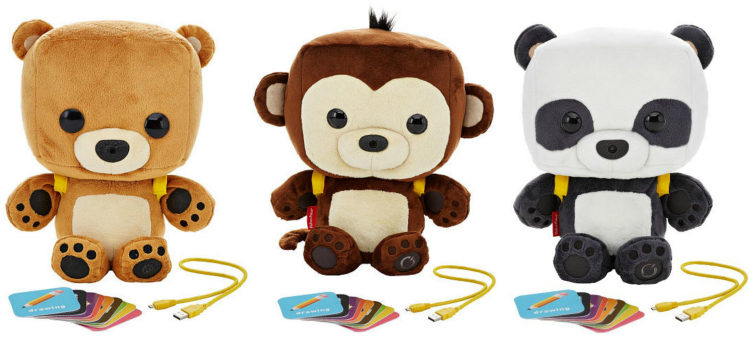 BUY IT:
The Fisher Price Smart Toy has a list price of $99 but you can buy it directly from Fisher Price, or at other major retailers including Amazon and Toy "R" Us, currently for a great discount. This would make a great gift for any child!