Growing one's own fruit is very rewarding, and there is nothing quite like fresh raspberries. Sure, you can buy them in the store, but due to their perishable nature they are best picked and eaten right off the bush. Read on for tips on soil, pruning and harvesting.
Where to Plant
Raspberries are easy-to-grow and do best in a sandy loam soil high in organic matter. They love the sun, so planting in a location with at least 6 – 8 hours of sunshine is best. Also, take care not to plant them where tomatoes or potatoes had been grown the year before.
Raspberry Varieties
Summer-bearing – these are generally ready for harvesting just after the strawberry season (July), but do not bear fruit until their second year.
Fall-bearing – this variety is ready for harvest the same year the canes are planted.
Ever-bearing – a summer harvest and fall harvest are possible with this type; who could ask for more?
Pruning
In order to maintain a healthy raspberry patch, it is important to remove all dead canes in the spring. Some canes may have dead tips, so prune them back to living tissue as well. This will encourage new growth and more productive patch.
Planting
Space the plants about six inches apart. The rows should be spaced far enough apart to allow you to use a rototiller between them for weed control. You also want to have plenty of room for moving around; if the rows are too close together you will knock the ripe berries off as you brush past the next row.
After the harvest is complete, cut the canes back to ground level. This will encourage new cane growth, which will give you another crop of berries in the fall. Repeat this process after the fall harvest for a good crop the following summer.
Harvesting Tip
Raspberries like to hide under leaves, behind branches and behind your bucket. When you think you have picked all that are ready, go back over the row from the opposite direction. You will wonder how you missed so many.
Freezing
Raspberries can be frozen (if they make it that far) for winter use. The best way is to lay the berries out on a cookie sheet, freeze, and then bag. If you put them in a bag when fresh, they will squish together, and you will have a block of raspberry ice. Depending on the intended use, you could freeze them either way. Raspberries are also great for jam.
Now, what are you waiting for? Go to your local nursery and get some raspberry canes so you can enjoy these juicy red berries before winter sets in. You can also find them online at retailers such as Direct Gardening.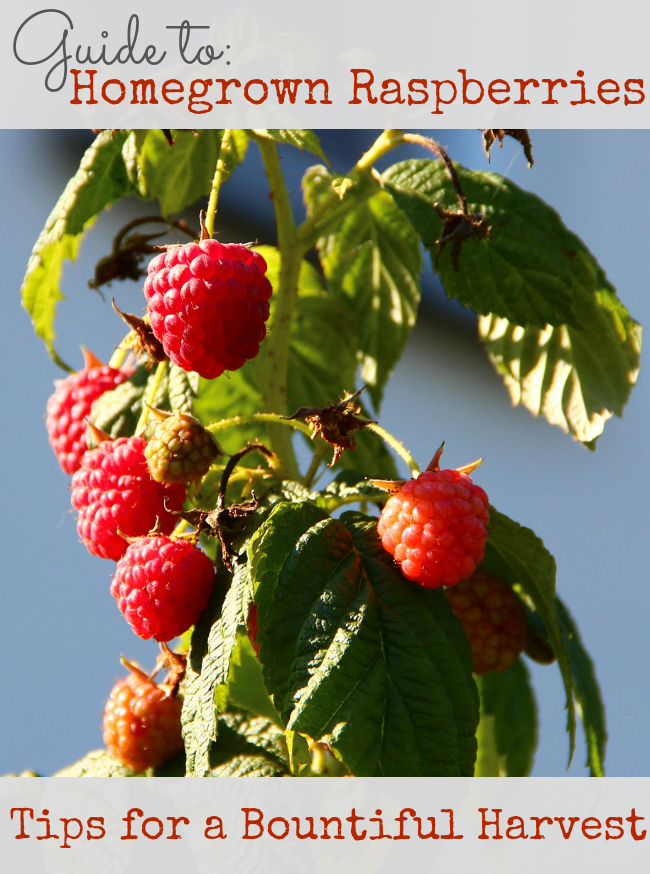 Thank you to Diana Ziomek for her assistance in writing this post.