This post is brought to you in partnership with REAL® Seal. All thoughts and opinions are my own.
It is officially spring. Finally. I like typing it out as a reminder that it is true. Since I live in Northern Minnesota, it doesn't actually feel like spring yet. The snow is melting fast, and I can see our lovely brown grass.  I'm ready to spend more time outside with my boys and soak in some sun. Until then, the reality is keeping us from outdoor activities. There isn't enough snow to build a snowman or go sledding. But it is too muddy and wet outside to enjoy spring activities. That didn't stopped us from enjoying our weekend! We spent our time with activities like hide-and-seek, a nature walk with Dad, art projects, building with construction toys and spending lots of time in the kitchen! My four year old and I made this delicious Hearty Apple Baked Oatmeal, an altered version of this baked oatmeal recipe I made earlier this year.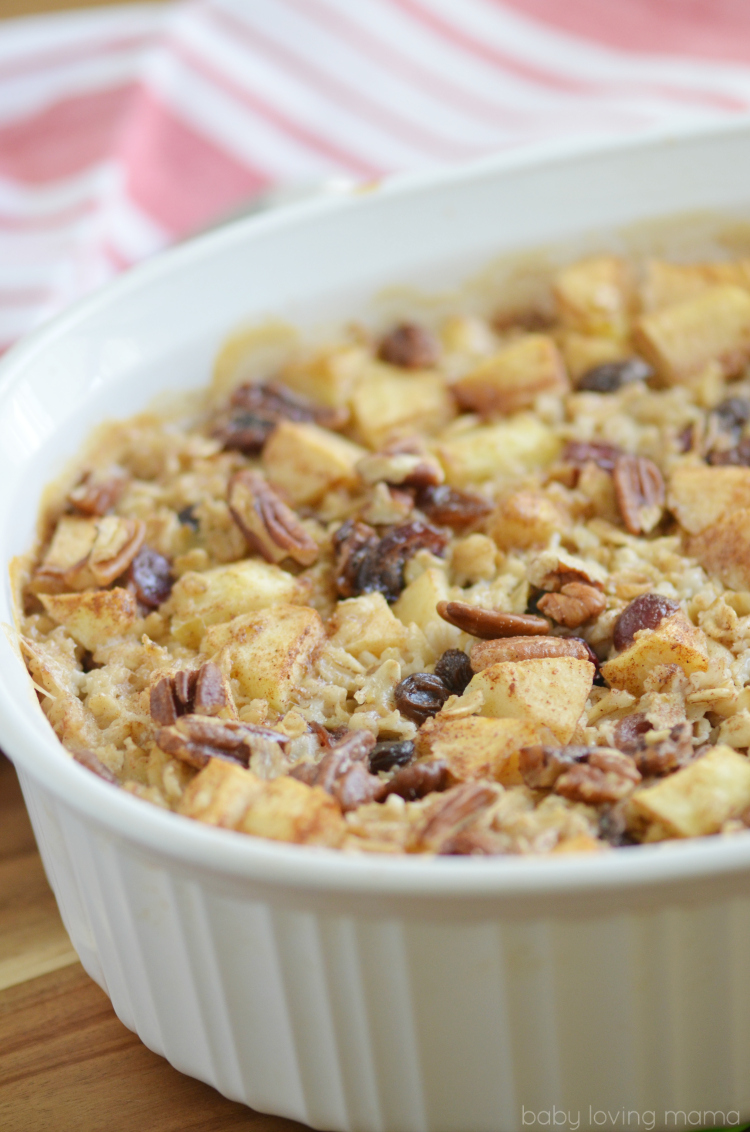 This is a great recipe with very little cleanup since you can mix all the ingredients right in the baking dish!
This recipe calls for a lot of milk! Make sure you look for the REAL® Seal on your milk carton. I've found it on many local brands in my grocery stores on both the front and the back of the packaging. It is a seal that lets you know you are drinking quality dairy!
Wesley was more than happy to pour the milk over our oatmeal. Most of it gets baked into the oatmeal as it cooks, leaving it nice and soft.
This baked oatmeal is perfect for feeding a crowd for special occasions or for every day. It is very hearty and will keep you satisfied!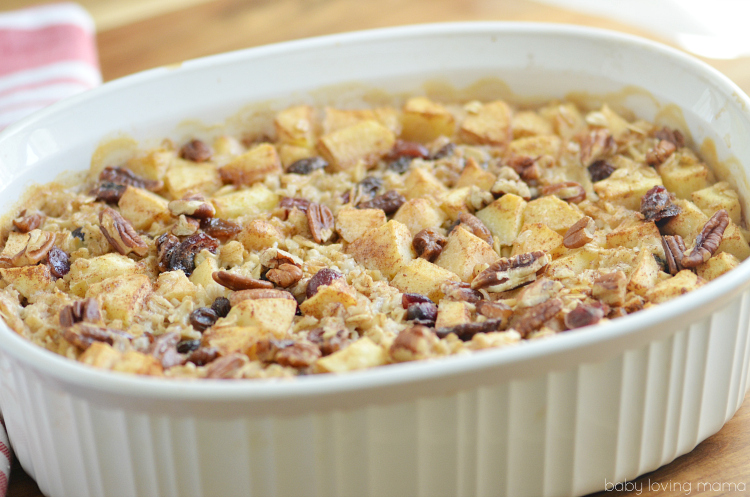 You can add more milk or serve it with REAL® Dairy yogurt like I did for even more protein, especially if you use a Greek variety. My kids especially love to pair it with honey vanilla yogurt. It tastes so good!
Hearty Apple Baked Oatmeal
Ingredients
2⅔ cups old-fashioned oats
2 cups chopped apples
⅓ cup raisins
⅓ cup dried cranberries
¼ cup packed brown sugar
1 tablespoon butter, melted
1½ teaspoons ground cinnamon
¼ teaspoon nutmeg
¼ teaspoon salt
1 teaspoon vanilla
½ cup chopped pecans, divided
4 cups milk
Instructions
Heat oven to 350°F.
In 2 to 3 quart casserole, mix together oats, ¼ cup pecans, raisins, cranberries brown sugar, butter, cinnamon, nutmeg, salt, vanilla, and apples.
Pour milk over mixture.
Bake uncovered 42 to 48 minutes or until most liquid is absorbed.
Top with remaining pecans.
Serve warm with additional milk or yogurt if desired.
This was a perfect Sunday brunch option for my family and a new favorite. Since I typically have all these ingredients on hand anyway, I can whip up a batch of baked oatmeal and feed my family something that I can feel good about.
It also helps that my kids see this as a special treat instead of just something nutritious to fill their bellies.
Whether you plan to tackle spring cleaning, spend time outdoors or celebrate a special occasion like Easter or Mother's Day with your family, this baked oatmeal recipe is a great way to start to your spring day!
REAL® Seal Dairy on Social Media
Be sure to follow the REAL® Seal Facebook page and the REAL® Seal Pinterest page for more great meal ideas using dairy! 

Look for more recipes and special promotions as part of my involvement with the REAL® Seal Dairy Divas!