This post is sponsored by The Lakeside Collection. All thoughts are my own.
Finding the perfect gift for everyone on your list isn't always easy. I have plenty of people on my holiday gift list that don't really need anything in particular. And when I'm shopping for someone like that, I like to take into consideration their hobbies and what they might find useful. My mom for example, told me she only  wants a framed picture of my family for Christmas. Good to know, but certainly not all I'd have for her under the tree. My mom loves to cook and bake so a cooking basket is both useful and something she would enjoy. The Lakeside Collection has the perfect gift basket suggestion for her this year, the Curious Cook.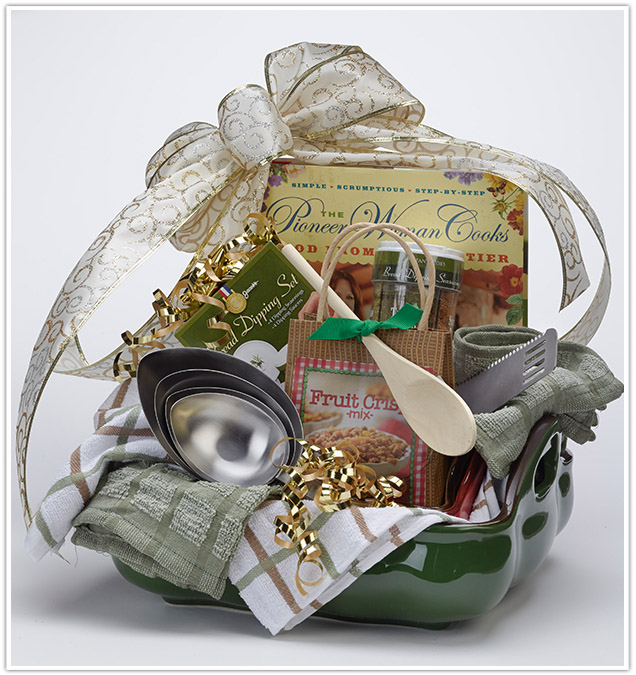 All the items featured in the Curious Cook gift basket can be purchased from The Lakeside Collection. They'e created a whole page with mix and match kitchen gift basket ideas to tailor your gift. For example, make  a dessert gift basket and satisfy their sweet tooth! Fill it with items like the Fruit Crisp Mix, Candy Making Book & Mold, Cast Iron Skillet Cookie Kit and Chocolate Dipped Spoons!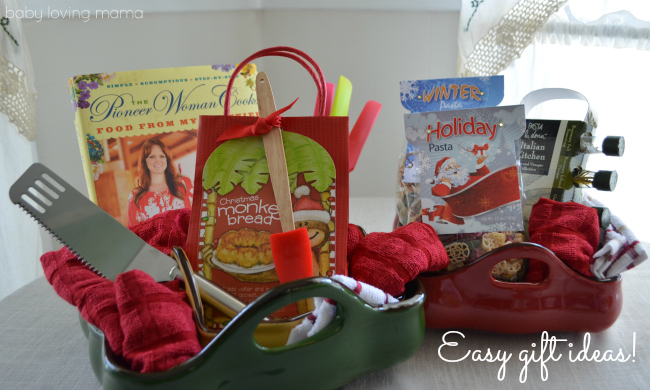 I substituted a few of the items in my basket and decided to mix and match the contents so I could create multiple baskets with the same number of gifts. It is a great way to stretch your budget this holiday season!
With the large basket,  I added the Christmas Monkey Bread, Pioneer Woman Cookbook, Cut & Serve Spatula, 3 long handled spatulas and some soft red kitchen towels and washcloths. I nested the small baker in the center to whole more of the items upright. (The cut & serve spatula fits perfectly in the small baker's handle.)
I also created a couple of pasta baskets with the winter and holiday pasta and Italian seasoning gift set. Again, this is a great way to give something that is both thoughtful and useful. Use the large baker and you can add some additional items to your basket such as pasta sauce, pesto and parmesan cheese. The possibilities are endless! Just add some pretty ribbon or a bow and you are done..
Looking for more ideas like this one?
You can find all these items and so much more at The Lakeside Collection. Be sure to check out all the creative holiday gift basket ideas from Lakeside Collection. Which is your favorite?
WIN IT:
One lucky reader will win a Cooking Up Something Special gift basket worth approximately $75! (The winner will be able to customize their cooking basket so exact value may vary slightly)