My kids all love breakfast foods, especially pancakes, waffles and french toast. Typically I serve these homemade as breakfast for dinner with eggs and bacon or sausage during the school year.  It is hard to put together anything too time consuming on busy weekday mornings. But that doesn't mean I don't want to send them off with something warm in their bellies. I've been wanting to make homemade french toast sticks for ages and with back to school approaching, it is the perfect time to prep ahead. These frozen french toast sticks can be popped into the oven and served fresh with minimal effort.

I found this fabulous recipe on Taste of Home, but tweaked it for our personal tastes.
I always make our french toast using this cinnamon burst bread from our local grocer's bakery. It is a thick, Texas toast loaded with cinnamon. We love using it because it has a great flavor and really holds up well. However, for this recipe you can use regular Texas toast if you don't have access to something similar.
While I began slicing each piece of bread into thirds, Wesley got to work crushing the cereal. While you could skip the cereal step, I don't recommend it. Not only does it help maintain a crunchy outer coating, it keeps the french toast from sticking when you bake it.

We used both milk and half and half because we love a thicker egg mixture but you can use all milk. I skipped both the sugar and vanilla since our bread is sweet enough as is. If I was using regular Texas toast I would leave those in.
Rather than dipping the bread into the egg mixture, simply pour it over and allow the bread to soak it up, flipping over halfway through.
Be sure you immediately start coating your french toast sticks after the two minutes are up to avoid your bread getting too soggy.
I placed mine on a large silicon baking sheet lined pan, which worked great for freezing.
It took about an hour for the sticks to be fully frozen. I then divided them up between two quart size freezer bags. With each of my kids getting a single serving of three sticks each, this worked out perfectly for two breakfasts.
We made these yesterday morning and enjoyed them this morning. I let them bake for much longer than the original recipe to get them nice and golden brown on the outside. They stayed super soft on the inside.
Homemade French Toast Sticks
Author:
Altered Recipe from Taste of Home
Ingredients
6 slices Cinnamon Texas Toast (or regular day-old Texas toast)
4 large eggs
½ cup milk
½ cup half and half
2 tablespoons sugar (optional)
1 teaspoon vanilla extract (optional)
¼ to ½ teaspoon ground cinnamon
3 cups rice cereal (or cornflakes)
Powdered Sugar (optional)
Maple syrup
Instructions
Crush cereal in seal baggie with hands or rolling pin.
Cut each slice of bread into three equal pieces.
Place bread into ungreased large baking dish. Set aside.
In a large bowl, whisk the eggs, milk, half and half, sugar, vanilla and cinnamon.
Pour egg mixture over bread.
Let soak for 1 minute. Turn over and soak additional minute.
Immediately coat cereal crumbs on all sides.
Place on a large greased, parchment paper or silicone baking sheet lined jelly roll pan or cookie sheet.
Freeze until firm, about one hour.
Transfer to an airtight container or resealable freezer bag and store in the freezer.
To bake frozen French toast sticks: Preheat oven to 425°.
Place desired number on a greased or parchment lined baking sheet for 10 minutes.
Turn over sticks and bake 10-14 minutes longer or until golden brown.
Sprinkle with confectioners' sugar if desired.
Serve with syrup.
This is a perfect make ahead breakfast option and my kids went nuts for them.
After I was done snapping a few pictures my kids devoured them quickly. My oldest ate his stick style with a fork, my middle son just used his fingers and my youngest ate his cut up. However you eat them, they are certainly delicious dunked in some maple syrup!
According to my oldest, "These french toast sticks so awesome. Total awesomeness." Just what I like to hear!
What have you been up to with your mini chefs this week?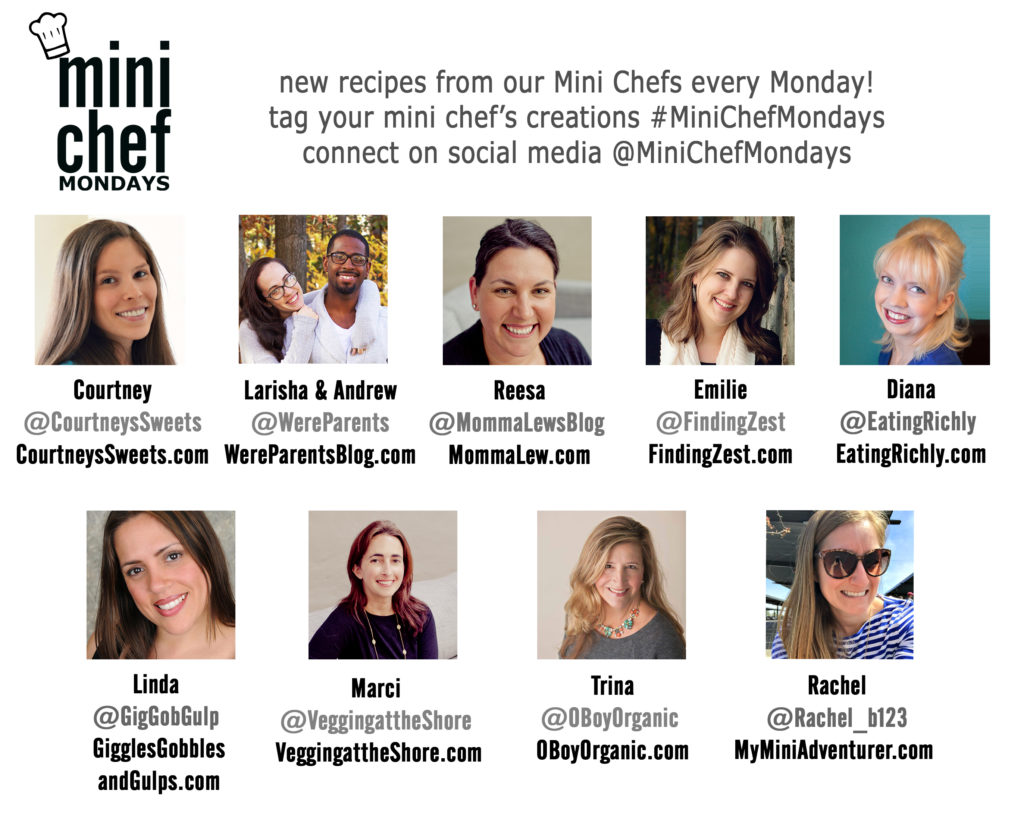 I am hosting Mini Chef Mondays along with 8 fabulous bloggers! Read how Mini Chef Mondays started, plus how to link up!
Join our facebook group to find even more recipes and share recipes too!
Join the Mini Chef Mondays newsletter to get the latest recipes delivered to your email each week! Don't worry, we will only use your email for Mini Chef Mondays recipes, pinky promise!
Get featured and follow us too!
Be sure to check out each of their Mini Chef posts as well!