Two years ago I saw several pins flying around for a Thanksgiving Turkey Veggie Tray and I had to make one of my own.  I honestly can't say which one was the original pin because there are so many of them. Each is a little different.  I see now that there are fruit turkeys and meat and cheese turkey plates too and I might have to try that one this year.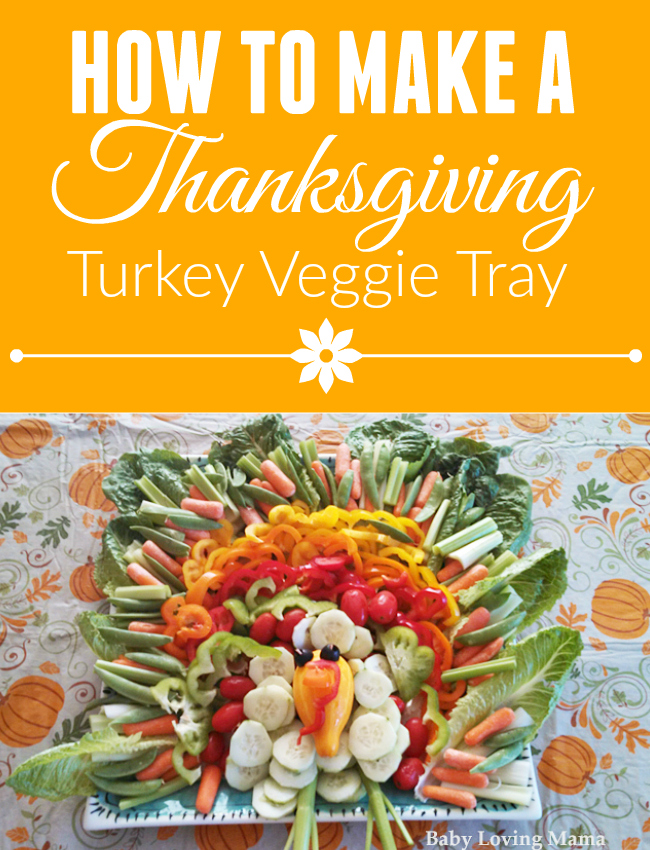 I started by setting out some romaine leaves to make the back row of feathers for the turkeys tail.  I spaced them out on the largest tray I own as I wanted it to be big and beautiful.
Next I laid out an assortment of veggies including cucumbers, carrots, celery, pea pods and most importantly sliced red, orange, yellow and green bell peppers.  If you cut the peppers across instead of stem to blossom it gives a great rounded effect that makes them look like the rounded tops of feathers.
When I made my Turkey Veggie tray I mostly used what I had in the house.  That particular year I had a lot of yellow summer squash, so I knew one of them would make the perfect head for my turkey. I see several other people used bell peppers for the head.  I used toothpicks to hold sliced black olives for the eyes, an orange bell pepper piece for the beak, and a red pepper for the snood.
Celery sticks made the perfect legs for my turkey, who was a huge hit with all of my Thanksgiving guests that year.
About 4 years ago a friend was talking about Pinterest.  I really didn't understand what she was talking about, but I was curious enough to go check it out.  I have been completely hooked ever since.  From Girl Scout craft ideas, home decorating ideas to food and party ideas, Pinterest is my go to place. For more inspiration, check out all of the adorable turkey veggie tray pins on Pinterest.
If you would like to create a veggie turkey for a smaller crowd, try this Fruit and Veggie Turkey!