This is a sponsored post for SheSpeaks/POWERADE. All thoughts remain my own.
For the past few years, soccer has taken over our late summer/early fall schedules.  It started with our first budding athlete Danica.  We signed her up for soccer at age 5.  Then we got the call that they didn't have enough coaches, so I did what any great mother would do, I volunteered my husband to coach.  The following season we signed up our next athlete Kurtis at age 4 and my husband coached again.  Fast forward a few years and we now have 3 athletes and my husband now coaches 2 of their teams.
Danica is now 9 years old and it has been amazing watching her blossom as an athlete.  She started out strong her first year of soccer, but had a couple of slower years where her confidence waned and she didn't score a single goal.  This past year was a different story.  She had a different coach and a great team.  They probably only won about half of their games, but watching her confidence come back was fabulous, and watching her finally score a goal for the first time in 3 years was exhilarating.  She was beaming from ear to ear.  Her coach had a lot to do with it as I know she had confidence in Danica which gave her confidence in herself.
My husband an I put our young athletes in sports for several reasons.  We put them in for exercise, we put them in for discipline, we put them in to become team players, we put them in for confidence.  We aren't expecting them to be star athletes, but after all, star athletes do start somewhere right?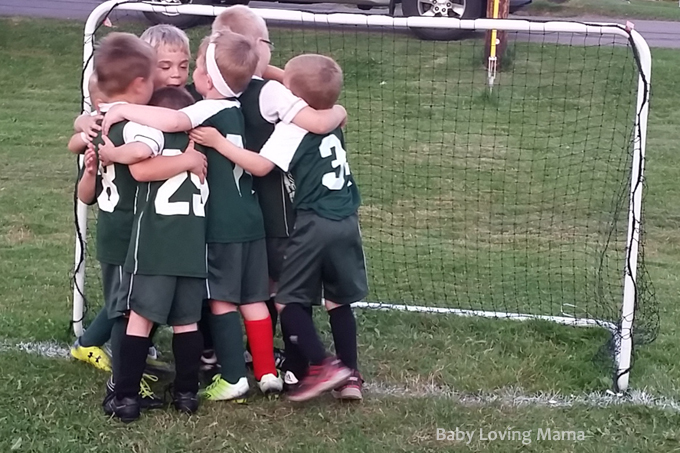 Young athletes today might not be elite athletes (yet), but they love to play sports. But today, they might feel like nobodies, with big dreams of being somebodies. POWERADE believes that with the right motivation these everyday athletes can realize their potential and one day be the athletes that they look up to.  There is potential in all of us. No matter what you achieve in life, you start in the same place as everyone else: as a kid full of potential and big dreams. At the end of the day, we are all "just a kid" from somewhere. 
I realize becoming a professional athlete is a long shot.  I do not force my athletes to participate in any sports/clubs/events that they do not want to, but for those that they do want to be a part of, I will do everything in my power to help them succeed.  That may include buying the necessary equipment, making sure they practice, offering positive and occasionally negative feedback, being a coach (or volunteering my husband), and making sure they fuel their bodies with healthy food and beverages such as Powerade:
The ION4® Advanced Electrolyte System helps replenish four electrolytes lost in sweat: sodium, potassium, calcium, and magnesium. POWERADE is formulated with a 6% carbohydrate solution to help provide energy to working muscles, and vitamins B3, B6 and B12.
Walmart/POWERADE Offer – Free "Just a Kid" Sports Bottle:
When shoppers purchase two 8-packs of 20 oz POWERADE at Walmart, they'll be able to go online, submit their receipt, and order a free custom "Just a Kid" reusable sports bottle. Visit this Powerade Walmart Offer to learn more.  The offer is good until April 4, 2016 or while supplies last.
"Just A Kid" Apparel:
Right now Powerade is sponsoring a great program helping kids everywhere with their "Just a Kid" campaign:
Represent your somewhere with custom "Just a Kid" apparel that features where you're from here. All net proceeds from the sale of "Just a Kid" apparel goes to the Boys & Girls Club of America.
I went to the "Just A Kid" apparel site and they have a wide selection of t-shirts, fleece shirts, hoodies and hats which you can customize with your city.  These are awesome for young athletes everywhere to show their confidence that they too can succeed.
POWERADE is available for everyday low prices and in multipack assortment of sizes at Walmart and Walmart.com.