Before kids, Valentine's Day was a day for my husband and I to spend some quality time together. We'd typically make ourselves a special meal and have a romantic evening at home to avoid the crowds. Now it has also become a holiday to enjoy fun activities with our kids like making homemade valentines. They love showering us with little treats and trinkets and bringing valentines for their classmates.
I love any excuse to bake so we always end up enjoying some Valentine's Day themed treats at home. Since my middle son Warren is my biggest helper in the kitchen, it was a great way to spend some quality time with him while his older brother was in school earlier this week.
We made some very simple heart shaped brownies and decorated them with chocolate frosting and holiday sprinkles. I've learned that Warren's very favorite thing is to dump, stir and decorate and this simple treat incorporated all of those things but was very quick and easy to prepare. 
I found several different heart shaped cookie cutters in my baking stash and discovered that my smallest worked best for this project. I was able more brownies off from a single mix this way. I baked the brownies in a parchment paper lined baking dish so I could easily lift out the brownies. I also recommend pushing as far as you possibly can with the cutter or you'll loose the bottom half of your brownie. I then frosted them and let Warren go to work decorating.
Even Wes enjoyed looking at all the fun colors and wanted to get in on the action. While each of those brownies might look like just a heart with a whole lot of sprinkles, they certainly weren't to Warren. He made each of those for a specific person, with plenty of thought and love behind each of them, a perfect way to celebrate!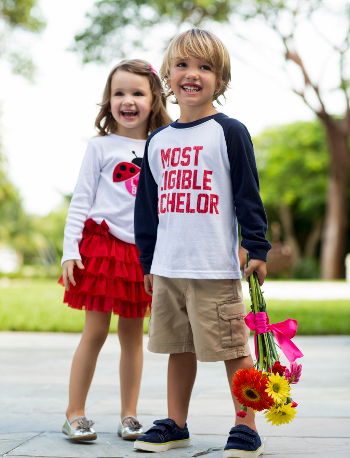 Another fun way to celebrate the holiday is with some adorable apparel from Carter's. This is Wesley's first Valentine's Day and while I don't generally mind products that say "My First Valentines' Day" I like that they offer plenty of options that can still worn any time of year.
Carter's agrees that Valentine styles make great gifts for the little ones in your life, especially babies celebrating their first Valentine's Day like my littlest guy.
For Babies: Fun "Single and Lovin' It" 2-piece sets and "Heart Breaker" bodysuits and socks for baby boys. Check out the "I love you" bodysuit and bib for baby girls. Lovable sleep and plays, pjs, socks and accessories are also available.
For Toddler & Kid Boys: "Most Eligible Bachelor" and "Single and Lovin' It" graphic tees are great for this love-struck occasion.
I think my little man needs that heart breaker bodysuit! And my two oldest are definitely most eligible bachelors. What about you? What Valentine's Day apparel from Carter's must your little one have?
BUY IT:
Celebrate their first Valentine's Day with Carter's and save up to 40% off all adorable Valentine styles online and in stores. Use their store locator to find a store near you! "Like" Carter's on Facebook and follow Carter's on Twitter to discover the latest great deals, exclusive events and offers for your little ones!
WIN IT:
Now you can win a $100 Carter's gift card to do some fun shopping of your own and create some lasting memories for your holiday celebration!

a Rafflecopter giveaway

I am partnering with Carter's as an Official Carter's Mommy Blogger! As part of this program, I am sharing stories about my family and the fun we have together along with special Carter's products, promotions and events!
Disclosure: Carter's partnered with bloggers such as me as an Official Carter's Mommy Blogger. As part of the program, I received compensation. Carter's believes that consumers and bloggers are free to form their own opinions and share them in their own words, and therefore did not tell me what to what to say. Carter's policies align with WOMMA Ethics Code, FTC guidelines and social media engagement recommendations. The winner of any giveaways in this program will be randomly chosen and gift card fulfillment will be handled by a third party.